The process of Ihor's treatment
The wounded
Igor, 24 years old. The fighter of the separate mechanized brigade 28. Injured near the Shakhtarsk.
Injuries
Left leg
– The concequences of the gunshot wound of the left femur
– Antipersonnel nonunion fracture of a femur on the edge of the upper and the middle third of the bone
– Shortening of the left femur on 4.7 cm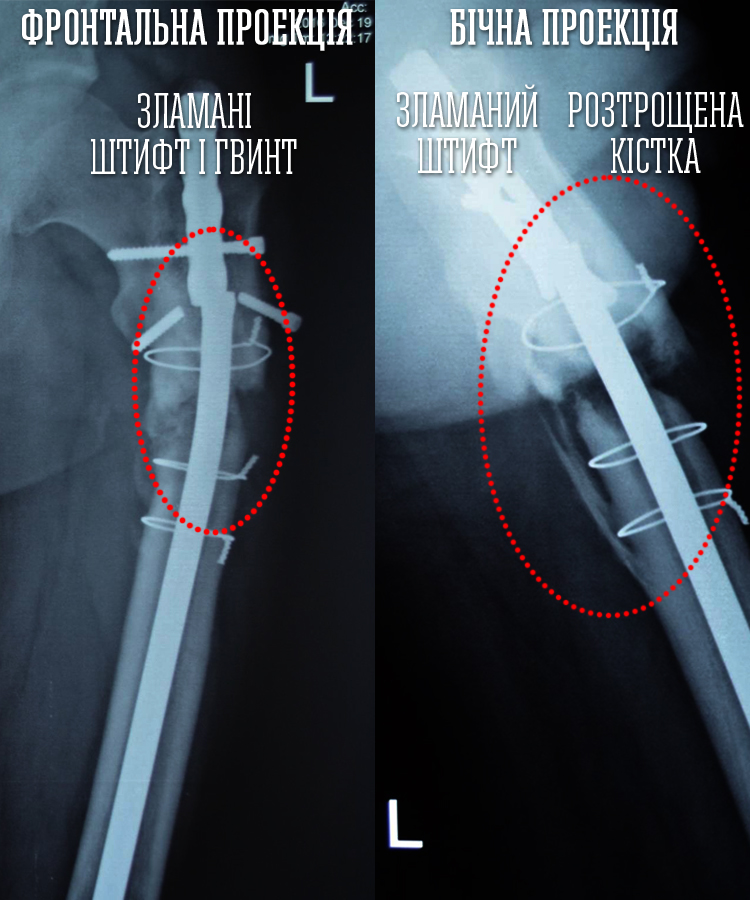 Right leg
– Anterior cruciate ligament rupture, severe combined contracture of the right knee joint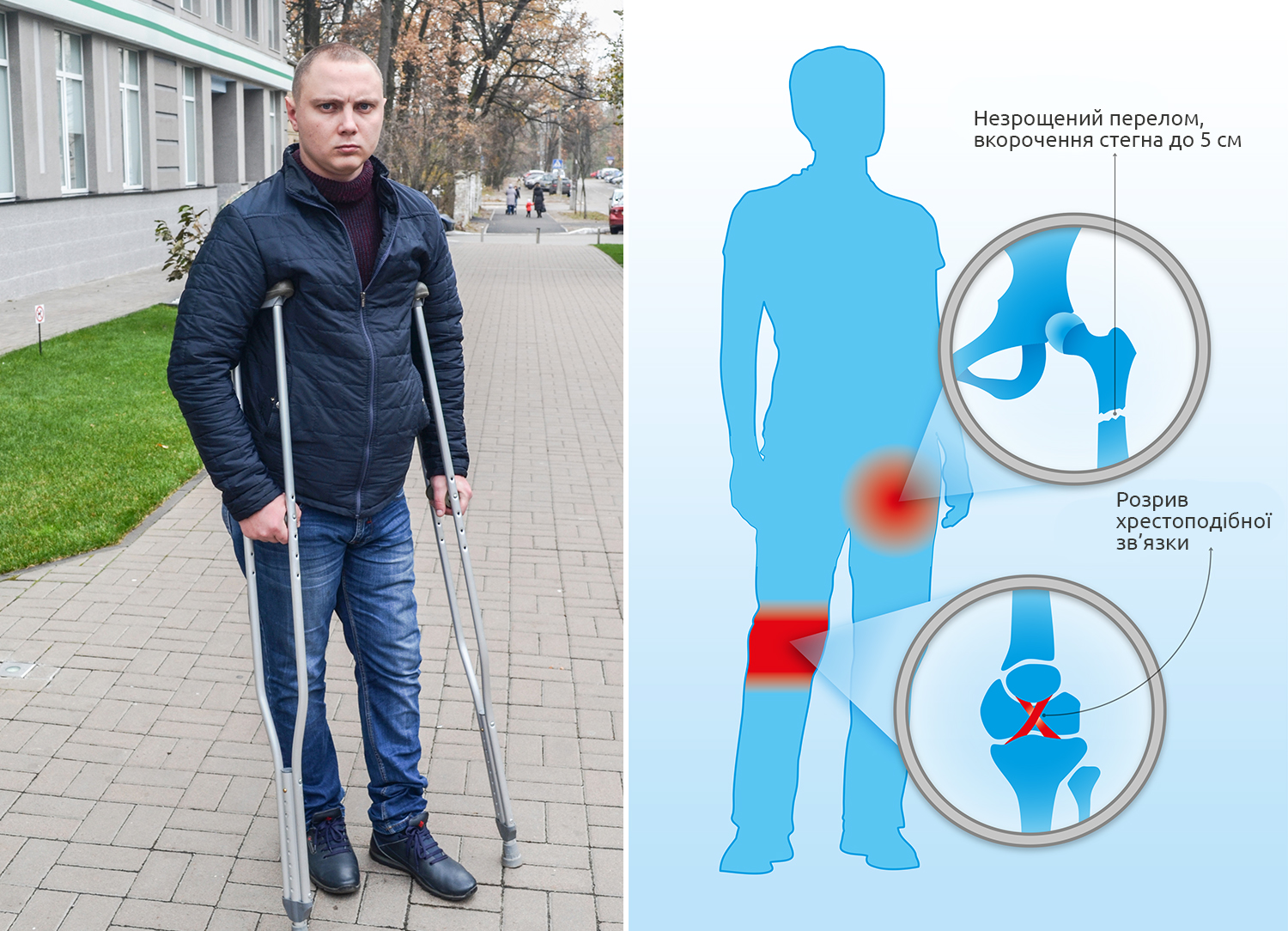 Igor was treated at the different hospitals for two years and went through the 7 surgeries. But the bone has not grown back together still. The leg cannot be completely treated at the state hospitals. The pin that runs along the entire bone is the only thing that holds it together. One of the screws that holds the pin is already broken. A few days before the pin got broken as well. This can lead to further destruction of the bone and severe disability. The second leg also requires proper treatment to prevent the development of osteoarthritis of the joint and further serious complications.
More information about the wounded
Igor fought at the East of Ukraine as a part of separate mechanized brigade 28. Igor with his colleagues hit the enemy ambush at the Blagodatne Village near the Shakhtarsk, and received shrapnel wounds in the mid-August of 2014. Only 6 out of the team of 24 defenders of Ukraine stayed alive. Among them was Igor. That was a lucky day for Igor. But he has a hard battle with the consequences of injury ahead.
At first Igor was treated at the Odessa hospital. Doctors completed the installation of the pin. Because of significant bone defects the bone is not fused still. Even with the pin Igor can't walk without crutches and feel severe pain during walking. The bone continue to deteriorate, and as a result injured leg is getting shorter.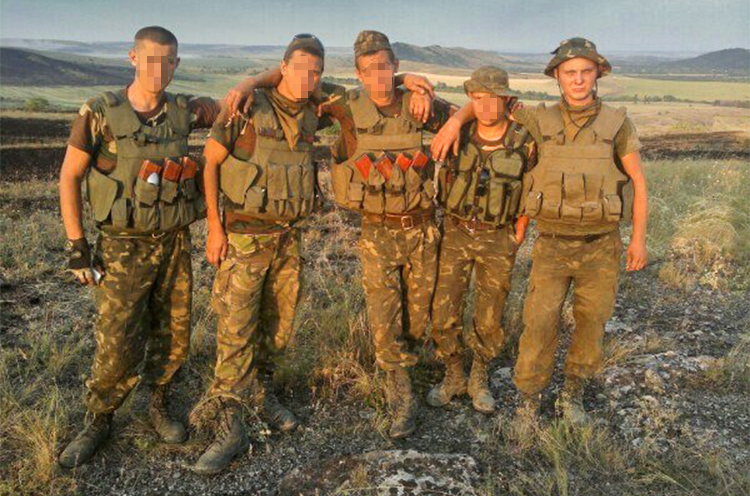 The volunteer from Odessa Olga Dombrovska suggested Oleg to contact The Bioengineering Rehabilitation for Wounded Project. The doctors of The Ilaya Clinic are ready to perform a complex treatment and recover Igor's legs.
Igor live in the Kherson region of Ukraine. He served in the army before the war. Later he signed a contract, and joined the ranks of the separate mechanized brigade 28. Igor was sent into the ATO zone to protect the borders of Ukraine in June of 2014. He participated in the battles near Marynivka and Uspenka. Along with the team of brigade 30 Igor took part in the liberation of Saur-Mohyla. After Igor was demobilized he entered the Kherson Shipbuilding University. Now Igor is studying, but problems with the health and constant pain don't leave him any chance to live normally. This chance for Igor is only available at the expense of the people's donations, that can cover the high-tech treatment and save him from disability.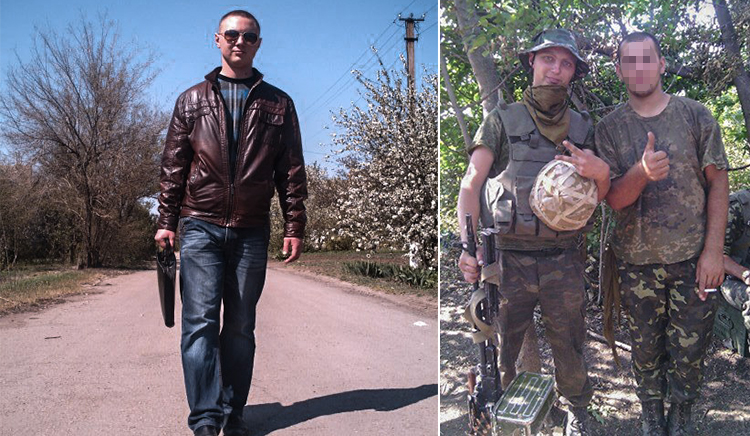 Required treatment
The reconstructive and restorative treatment of the femur and knee joint, which will help Igor return to normal life.
Detailed costs for diagnostics and treatment
(All the mention costs refer to the reconstructive and restorative treatment of the defect of the left femur. When the required results of the treatment will be reached, the fund raise for the treatment of the right knee joint will be launched)
1. Examination during the treatment (therapy, orthopedics, bioinsurance) – 19,000 UAH
2. Sampling of the fragment of fibula and red bone marrow (discount 40%) – 18,060 UAH
3. Endothelial cells, 40 million cells (50% discount) – 32,000 UAH
4. Periosteal cells, 40 million cells (50% discount) – 32,000 UAH
5. MSC from the bone marrow, 120 million cells (50% discount) – 78,500 UAH
6. Anesthesia (discount 15%) – 6,698 UAH
7. The reconstructive and restorative treatment at the hospital (discount 40%) – 278,806 UAH
The cost of the treatment including 42% discount of medical center: 465,064 UAH