Explosions on the territory of the Ministry of Defense's ammunition depot arsenal in Ichnia, Chernihiv region, started at 3:40AM on the 9th of October. No casualties have been reported following the fire and explosions at the arsenal. At the same time, officials at Chernihiv regional state administration reported about 63 civilians who applied for medical aid saying they felt ill after inhaling smoke.
Blasts began at the munitions dump belonging to military unit A1479 of the Ministry of Defense. A total of 18 794 civilians have been evacuated from the zone of possible impact. The Security Service of Ukraine suspects it could be a saboteur attack, not an accident. The prosecutor's office launched an investigation under the article of Ukraine's Criminal Code on suspicion of negligence on the part of the military officials.
According to the MOD spokesman Oleksiy Chernobai, as of 14:00 of the 9th of October, firefighting troops localized major cells of the fire caused by explosions at ammo depot near Ichnia, Chernihiv region. The intensity of explosions continues to decrease, according to the Ministry of Defense. "Smoke is visible over the depot's territory, and single blasts are heard," – the head of communications and press of Ukraine's Defense Ministry also reported. To enforce the standard firefighting equipment of the AFU, two demining fighting vehicles arrived at the arsenal for the localization of the fire. Earlier, two more fire tanks arrived on the territory of the sixth Arsenal. Aerial reconnaissance is also under way, the General Staff said.
Timeline
More than 12,000 people were evacuated after ammunition stored at an arms depot in northern Ukraine began exploding early Tuesday and set off a huge fire, authorities said.
Security services said they were investigating "possible sabotage" in the incident at a defense ministry depot near the village of Druzhba, around 135km northeast of Kyiv.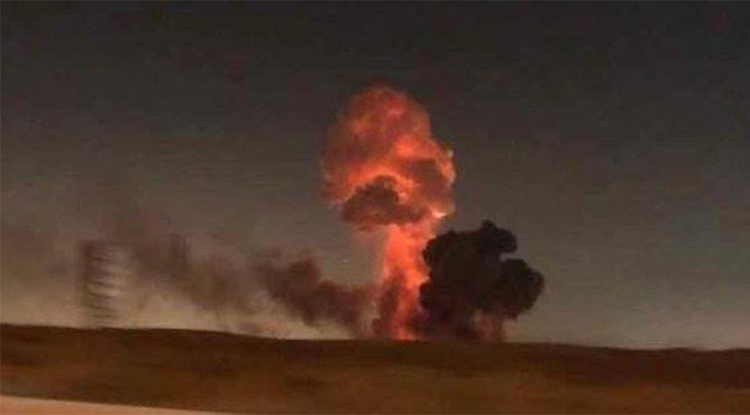 Emergency services said they had no information on any deaths, and regional authorities said more than 60 people required medical help for smoke inhalation.
Grey and white smoke rose up from the horizon on Tuesday morning, an AFP photographer saw, while explosions were going off every one to two minutes.
A defense ministry official said the fire was raging in five storage areas, covering about 10 per cent of the total of about 700 hectares.
Also, the General Staff reported that as of 14:00, to strengthen. And due to the reduction in smoke, the operational headquarters decided to use unmanned aerial reconnaissance vehicles.
Earlier, two fire tanks GPM-54 arrived at the scene of the incident.
Unfortunately, explosions at the ammunition depots in Ukraine happen rather regularly.
2018, Ichnia (Chernihiv region)
2017, Kalynivka (Vinnytsia region)
2017, Balakleia (Kharkiv region)
2015, Svatove (Luhansk region)
2008, Lozova
2004–2006, Novobohdanivka
October, 2003 – Bakhmut (former Artemivsk)