Description
Functions and duties of the border guards
Mobile border guard platoon of Ukrainian state border guard service ensures the integrity of National border.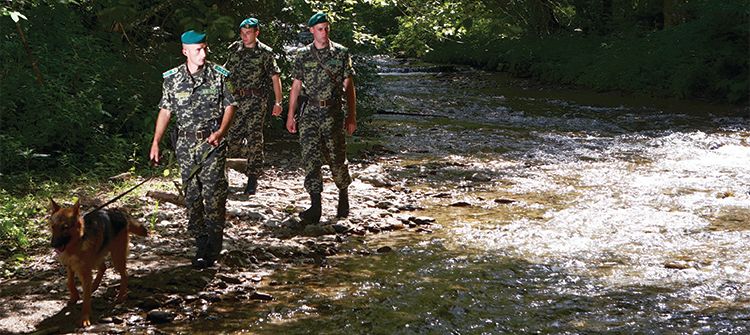 The main tasks of the platoon are:
– Security of defined area of the state border
– Preventing the illegal crossing of the state border
– Participation in carrying out the border operations
– Carrying out the local point actions and operating the subordinate units
– Actions against illegal activity on the borderline, counter-terror and counter-organized crimes fight in interaction with the Secret Service of Ukraine and the Ministry of Internal Affair
– Security of state officials and institutions
– Maintenance of constant readiness of forces and means for operative fulfillment of tasks during pthe eace time and combat readiness while the transition from peace to martial law.
– Carrying out the trainings for the personnel and psychological therapy events.
---
What's the money raised for?
For secure and uninterrupted service we want to provide the border guards with the most necessary items.
The border guard spend a great amount of time in the areas, distanced from residential districts. Today, when the border is penetrated, they need our support more than ever.
Project budget
Tires for the trailer
4 units
6 400 UAH
Army beds
47 units
40 890 UAH
Tactical kevlar helmet
113 units
242 385 UAH
Water container PER-V 1000 liters
1 units
3 500 UAH
Water container PER-VT 500 liters
1 units
2 500 UAH
Water container PTMB 100 liters
1 units
1 000 UAH
Water container PTMB 50 liters
1 units
500 UAH
Pulsar binocularis Edge GS 2.7 x 50
2 units
14 800 UAH
Pulsar monocular Challenger GS 1 x 20
2 units
9 100 UAH
Pulsar glasses Edge GS 1 х 20
1 units
7 050 UAH
Thermovision monitor Pulsar HD38S
3 units
156 000 UAH
Body armor of the 2nd protection level
20 units
18 000 UAH
Body armor of the 3rd protection level
90 units
243 000 UAH
Body armor of the 4th protection level
25 units
52 500 UAH
Collimator sight Mepro21
5 units
26 895 UAH
Mine detector
1 units
3 340 UAH
Handguard
5 units
1 800 UAH
Fire transfer handle
5 units
845 UAH
Tactical torch
5 units
4 160 UAH
remote button for the flashlight
5 units
1 315 UAH
Total:

835 980.00 UAH