Description
Why is the project important?
In the current combat circumstances pilots often operate at night time. For risks minimization and improvement of the efficiency of their task fulfillment pilots should use night vision devices. They increase light levels several times, enabling objects to be recognized in total darkness. Today, night vision devices are used in all army units during the hours of night.
The device is usually installed on the pilot's helmet with the help of special attachment.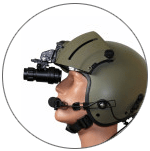 ---
What's the money raised for?
Night vision device with helmet attachment - 4 units - 216,000 UAH
On July 24 the first night vision device was delivered to the military unit A2595.
Three more will be delivered in the near future.