Dear friends, the news coming from the frontline is rather alarming: the situation went a bit aggravated, and you can read our latest summary for the last 24 hours if you follow the link. Now may we attract your attention to another, more global disturbing point. About a week ago co-operative summaries issued by the HQ press-center and the OSCE SMM verified that terrorists started to pull their military equipment up to the contact line. In certain locations of Donetsk region observers noticed displacement of the militants' light armored vehicles, intelligence stations and even an anti-aircraft missile complexes. In another location, in Luhansk region, moving of military equipment is even more worrying: 24 tanks and 6 anti-aircraft missile complexes have been moved outside of their regular storage locations; besides, observers discovered a group consisting of 2 MLRS "Grad", 18 large-caliber self-propelled guns, and 6 hoists. According to the aerial reconnaissance data, grouping of up to 90 units of other armored vehicles and 70 units of military trucks has been registered in the area as well.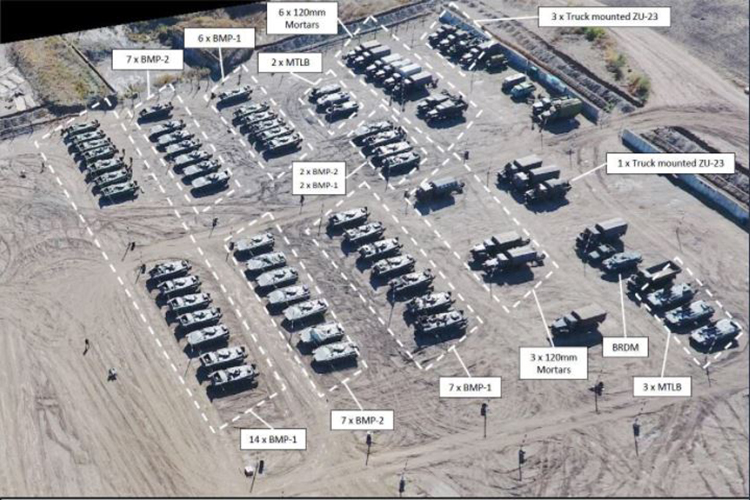 OSCE SMM is regularly registering enemy armored vehicles outside the agreed points of location
These terrorists' activities gradually result in increase of active shelling. For the last few days, enemy has progressively increased the tension: shelling is being made using machine guns, grenades, and mortars is on. At night, several settlements came under heavy mortar fire, and sometimes MLRS were deployed. Vodiane, a small village within Mariupol defense line, came under 120 mm mortar fire: a local resident suffered. And today, about midday, terrorists carried out massive attacks with the use of "Grad' MLRS from their positions near Horlivka, local citizens report in social media. 
We are sending equipment to the front, so we witnessed the outcome of such shelling, with our own eyes. For example, this is the effect of heavy mortars shelling in Vodiane. Previously a flourishing resort village, now it turned into a ruin. Just imagine, how it feels to be trapped in such circumstances for our guys, either in summer or in winter, under continuous enemy shelling.
This is the effect of "Grad" shelling. Missiles have partially hit the pasture yet somewhat destroyed our military's dugouts. Luckily, that shelling affected only the equipment leaving our guys intact.
So we offer you an effective way to make the situation different. Because the better our army is equipped, the faster all necessary stuff gets to the units holding the front line – the more chances for efficient response and successful counter attack our guys have. Within the «Rapid Response» project, we accumulate donations and buy necessary equipment for the units holding the defense in the hottest spots. The reports are as transparent as they can be: you give – we buy – the guys receive. The itemized list of stuff we have already sent as well as the guys' urgent needs you can see in our project's description, and all the incoming funds as well as expenditures get immediately displayed in our report which is being updated in real time. Please kindly participate in the project: together with you we can significantly support our army, gradually, step by step, still irreversibly making our Victory closer.