Dear friends, we promised you to tell some interesting stuff about the training of our SpecOps divers, so now we are going to keep the promise! Actually, we've been honored to take on a mission of highest responsibility, supporting a unique squad of Navy Seals from the 73rd Dozor-M Naval special operations center.
Throughout the world, units of special naval reconnaissance are the most hidden and closed from privy eyes military formations. This seems only natural as they are armed with secrete weapons and gear, for example parachute system for water landing, underwater navigation devices, special marine saboteur mines and closed circle scuba gear that produces no unmasking bubbles.
Today, our coach who is also a founder of the School of Military Divers project, Kostyantyn Myrhorodskyi, is telling about the techniques used by the Ukrainian SpecOps divers, and we are going to show you the video taken at their training: it features water surface landing performed by the fighters of the 73rd Naval special operations center in diving gear!
For military divers, a key stage of the mission is their disguised transfer to the place of operation, as well as the next evacuation after its completion. Since the area of special operations can sometimes be located in thousand kilometers from the unit's permanent disposition. There are quite a few ways to deliver specops squads to their designated location, including an underwater one (by means of submarines), a surface one (using high-speed boats), and also by air, namely, a water landing from a plane or helicopter.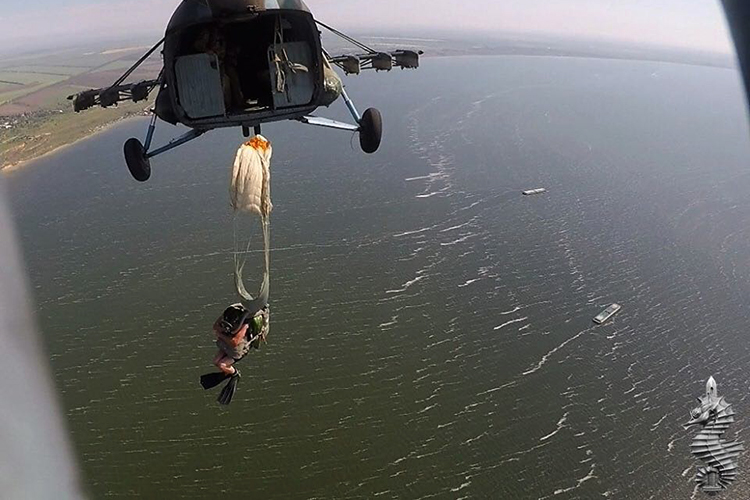 Most Alliance countries usually apply the underwater way due to the highest level of secrecy it ensures. It happens in the following way: a submarine approaches the disembarkment point keeping in the distance of about several miles, and divers are being released into the water environment through the gateway. Later, they open a special dock chamber which is a kind of specific garage attached to the submarine's exterior where Swimmer Delivery Vehicles (SDV), mini subs that can carry 4 to 8 divers, are parked. The SDV drivers and a team of fully equipped divers get seated inside the mini sub in the chamber filled with water, with their scuba gear activated. The SDV leaves for a mission, and on its completion the crew detects the submarine carrier by means of a sonar, and the divers get back aboard.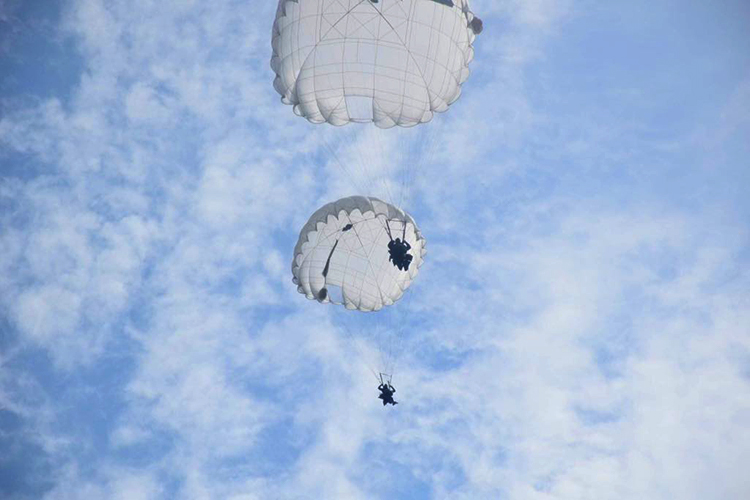 Unfortunately, the Ukrainian specops divers are limited in their means of underwater redeployment as the only submarine we had in service, Zaporizhzhia, now remains captured in the occupied Crimea. By the way, not long before the war, Ukrainian special forces carried out exercises on emergency withdrawal through Zaporizhzhia torpedo tubes. The issue concerning supplying the Ukrainian Navy with miniature submarines has been continuously risen, still there is no solution to it yet…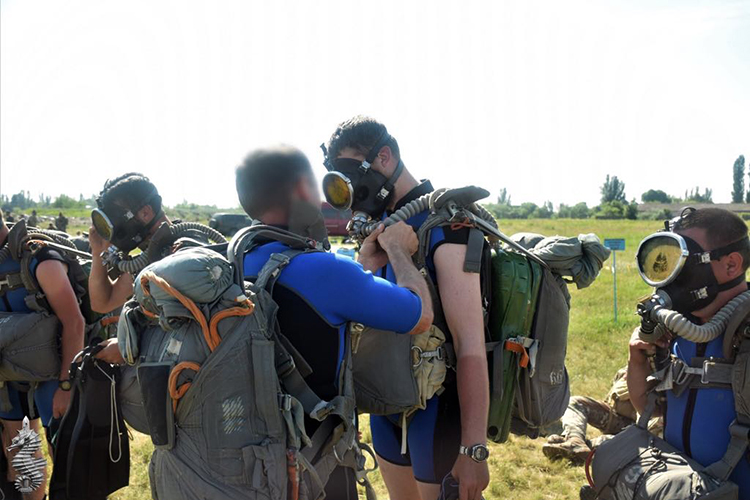 At the moment, transfer by air remains perhaps the only way to deliver Ukrainian specops divers to places of their missions. But it is rather a complicated and dangerous way of dropping troops. Just imagine: the divers need to land on water surface fully equipped and with their special scuba gear turned on! This intricate, highly demanding professional skill was the main subject of recent exercises conducted by the fighters of the 73rd Center.
For dropping, the specops divers use a special PV-3 parachute and a special rebtreather IDA-71P. Such parachute is used in landing on both water and land surface, but without diving equipment on. Due to technical reasons, transporting down to land surface is not carried out these days. By the way, in the 1980s parachutes of the type were used to perform record setting low-altitude jumps – from 80m in diving equipment and from 50m without the gear.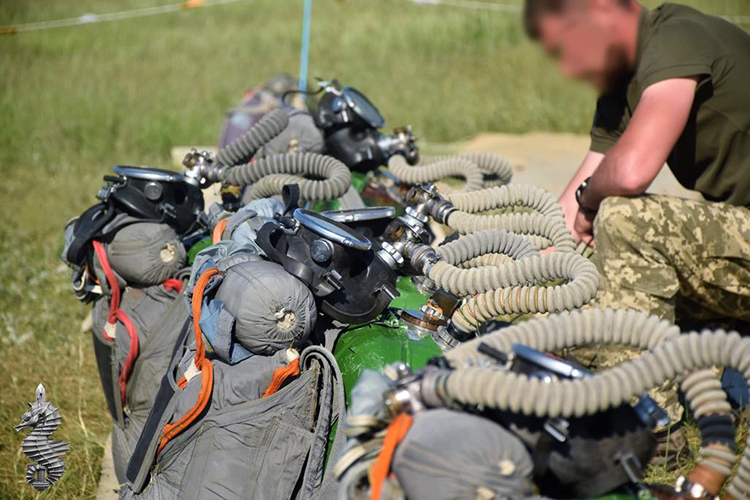 Onboard a helicopter the divers are seated wearing their closed circuit breathing gear: they inhale pure oxygen, so no air can be let into the system. Immediately before the landing a diver unclips the canopy from the suspension system, and lets it slowly sink in water in order to prevent unmasking of the landing squad.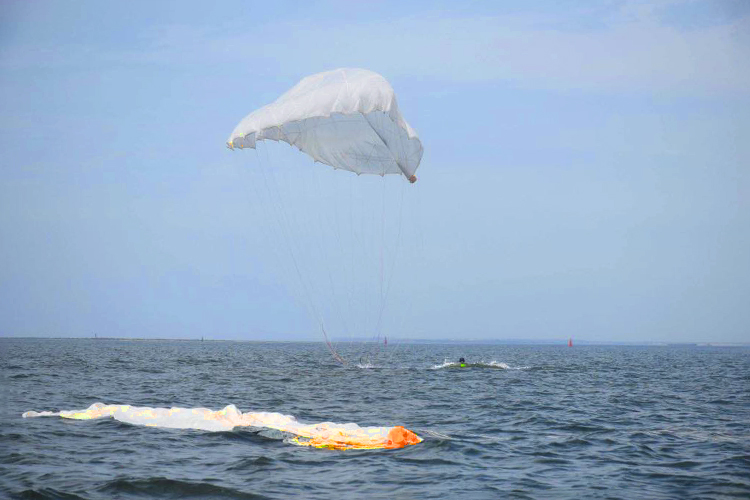 The IDA-71P apparatus was specially designed for specops divers in the 1970s; it ensures staying under water up to 4 hours with maximum depth of up to 20m. It could be used with stations of undersea hydroacoustic communication; also, the device could be connected to the oxygen inhalation system of the plane during high-altitude sky diving. Besides, for underwater outings, it provides connection possibilities for the nitrox system enabling to increase working depth for the divers up to 40m.
Theoretically, everything looks fine. Still in practice the equipment has several deficiencies. Parachutes PB-3 are well over their useful lifespan.   As to the IDA-71, this device, in addition to being absolutely outdated, has another critical shortcoming: a chemical substance O-3 used for oxygen regeneration, is manufactured in Russia: its resources in Ukraine are limited, while foreign analogues are too costly. Besides, the substance is a dangerous chemical agent which is used for maintaining underwater gear nowhere in the world.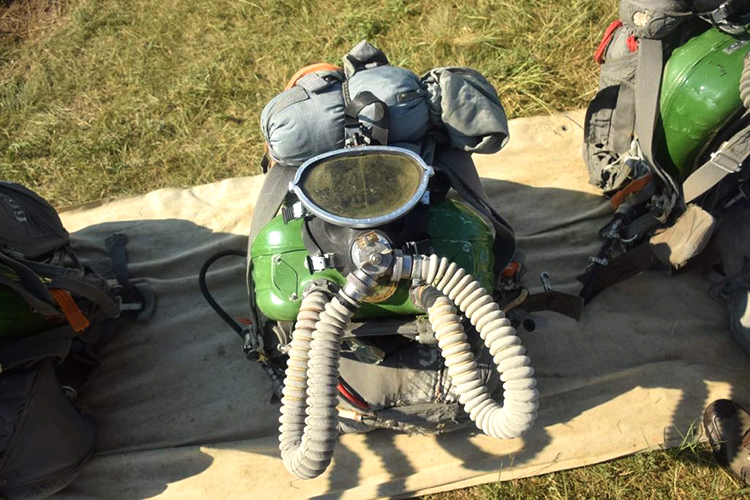 Ukrainian specops divers have been waiting for new equipment in service, for a long time. The gear includes breathing devices, parachute systems, underwater scooters, and high-speed boats. But even if they're still equipped with the outdated gear they got from old Soviet times, the guys use it in full. Naturally, it implies certain share of risks, still combat training is essential!
We have continuously supported the 73rd Naval SpecOps Center with diving equipment, so today we're pleased to see them wearing our newly bought, "volunteer" swimming suits. We are sincerely grateful to everyone of you who made this possible by means of your generous donations. Dear friends, we urge you to give us a hand in supporting another important unit, the rescue paratroopers from Naval Aviation. You can do this within the School of Military Divers initiative. Right at the moment we are raising funds for up-to-date equipment for our guys: we have described their needs in detail here. Come join in!