Whenever I come to the Industrial Zone of Avdiyivka I get the same thoughts. The defenders, who fight at the industrial zone of Avdiyivka need to be prepared every minute. Bullets, mines, missiles, grenades and other deadly weapon can arrive any time. It destroys homes and trees. Every centimeter of a surface is stuffed with bullets and shrapnel. Just recently all kinds of trucks were driving through the dusty Donbass, and today they all look like vintage furniture. Especially, being put in a post-apocalyptic scenery. Industrial zone changes a little all the time. The last time the corner of a house was still intact. Now its destroyed by a tank projectile.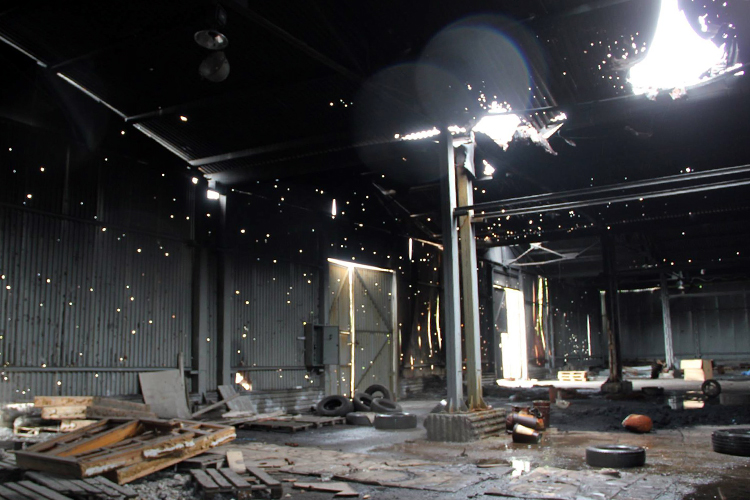 Avdiyivka's "Planetarium"
How did the industrial Zone of Avdiyivka looked before? It was not built be destroyed.
How did it looked like to those, who get here first, and outlined the position in here?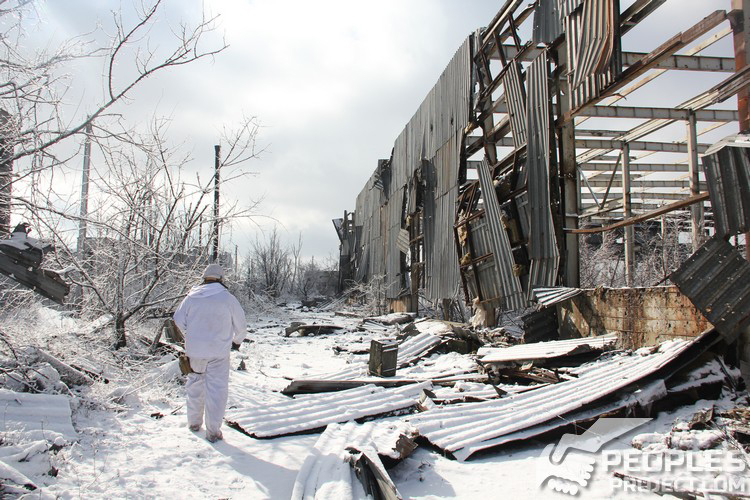 Industrial zone during winter. We have seen that a month ago, during another trip to the 72nd Separate Mechanized Brigade
I surfed the internet, and realized that this is not enough. As for a military it is clearly not enough information for me there. Therefore, I decided to get it from the first-hands. I found a number and contacted soldiers, who came to the industrial zone among the first. My phone-call was answered with a suspicion.
– Well, even if I will tell you anything, it will happen face-to-face. Come to Konotop and we will talk.
– Agreed! I will be there tomorrow.
Morning train brings me to the city of glorious battles and famous witches. At the station I was met by the White, the Hispanic and the Corvus. Usual scouts. After a few cigarettes and a quick conversation the ice of a mistrust gradually got broken. After a few cups of coffee we were discussing maps in my tablet.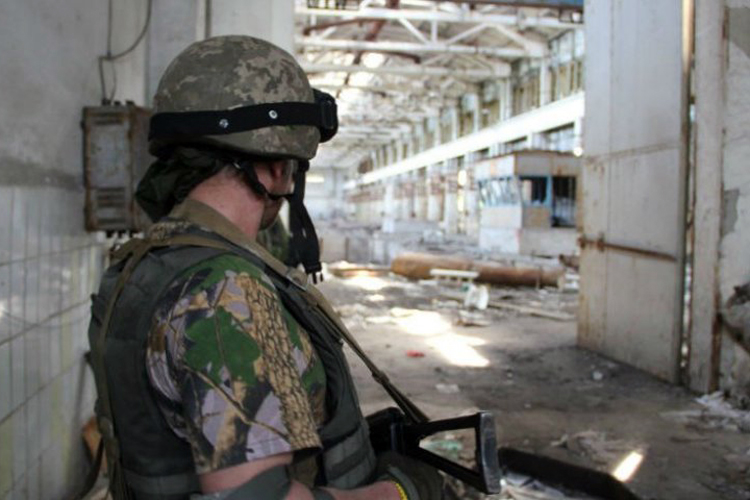 Then…
Suburbs of the Industrial Zone of Avdiyivka were taken at the beginning of February. Among the first ones there were scout groups of 58 Separate Mechanized Brigade, 72nd Battalion, PS (Santa and his group), 16th Battalion and scouts of the linear units. At that time Industrial Zone of Avdiyivka was still gray, so the enemy was able to get through it into the rear of Ukrainian troops. Ukrainian defenders decided to go around, clean up a little, and take a control over the 3 streets of a holiday village over an Industrial Zone, to protect themselves from the enemy's DRG. Soldiers brought to the front line only the stuff they could carry on. The heaviest weapon they took there were a machine gun and 2 launchers.
They started with a hard work of checking separate houses, individual rooms, paths and passages. The enemy was strongly against it, when the gray zone started losing its practicality rapidly. The first battle begun. Ukrainian defenders said, that conditions were very strange. Only in 30 meters they were facing the fire contact, and in 15 meters enemy dug an underground passage to the place were they just settled. Once soldiers were making a hole through a 2 bricks wide wall, regularly reflecting enemy attacks at the same time. The 2 "fives", a Moskvich and a Dodge, which was burned during one of the battles, were the only armored vehicles in a property of Ukrainian defenders.
The soldiers showed a rough map of forces disposition, if you can call it that. Sometimes the distance was so short, that enemy could have been hit by a cobblestone. Because of the absence of a communication it was almost impossible to distinguish a friend from the enemy. And those are the conditions, which intelligence performed its missions in.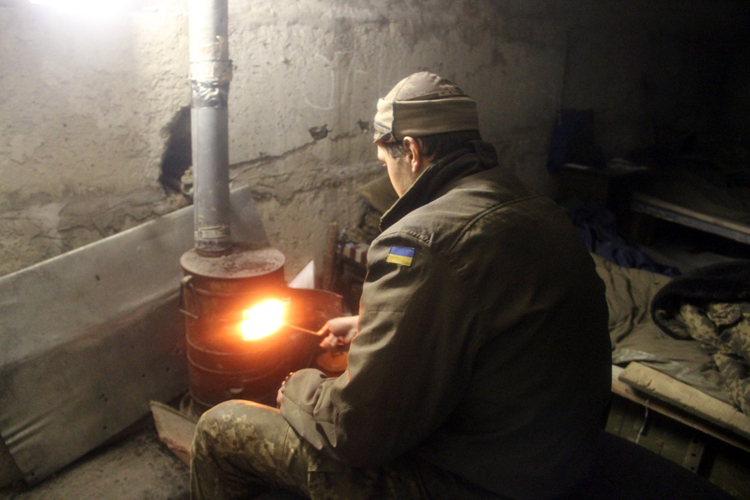 Block after block. Resistance and immediate retreat. The next step is 24/7 observation, or enlargement of numbers. Sometimes they operated quietly and cleverly. They put a mine, or a stretching, or a secret here and there. Shortly after they brought an AGS and some ammunition there. This a little spiced up the situation for the enemy. All this time Ukrainian defenders were under attack. The enemy tried to overcome Ukrainian defenders with numbers, but enemy retreated with heavy losses as a result.
The funniest thing is that the Industrial Zone of Avdiyivka was taken over by force of not more than 50 Ukrainian defenders. They held positions for a whole month, being spread in disguise. Yes, there were losses. However, soldiers marched forward steadily, settled, gained a strength, and went on. Every 4-5 days they were promised with a support of the infantry. Meanwhile, it came at the beginning of March only. This arrival started a new page of defense of Industrial Zone of Avdiyivka.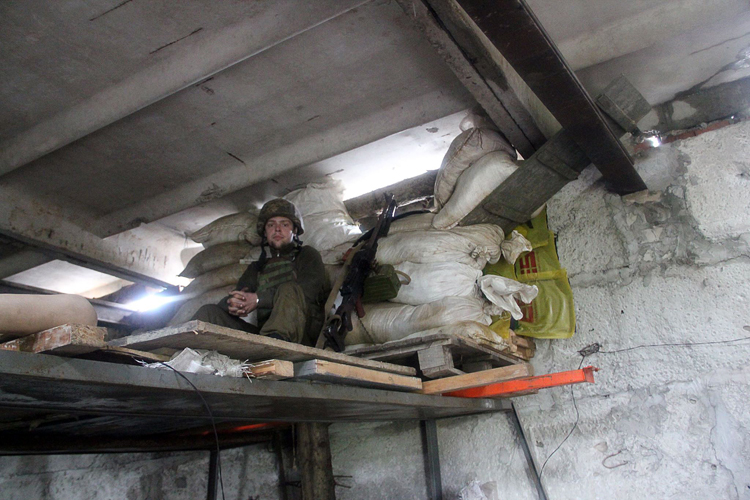 However, this is a completely different story. In the meantime, Ukrainian defenders who keep defense at the hottest spots of the front line require your support. Your donations in terms of The Rapid Response Project give us an opportunity to buy the most necessary equipment for the soldiers who serve to push the enemy out of the border of Ukraine. Get involved to help Ukrainian military win.