This is Coronavirus Chronicles, day #N. According to official data, there are 1074 of them. It is the amount of the Ukrainian medics infected with Covid-19. This number makes one fifth from the total quantity of contaminated citizens. This only means that 1074 doctors are withdrawing from the ranks of those who save patients and go to isolation or even to a hospital themselves. To make every effort to slow down such numbers is the main goal of the Second Front initiative within which we buy protective equipment and send it to hospitals.
Another major stage og the project is over, and we are going to account for our achievements for the last few days. On the Easter weekend, ATO veterans from Kremenchuk have got our transfer: tomorrow, they are going to send a few hundreds of medical masks and respirators to two city base hospitals. There is no photo so far but we'll show it to you it immediately after the hospitals get their PPE stuff. At the moment, we would like to frankly thank the friendly and enthusiastic ATO vets who cares about the Kremenchuk medics. Another batch of equipment is to be purchased and supplied to another city hospital in a few days.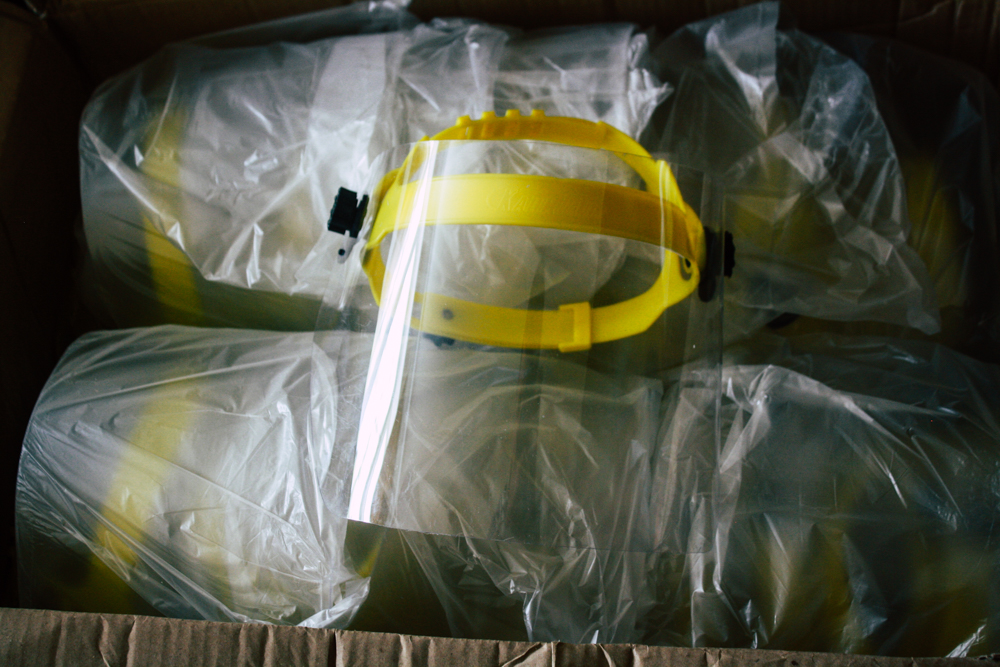 Here you can see a half a hundred transparent protective face shields
Today we've received a shipment for Kyiv city hospitals, so distributed the stuff among them immediately. Traditionally, the transfers consisted of respirators, transparent protective face shields and cool contactless body thermometers.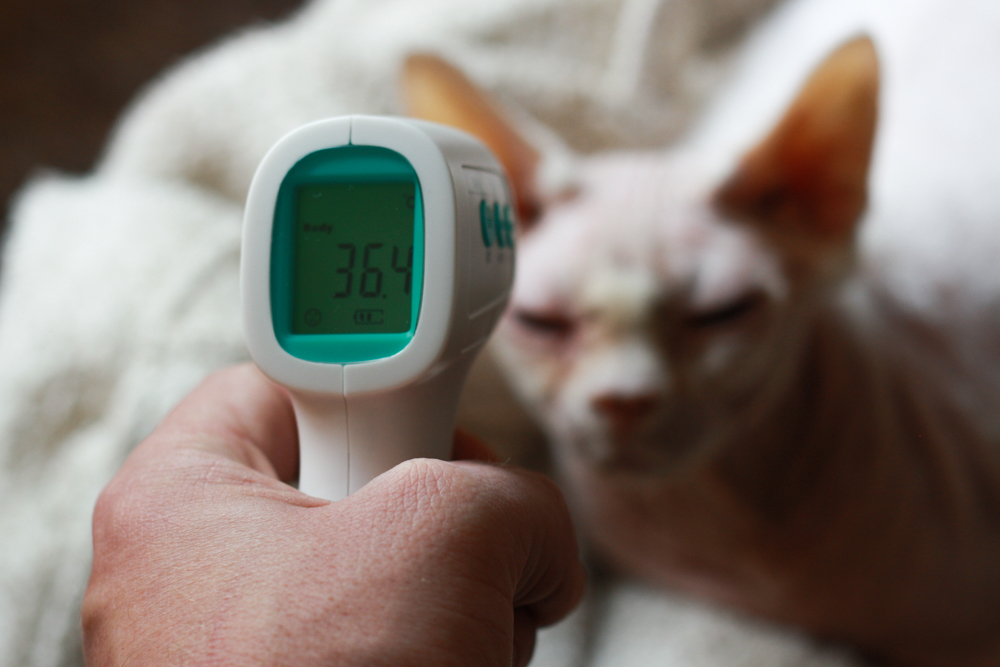 Control testing: measurement error stays within an acceptable range. The gear appears quite a handy thing!
First, we visited a hospice, a special Palliative Care Unit of the Kyiv City Clinical Hospital #10. They are in the second defense line: at the moment, they're preparing to admit the most difficult patients with Covid-19. We have supplied them with respirators for the second time, and with transparent face shields.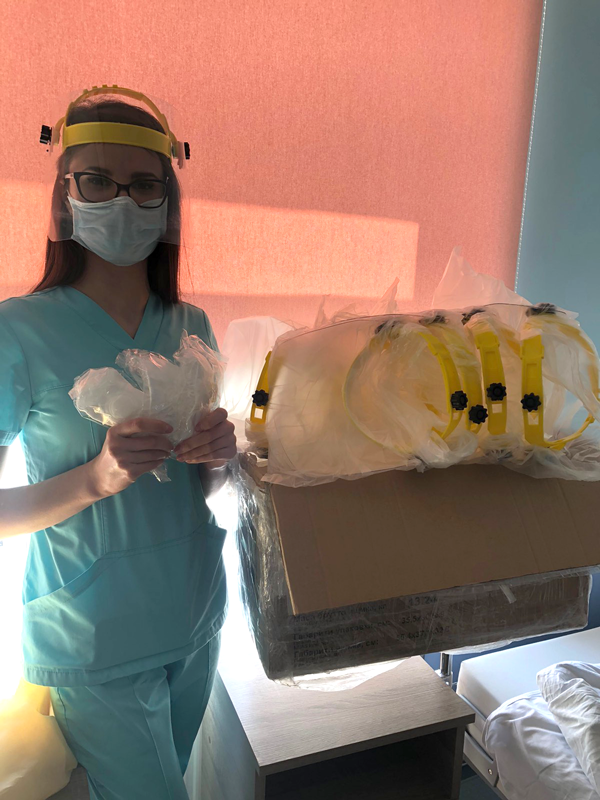 Let us be honest, it was a nice productive meeting and conversations that encouraged us and gave us new inspiration. To deal with such  kind-hearted, well-motivated and determined to face the danger doctors is a great honor for us, beyond any pathos. So we always wish them avoid any calamity. That is why we try to take care of them as much as we only can.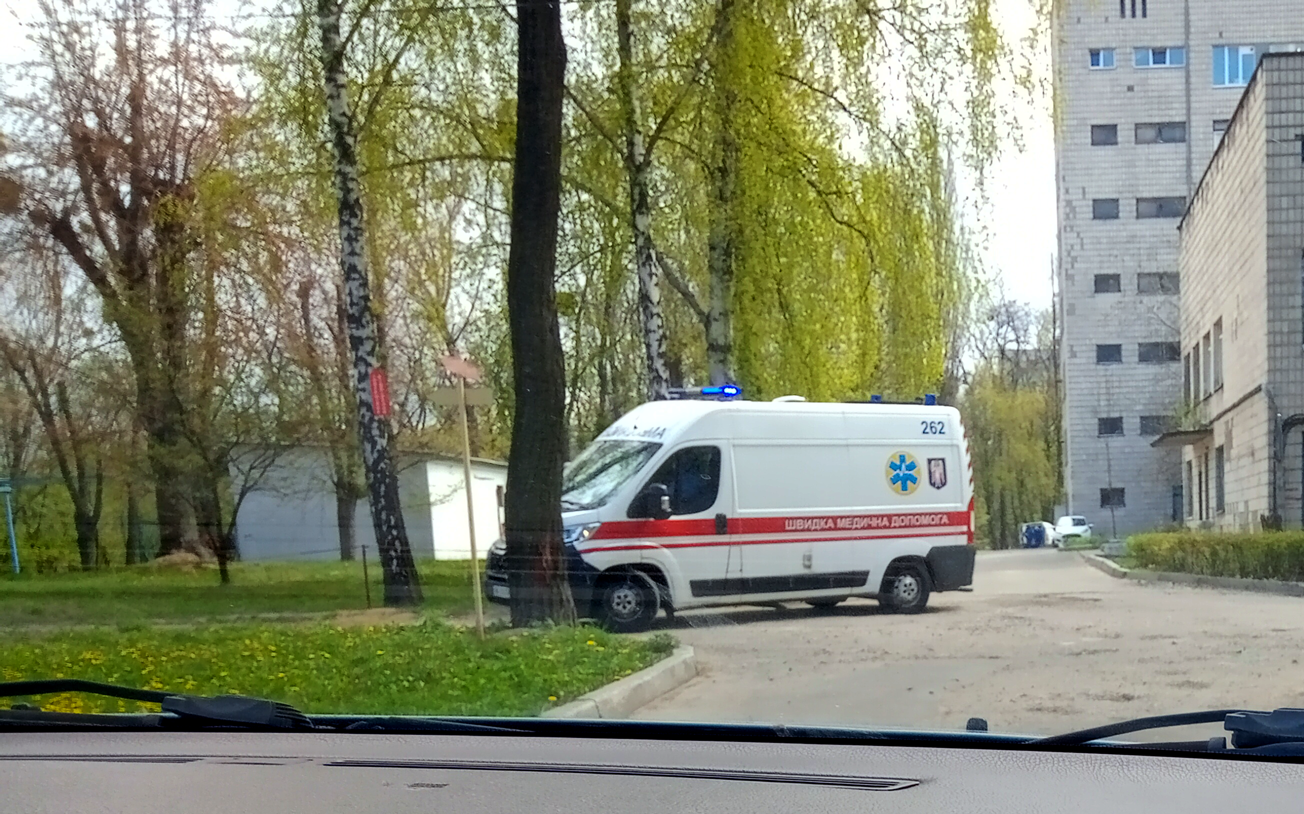 Traditionally, we cannot present you any pictures taken at the Kyiv Maternity House as it is rather inconvenient to bother the staff with such a trivia. Instead, we publish a photo taken at the Kyiv City Clinical Hospital #4 where we stopped by on our way home and delivered them protective face masks. Honestly, the atmosphere here, at a base hospital, the hotspot of the dangerous infection, is rather tense: only the personnel is present here with no admittance for any strangers except for the National Guard and Municipal Police forces; the ambulances are cruising here and there stuffed with medics wearing full body protective equipment.
Later, we headed to the City Maternity House #5 which was chosen as a base hospital for infected pregnant women and mothers. We brought them protective face shields and contactless body thermometers. Despite the quarantine and related restrictions, they are admitting patients into the maternity unit. It is obvious that pregnancy is among those conditions that cannot depend on either external circumstances, the Cabinet of Ministers' regulations or common sense rules. The medics say they have already been dealing with their first Covid-19 infected patients: luckily enough, their condition does not require any specific treatment or urgent actions. It would be nice if this status quo lasted! Apart from this hospital, we also sent contactless body thermometers to Lutsk, to the Volyn Oblast Regional Infectious Hospital. Now we're waiting for the relevant papers and reports signed and sent back to us.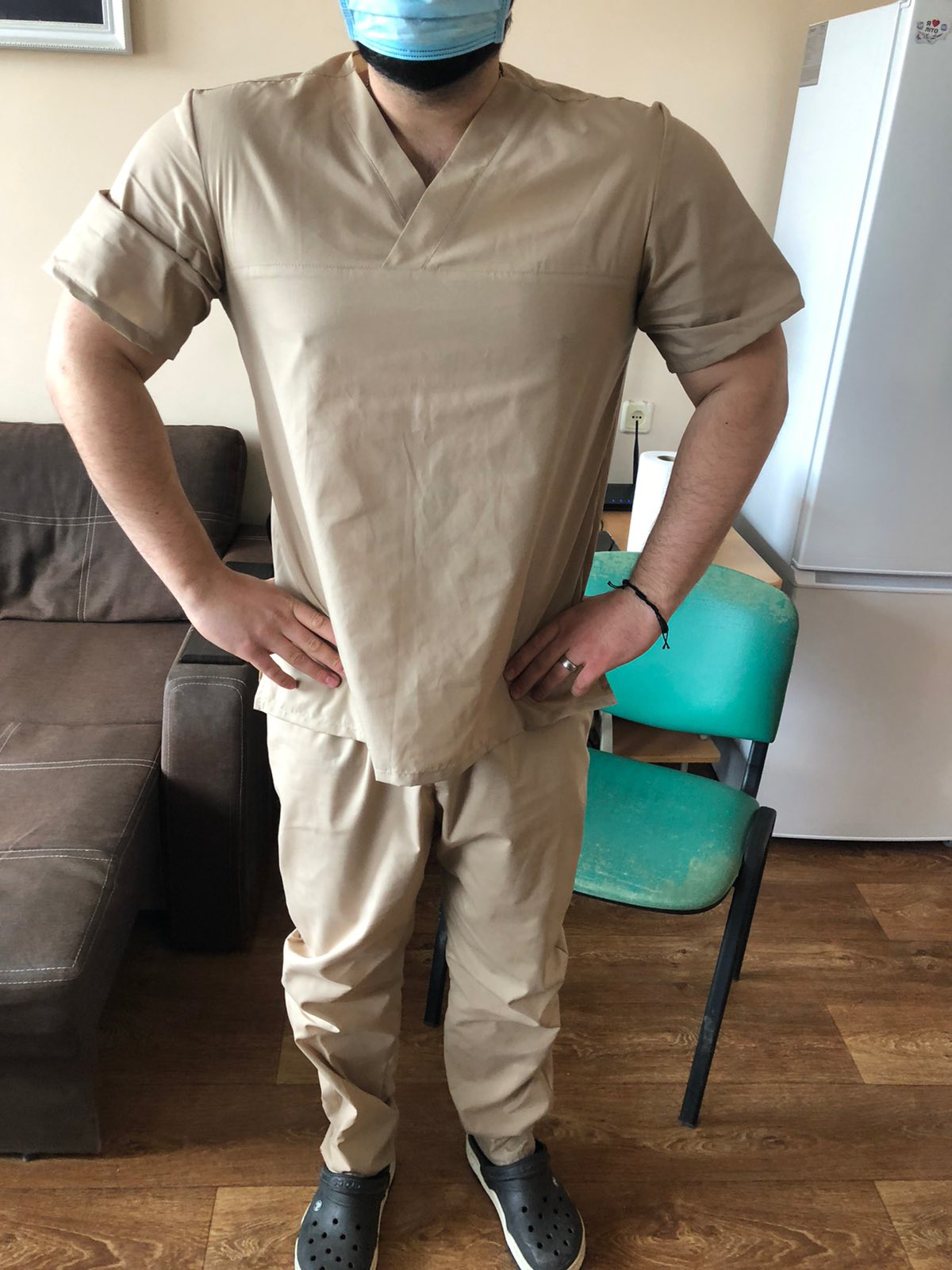 Finally, the doctors at the Kyiv Oblast Regional Hospital have got their protective coats: this is a base kit of the first Laye of a protective body suit for their working shifts. We ordered and got 45 kits of these for practical testing. Depending on the medics' estimation we will decide whether to order another batch of these coats.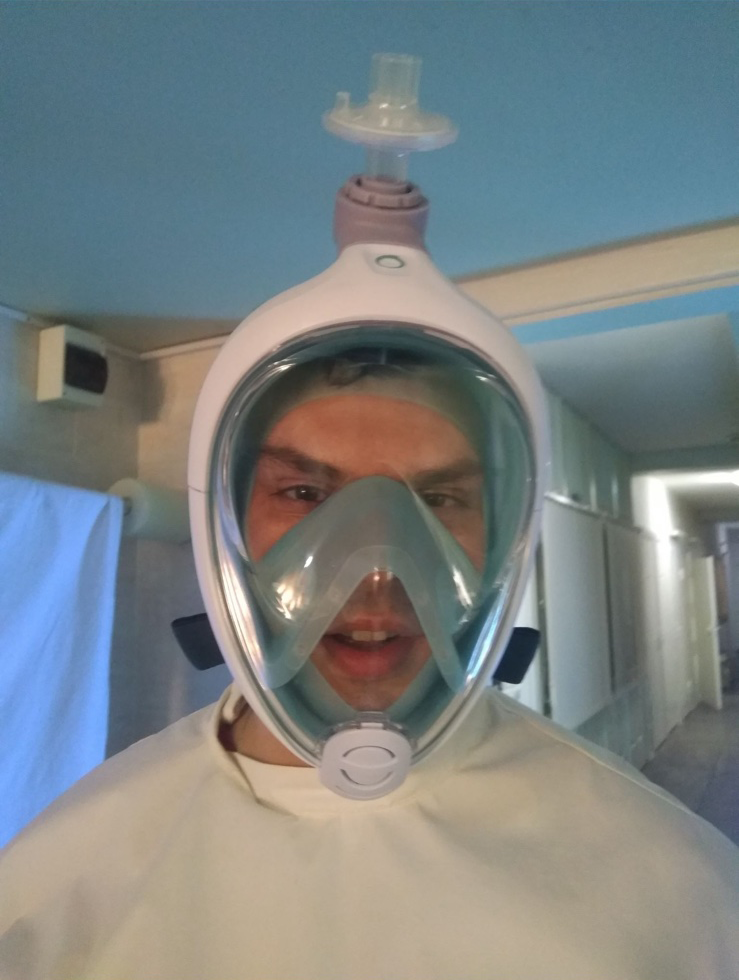 This is one of the doctors in charge of the infectious unit of the Kyiv City Clinical Hospital #9. He seems quite satisfied with his new face mask!
Over the last few days Mr. Kostyantyn Myrhorodskyi together with our MD Volodymyr have delivered and distributed twenty protective fae masks among the personnel of three Kyiv hospitals: we mean snorkeling masks adjusted to medical purposes and remodeled into PPE with efforts of the School of Military Divers. Doctors met the invention with pure enthusiasm: such mask can replace goggles, a disposable face mask and a protective face shield; in addition, it helps prevent one from an unintentional touching of their face. Besides, it is rather convenient to disinfect the whole mask in one move fast and safely. Together with the doctors, we feel happy as well: the invention has proven to be successful and efficient, so we are going to order another batch of this gear.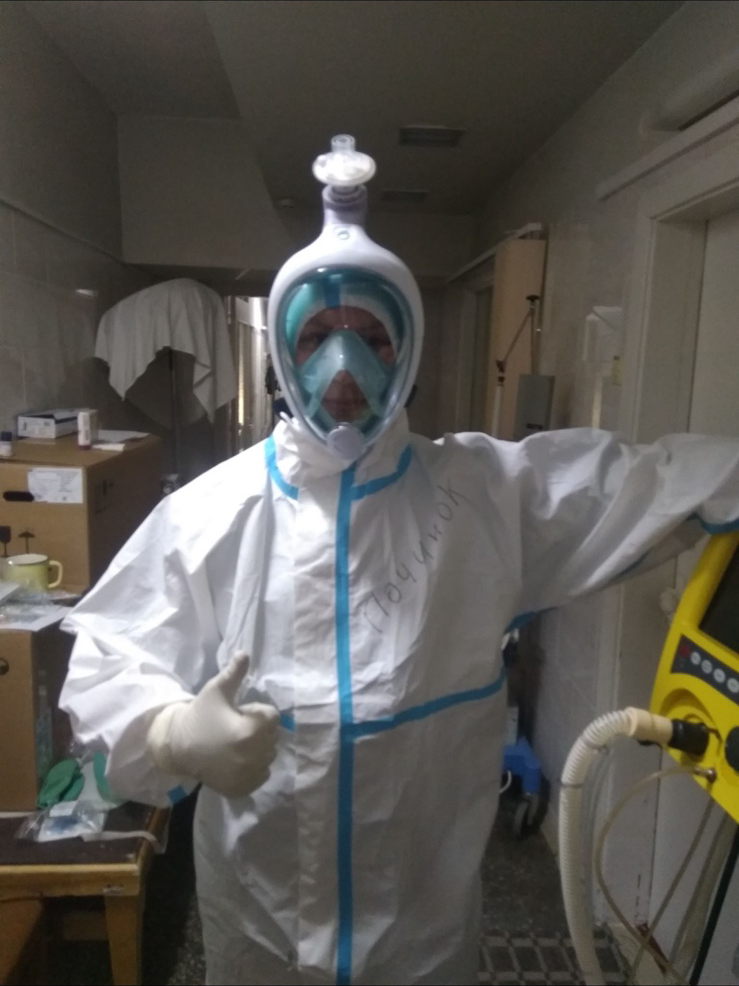 In general, despite the apparent external calmness (well, like "there hasn't been any corpses in the streets yet, and the victims are just numbers published in the media") the situation appears rather dangerous if to take a closer look. Base hospitals get gradually stuffed full with patients; other hospital units of the second defensive line have been already remade into coronavirus-oriented ones. The infection is spreading over Ukraine, and the danger has not passed yet: the worst is still to come. At this point it seems appropriate to quote our doctors and their bad language addressed to their compatriots who preferred to not obey the rules of quarantine and went to churches to get their Easter bread and eggs consecrated and spent hours amid the crowds of worshippers totally ignoring social distancing and safety rules. Well, today all those people got good chances to get ill, be admitted to hospitals and hear doctors estimation of their behavior personally, with their own ears. Sadly enough, especially if to take into consideration our common efforts to avoid mass contamination by observing the quarantine, keeping the distance and wearing protective equipment when in public. While most people try to keep it maximum safe and "flatten the curve" of the pandemic, the other deliberately put their own lives as well as the lives of other people, at unreasonable risk. "Thanks" to their shortsightedness or rather stupidity, the doctors expect to get a huge outbreak of the infection soon. This will inevitably endanger the whole Ukraine's population and lead to further escalation of crisis. Isn't this stupidity when people who fear a divine retribution, feel absolutely relaxed and careless about the real life deadly virus?
Now to less upsetting topics. We are sincerely grateful to the young MD Volodymyr, an anesthesiologist at one of Kyiv hospitals, for the care and enthusiasm he's been showing lately. After his working shifts, instead of taking a nap, he helps us with logistics and papers on the project's transfers; also, he facilitates communication between the doctors and the divers engaged in remodeling the snorkeling masks into PPE. In addition, we say thank you Mr. Volodymyr, for your continuous brave service in the first lines of the fight against the virus. We send a huge thank you to each of the doctors who continues to face the disaster in full awareness of the great danger. As, admittedly, there were lots of those who withdrawn at the very beginning of all this. We are exceptionally grateful to everyone who helps us keep this front by participating in the volunteering activities and who supports us with their contribution at the expense of which we can buy the necessary minimum of personal protective equipment for our medics.
We are not going to give up so we get prepared for further work. Everything we have bought up to now, despite the big numbers of invoices and substantial volumes of the stuff, still remains a small drop in the ocean of urgent needs. Despite all the soothing assurances about  sufficiency of the PPE in the clinics and hospitals, the real situation differs from the comforting reports. So it is our task as volunteers to protect doctors and support them with safety gear. It is still essential to supply various face masks, medical coats and respirators to our medical staff. So, dear friends, please join in. Each Hryvnia of your donations counts and remains vital!