Dear friends, here's our consolidated report on the first completed  logical stage of the Second Front project: let us sum it all up and proceed with our work. As of the morning, there are 804 officially registered cases of coronavirus disease in Ukraine, among which 135 ones have been reported over the last 24 hours. Out of the entire amount, 161 are registered in Kyiv which means +29 new cases. 20 cases resulted in the patients' death, and other 13 people recovered. Hence, the epidemic expands throughout Ukraine.
It is worth mentioning that it is not only ordinary citizens who catches the contagion by accidental contacting infected people. Officially, Covid-19 was diagnosed in 3 medics of the Khotyn Central Regional Hospital, in Chernivtsi Oblast. In Monastyriskyi region, in Ternopil Oblast, 24 medics got ill: these are doctors and nurses; mayor of the town has been down with the virus as well. Today, on the 2nd of April, the first case of Covid-19 has been officially registered in the Armed Forces: the infection was diagnosed in a doctor of the Khmelnytskyi Military Hospital who was immediately hospitalized while the persons who contacted her, isolated. One should keep in mind these are just the cases that have been officially confirmed.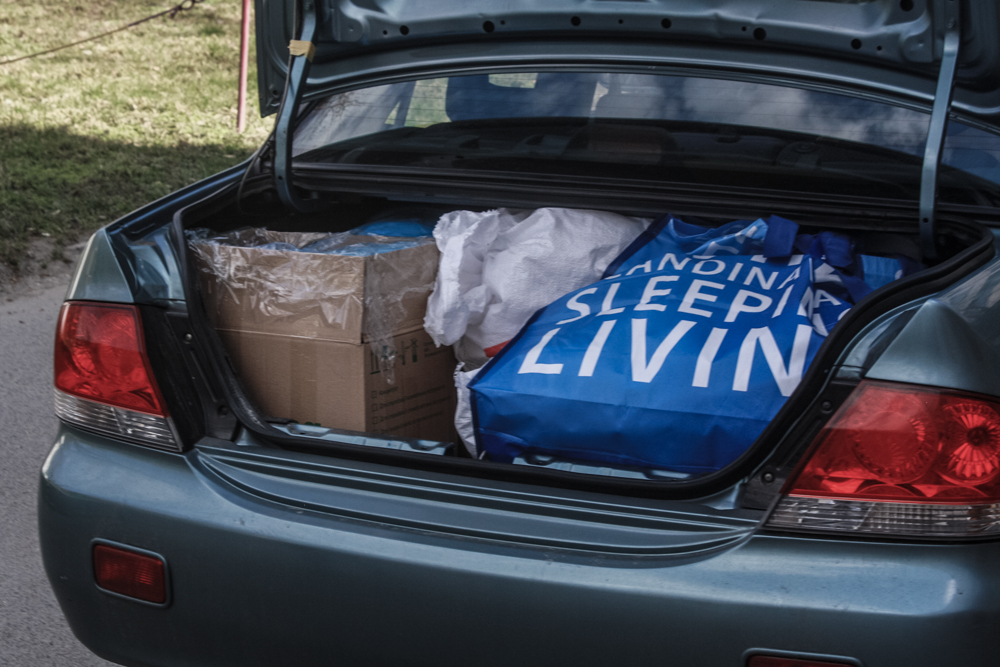 Sacks and boxes everywhere, stuffed trunk and compartment: these humble packages contain truly essential stuff
That is why we go on with our activities within the project designed to assist medical staff to protect themselves. Yesterday, we mobilized and delivered the main part of safety gear among Kyiv hospitals. Sorry but the pictures are not that perfect: doctors were rather busy, so we put the stuff in, got the papers signed fast, and moved on. Actually, this initiative is far from pursuing any publicity purposes, so the things are being done coherently and with mo fuss. The main advantage is we supplied the medics with the essential stuff, at least partially.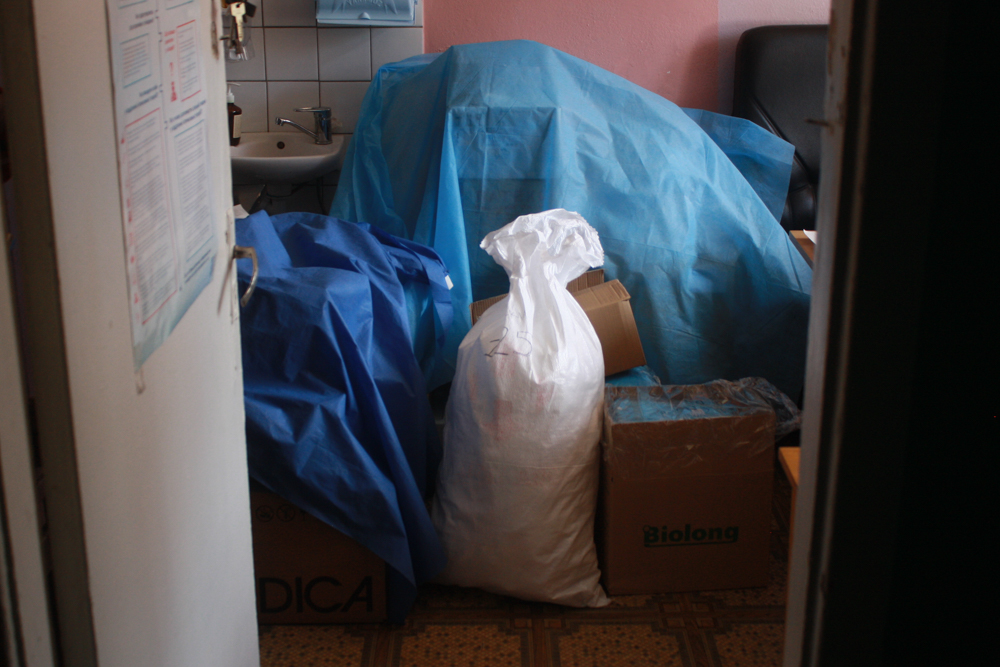 We put the safety gear into a small back room for storage: now it is up to medics to disinfect and use it in their further work
The first medical institution on the list was the Kyiv Clinical Hospital №4: their ICU staff look focused, prepared and with good morale. They are real Second Front soldiers, brave and eager to carry out the most challenging missions and fight for every individual patient against the most dangerous contagion. A while ago we together endeavored to save a good person's life: then these doctors used to do their best 24/7 for a few weeks in a row. It is nice to see their enthusiasm has not ceased since then. So it is a great honor to assist them with equipment at least a bit.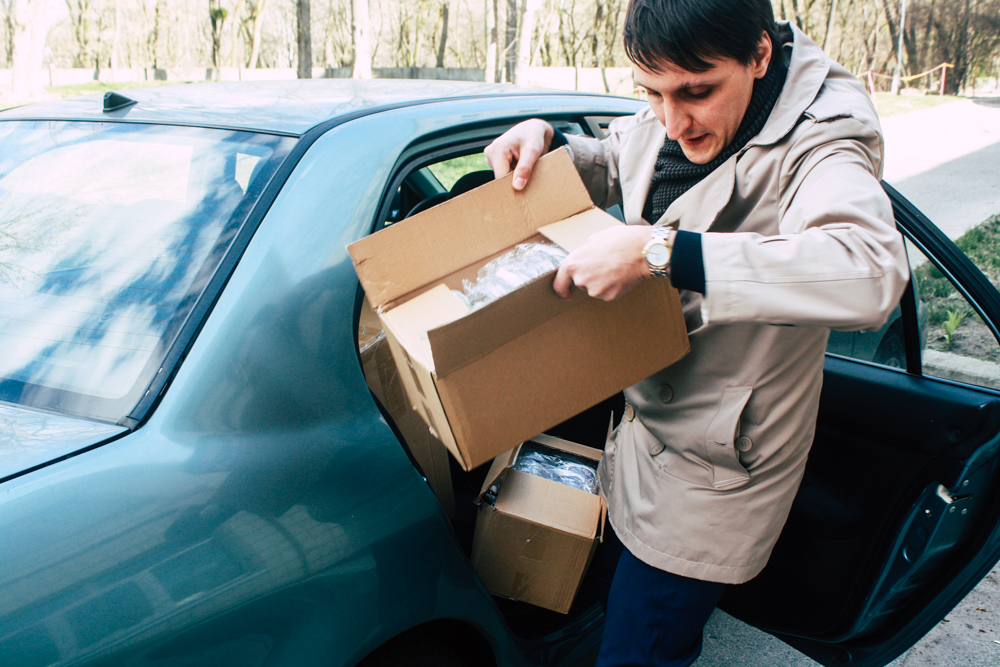 Mr. Volodymyr gives a hand in unloading stuff. He is a young yet quite an experienced resuscitation expert busy saving people's lives at daily basis; today, he helps us with logistics. And do not worry please: it was just for a short moment outside when we temporarily appeared without protective gear. The next minute, the safety masks were on.
We transferred 125 respirators, 100 safety suits, 20 eyeglasses and protective masks to this hospital. It was just the first part of the equipment they need. We did not have to deliver safety equipment to the Kyiv Oblast Regional Hospital in person: Mr. Volodymyr, their resuscitation specialist, gave us a hand in logistics and helped to move the stuff to the hospital on his own. Similarly, this transfer included 125 respirators, masks and eyeglasses.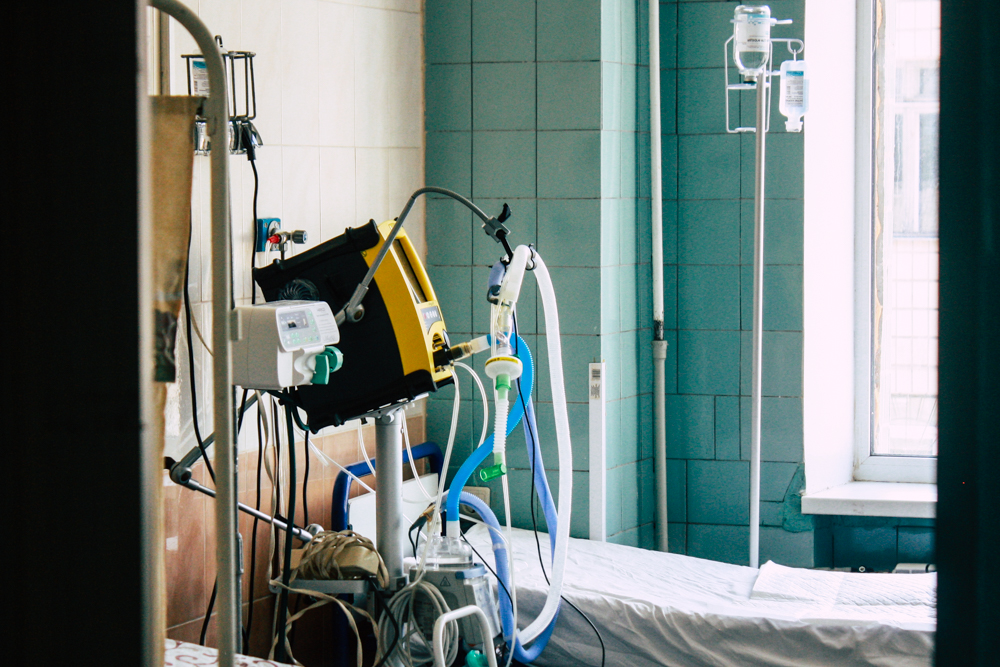 Don't worry, this photo was taken at a considerable distance, with all due cautiousness and in strict accordance with the rules, with discretion to prevent possible contamination of the sterile ward and medical equipment. The AVL apparatus is ready, some protective gear is present; the doctors prepared to battle the dangerous infection. This feels rather soothing.
The third part of the transfer was delivered to the Kyiv Maternity House №5 located nearby. Here, infected mothers and pregnant women are treated, so protective gear always remains in highly demand. We left the  batch of protective eyeglasses and respirators literally at their entrance, so there will be no photos as well.
Now to our current accomplishments.
Overall, as a result of the project's first stage, we have bought and transferred to medics 950 respirators, over 400 protective medical suits, over 1000 masks, the same amount of overshoes and disposable caps, as well as certain amount of protective face shields. All these purchases and transfers within the charitable initiative have been already displayed in our transparent online report. 
The need in protective suits remains quite essential either; it is about both reusable everyday wear and disposable ones for operative use. The issue of antiseptics also remains open: we need to admit that amid the rest of purchases we slightly overlooked this item so far. Shortly, we'll take on this needs as well. 
The list of hospitals we have already assisted:
Centers for First Medical and Sanitary Aid №5 and №6 in Mykolayiv

Kyiv Oblast Regional Hospital

Kyiv City Clinical Hospital №4

Dnipro City First Medical Aid Substation

Volyn Oblast Regional Infectious Hospital in Lutsk

Kyiv Maternity House №5
The supplies we still need to provide:
All the above mentioned hospitals need protective suits and disinfectants. Minimum, per 50-100 medical coats and 50l of antiseptics each.

The list of necessities has been expanded by the requests placed by the doctors of Kyiv City Clinical Hospital №10 where a Therapeutic Unit for treatment of the most difficult infected patients has been arranged on the base of their hospice. The staff requires full round-the-clock protection, namely medical coats, respirators and antiseptic. Naturally, we need to support them.

We got similar applications that came in from the medics of one of the airborne brigades of the AFU. Their request looks rather common: masks, gloves, antiseptic. Need to support them as well.
Dear friends, at present we experience a dramatic shortage of funds: the amount we have for the moment, is only enough to buy certain batch of protective medical coats, with no remaining money to satisfy the other needs. Of course, we may hope some day the situation changes, and the government will provide all the hospitals with necessary stuff, still how many doctors will manage to overcome infection and survive until then? That is why we urge you to mobilize, combine our efforts and help one another. Because despite the desperate struggle on the part of Ukrainian volunteers, the needs of medics throughout the country remain urgent and essential. So please  join in. This is the second front where everyone has to fight nowadays. Literally, everyone of us.