This years the St. Nicholas Day is not a bright holiday. The provocative attack of the russian occupational troops at the Svetlodarsk arc begun on Sunday morning of December 18th. The attack was preceded by a long shelling from a large artillery and mortars. According to the message from the headquarters three raids that last 3-6 hours each took place.
The divisions of Ukrainian defenders successfully reflected the enemy attack. The enemy forces flee, leaving the military property and equipment, which was produced in Russia, behind. According to confirmed information from the reconnaissance the losses of the enemy counted at least 20 people dead and 30 wounded.
The amount of loss of the terrorists is confirmed also by the local fighters.
"While Sasha Zakharchenko disappears, due to his drunk addiction, we are loosing positions at the front line. Givi is also lost somewhere. The fighters are demoralized. We are dealing with great losses. Already confirmed information about the death of 37 people, and 52 seriously injured. Five soldiers were torn apart by some unknown shell," – wrote one of social networks activist at the terrorists side.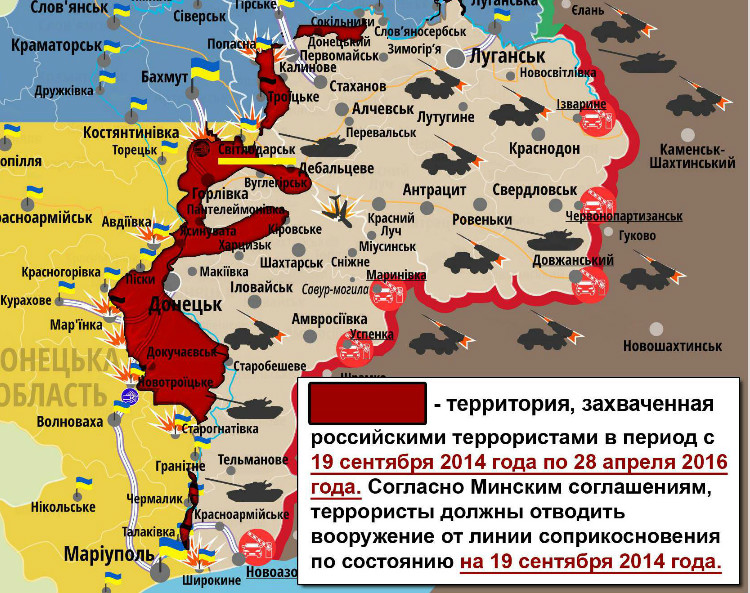 Svitlodarsk at the ATO zone map. Photo by the Informational Army of Ukraine community
"This f#ing forest we have been constantly shelled from is ours back again now!" – the front line volunteer Yuriy Mysyahin quoted one of the defenders of Ukraine.
"We pushed the enemy back and occupied an advantageous tactical position," – said to the InformNapalm volunteers one of the soldiers, who serves at the front line.
But the defenders of Ukraine payed the price for the military success at the Svetlodarsk arc. Five soldiers were killed and six wounded. Four of the wounded were slightly injured, and two other have severe injuries. We wish a rapid recovery to those soldiers, who survived, and infinite honorable memory to the heroes who restrained the enemy aggression and make it retreat with the cost of their own lives.
It was a cruel and painful dark day of the calendar for all the Ukrainians. The war continues, and will not end until all terrorist retreat out of the border of Ukraine. Join the project to support the defenders of Ukraine at the front line.
Your contributions to The Rapid Response Project will save more lives of the Ukrainian soldiers.