The "Kosmos-2430" satellite constituting a part of the Russian missile early warning system "Oko" ("The Eye"), has left its orbit and burnt up in the Earth's atmosphere. This was the information provided in the recent report issued by NORAD, North American Aerospace Defense Command. The mesmerizing process looking like a huge meteor shower, has been filmed in the sky over New Zealand.
Sweet meteor shower over Gisborne just now pic.twitter.com/IKifknbxIA

— Jeff ? (@peabnuts123) 5 січня 2019 р.
The "Oko" system forms a part of the Russian intercontinental ballistic missiles detection and early warning system. It was composed of three satellites out of which only one has now been left in orbit. Despite the pre-scheduled launches of the system apparatuses in 2007 and 2008, the satellites went out of order fairly shortly: the contact with both first and second satellites was lost in 2013-2014. That period of time was marked by a number of catastrophes in which Russian recon satellites de-orbited quite massively.
Naturally, the Russian Ministry of Defense immediately reacted to another falling, having announced that the de-orbiting of the satellite was timely and pre-scheduled. Well, it would have been surprising if the Russian military body commented on another their shameful fail in any other way. Since 2015, Russians have been implementing new "Tundra" system designed to replace "The Eye". This system is described as being more precise, powerful and allowing military not only to detect but also control missile forces. However, in view of the fact that Russia's military leadership spends the bulk of their budget on propaganda and production of pathetic campaigning materials, both the new anti-missile system description and estimation of the Russians' space military forces should be taken with skepticism.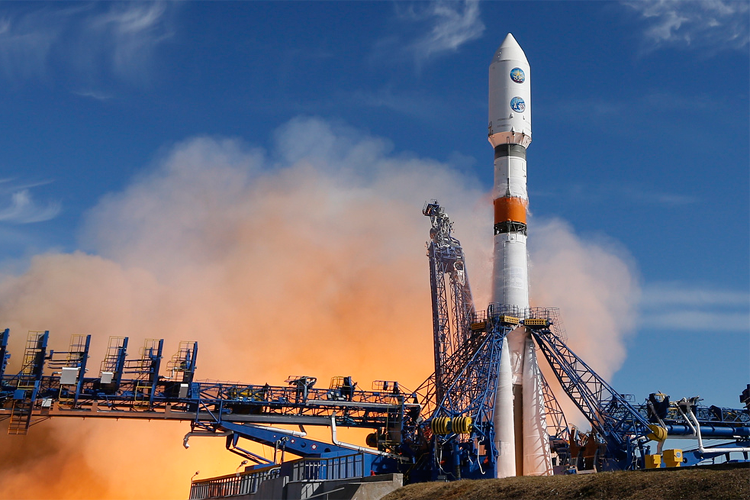 Launch of another Russian rocket carrying intelligence satellites
In our turn, we have to keep in mind that the Russians proceed with their main goal, spreading the contagion of the "Russian World" everywhere wherever possible. And even now, while you are reading these lines, our military have to resist the aggressor on the temporarily occupied territories of Donbas. And we are able to help. Within the Rapid Response initiative, we are raising funds to buy necessary equipment the authorities either has no possibility to supply or just fails to provide these in due time, for the units that hold defense in the frontline. Why us and why should we? Because our upcoming victory is our common concern, and it depends on each of us personally. So dear friends, please join in, since our enemy is not going to destroy themselves on their own!