In Odesa, life is in full swing! May we remind you, dear friends, that right at the moment, in this Black Sea city as well as in three adjoining southern regions of Ukraine, Sea Breeze International Naval Exercises 2019 are held. In total, about 30 ships, powerful warships including the Canadian HMCS Toronto frigate, British D37 Duncan destroyer, Turkish Navy frigate F241 Turgutreis, Romanian F221 Regele Ferdinand, Spearhead-class high-speed USNS Yuma and Burke-class destroyer USS Carney DDG64.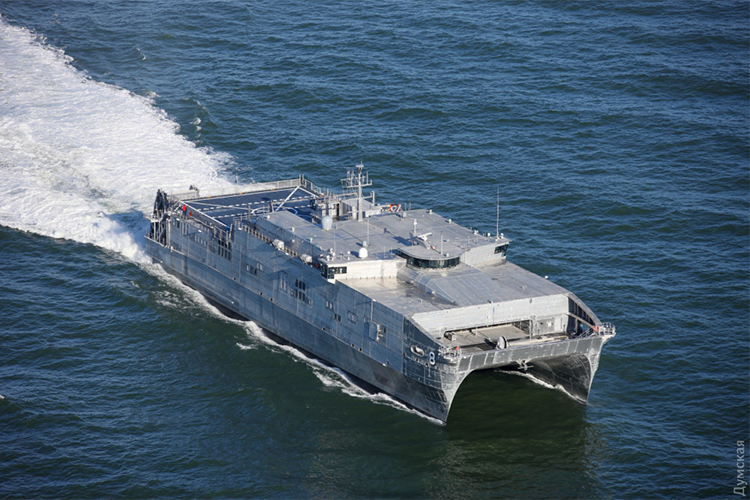 US Navy Spearhead-class high-speed transport USNS Yuma
Naturally, the flagship of the Ukrainian Navy, frigate Hetman Sahaidachny along with other vessels with less known names still dangerous for any aggressor's naval forces, have joined the multinational maritime exercise. In total, naval forces of 19 countries including Bulgaria, Canada, Denmark, Estonia, France, Georgia, Greece, Italy, Latvia, Lithuania, Moldova, Norway, Poland, Romania, Sweden, Turkey, Ukraine, United Kingdom, and the United States participate in SB19.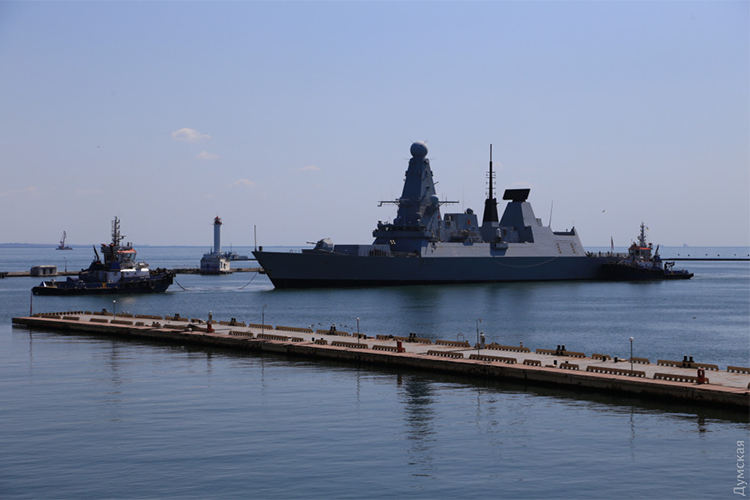 Royal Navy destroyer HMS Duncan D37
According to the legend, the enemy elements will try to block the access to the sea from the largest waterway in Europe – the Danube River, while the ship-boat staff of the Sea Guard will receive the tasks of providing escort to civilian transport vessels along the river and their free passage through the mouth of the Danube to the Black Sea. This training element exclusively involves the forces of the State Border Service, in particular, the Marine Guard and artillery: specifically, the Ukrainian and American artillerists have already conducted their powerful joint combat drills.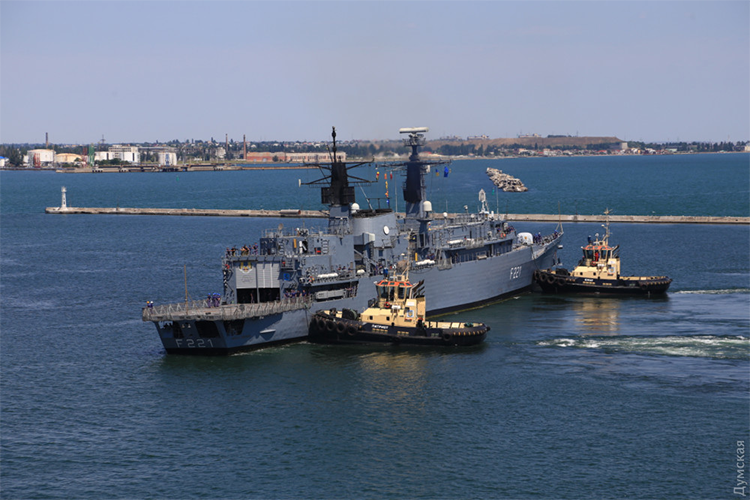 Romanian F221 Regele Ferdinand frigate's manoeuvre in the Odesa Sea Port coastal harbor
The multinational sea exercise has evoked such excited response in the most aggressive and covetous eastern neighbor of Ukraine that the enemy hastily started their own maritime drills. So now in the temporarily occupied waters of the Black Sea, in the thick blanket of fuel oil smoke, their rusty troughs are infumating the skies, and the both sea and coastal aviation are ploughing the air relentlessly. Well, it may be that the French A759 Dupuy de Lome signals intelligence vessel is shuttling nearby. Formally, she does not take any part in the exercise, still this fact does not prevent the ship from close monitoring of the excited aggressor carrying out its SIGINT activities and accumulating related unique information that may be required in some time.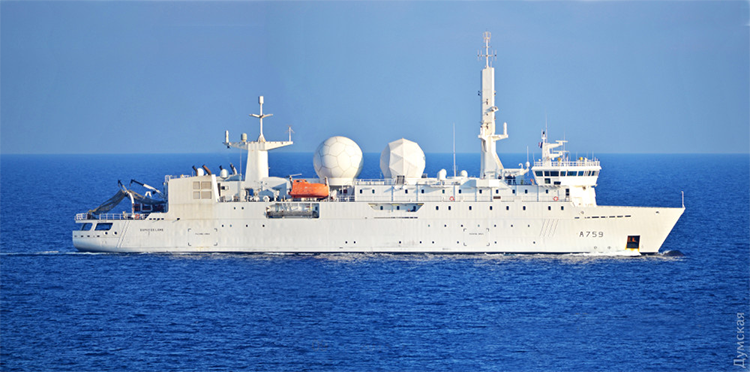 The majestic and beautiful French SIGINT ship A759 Dupuy de Lome
In addition, Ukrainian divers take active part in the maritime drills as well: despite it is just an exercise and not a real war, it cannot do without underwater sabotage and intelligence forces. 125 divers from six countries including Ukraine, conduct joint simulated diving rescue mission, further de-mining and safety procedures of a vessel that is conditionally sinking rapidly. Personally, we were extremely happy to stumble upon familiar faces while browsing through the pictures of the drills: there are the guys whom we support within the School of Military Divers project! Since Ukrainian divers present a really fearsome power to those who may turn out to be so silly as to encroach on Ukraine.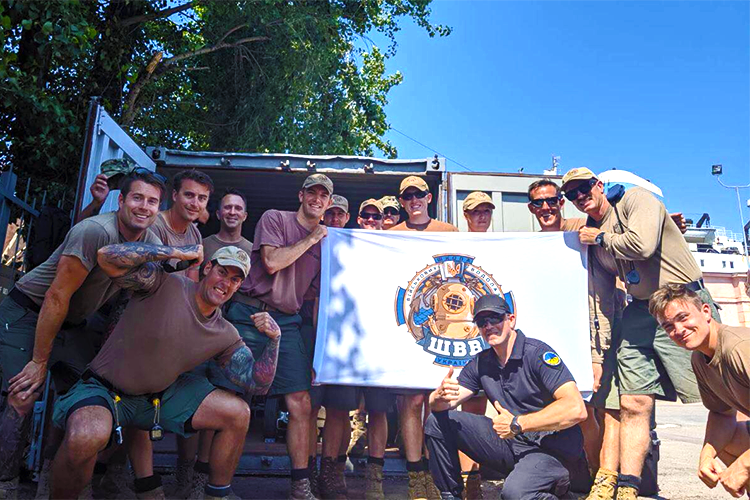 It is the Ukrainian divers' genuine dedication to their duty, tenacious perseverance despite any circumstances, their persistence and even, to certain extent, their stubbornness that evoke sincere smiles of their foreign colleagues. So NATO military divers wish them best and say thanks to everyone who supports their Ukrainian mates. Honestly, they say thank you!
Still, all this is a bit upsetting as well. Despite all their true enthusiasm, notwithstanding their unique skills and experience, not every Ukrainian diver possesses up-to-date equipment necessary for efficient completion of the entire specter of their combat missions. Most part of the essentials has been provided by volunteers solely, and that is why we have to repeatedly address you, dear friends, asking for the assistance you can afford to provide. For our guys not to feel ashamed when they have to operate in their worn out swimsuits and outdated Soviet era scuba gear in front of their foreign well-equipped colleagues. Submarine forces is a vital part of our defense capability. So if certain defense officers, bodies and authorities responsible for material provision of our Navy, are not worth their bread, then who else should care about the true, not make-believe, military capacity of our own army? Dear friends, please join in: the sum we need to accumulate, is not that big, and often even a small donation really matters.
Let us also add a little thing, or rather an emotion. Have you even been to the Black Sea coast, or perhaps at the moment you're lying on the warm sand while idly scrolling through this very news? Can you remember those soft waves that tickle your feet continually yet amicably? The vast golden sand beeches and alluvial seashells, smooth salty whiff of the sea breeze and endless calm serenity of the seashore. Can you remember golden Crimean sunshine, ancient wild mountains and severe stormy winds of the adored peninsula that had been so meanly stolen from all of us.
How much of that sea has been left to us? In case of another assault (dear friends, hopefully you don't suppose the aggressor has given up their plans of further offensive, do you?), who will stand up to defend our coastline? You or me? What are we supposed to do then, to oppose the enemy with our slingshots and sticks? Or perhaps blow in the sails of the enemy warships? Direct our armed and well-trained dolphins and barnacles at them? Well… being totally aware of the threat and in full knowledge of the situation, we have been continuously supporting the real professionals, well-trained and skilled underwater assassins, those who with no doubt would sink an enemy vessel using an underwater mine, go ashore and kidnap an opponent's high rank officer or major general, to accomplish some other secret mission… Do everything to help Ukraine remain Ukraine, whether on the ground, on water or in the air. Dear friends, please join in when we still have the possibility to do our work quietly and thoughtfully, in advance. Just to avoid possible further regret for the things we could have done but waisted the chance, for the rest of our days.
Photo credits: Dumskaia Odesa regional media outlet, Army Inform Information Agency of the Ministry of Defense, and Mr. Yevhen Sylkin personally.