Instead of realization of the Minsk agreements and advance toward establishing peace in Ukraine, Russia lavishly sponsors corrupted "leaders" of the occupied part of Donbas, trains and equips the illegal armed formations while building on status-quo through fake elections. This was the opinion Mr. Kurt Volker, the U.S. special representative for Ukraine expressed on Sunday, November 11th, when the so called elections of terrorists' leaders were held on the territory of occupied Donbas. Let us remind that despite the strong diplomatic pressure and condemnation of the fake elections on the part of Ukraine and the West, the Kremlin curators did insist on the so called elections which contradict the provisions of international agreements signed in the course of peace talks in Minsk. According to the results of present action, the same Kremlin marionettes appointed immediately after the chief Donetsk bandit Zakharchenko's death and the culprit in Luhansk region in the course of which the head of Luhansk terrorists Plotnytskyi fled to Russia, have been approved as heads of the corresponding terroristic groups.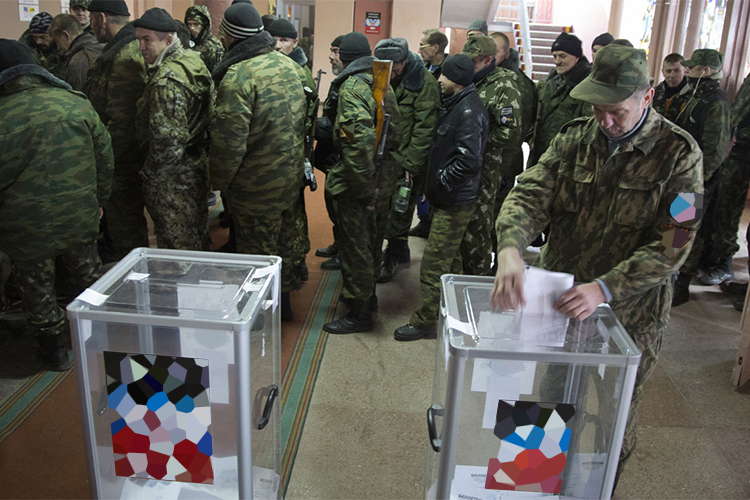 The "freedom-loving people of Donbas" is "electing" its "democratic leaders". No wonder no one in the civilized world is going to recognize this circus
Heads of the leading European countries, USA, European Union and, in particular, Ukraine, have emphasized that they do not acknowledge these quasi elections on the occupied territories as a real manifestation of people's will and in no way recognize their legitimacy or outcome. To us this means just one thing: without any reminder we know that we have to help strengthen the Ukrainian army that has been confronting the threat of Russian occupation, at our best. This also is the main purpose of our Rapid Response project initiated by the People's Project center's volunteers. Within this initiative we raise funds through accumulating donations made by sympathetic citizens, and buy necessary equipment for the units fighting in the forefront and holding the line of defense. Sometimes we send them specific devices like scopes or mounting gear, sometimes it can be humble everyday necessities like power generators or wires they need so much while residing in field conditions with minimum comfort. You can see all the needs as well as expenditures in our transparent online report on the project. We urge you to participate in the initiative by pressing big green button below. Dear friends, don't hesitate to join in as our forthcoming victory depends on our shared efforts!