Why is it important?
Footwear – is an emergency  necessity for the Ukrainian military.
Though the anti-terrorist operation has dragged out for more than half a year, our soldiers are still wearing hard, uncomfortable and often old, leaky  boots, sometimes worn by several predecessors. They chafe the feet and the shin – because they are made without a padded lining. The greatest satisfaction for many soldiers is to take them off.
---
What's the money raised for?
We call for money to be raise for 1000 pairs of high-quality boots. On the threshold of the harsh winter we want to provide at least 1000 fighters for the sovereignty of Ukraine with warm, soft, anti-slip footwear.
We are buying Ukraine-made boots. They are made mostly of Ukrainian materials, except for the glue and additional items from European Union.
The cost of one pair is 475 UAH.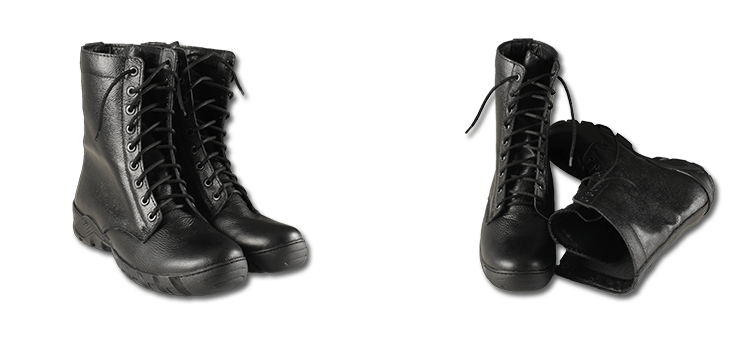 Why do we regard these shoes as being worthy? In our opinion, we found the most appropriate option for our military on Ukrainian market with a good cost-quality ratio.
Their main characteristics:
– Each pair is made of high-quality natural cow leather, expected to withstand extreme conditions.
– Highly waterproofed. Firstly, the whole boot was treated with special substance that repels water. Secondly, there is a full height sealed-tongue, which prevents the boots from becoming wet even if  immersed in water.
– Comfortable on the shin thanks to the soft padding inside the tongue. The shin is not squeezed in the case of active bending nor if laced up tightly.
– Strong laces treated with a substance that prevents them slipping undone.
– Tough, chemical-proof sole due to the fibrotekstone membrane, which additionally protects the foot in case of sole being pierced.
– The sole is stitched, that endures the quality of connection. The sutures in the base part of the boot are soaked with the wax mixture for increased waterproofing.
– The boot toe and heel are reinforced. The lower part of the shoe and where it is in contact with the leg are lined with natural veal leather lining.
– No metal rivets are used, with all joints using strong thread (critical places are stitched several times). The thread is rot-proof, as they are made of the same fiber as fishing nets.
So, the project budget:

474 683 UAH

5 940 UAH
Totally:
480 623.00 UAH