One of the most important items of personal equipment for soldiers in a combat zone is high quality and comfortable combat boots. Within the project Combat boots – 1K we have purchased and delivered to the different military units 1 046 pairs of boots. Together with our partners in the project, the volunteer organization Narodniy Tyl, we transferred combat boots to the National Guard, military units, volunteer formations and doctors to the front.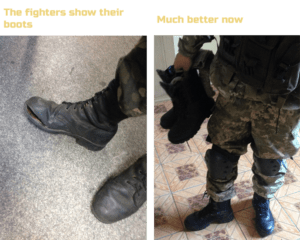 Please note that all boots are made in Ukraine. They were tested at the front line and we have received many positive reviews and words of gratitude from soldiers.
Thanks to everyone who supported the project, thanks to the producers of the boots and our partners in the project, the volunteers from Narodniy Tyl.