Dear friends, we have got a new fighter at the «Biotech». This is Volodymyr, he is slightly over 40; an ordinary nice man from Cherkashchyna. Volodymyr is suffering from critical instability of the knee joint: this means that the major bones gone disunited in the knee; they are swinging back and forth, get mechanically ruined and cause continuous pain. The only thing Volodymyr can do is to hobble with a crutch. Well, is this life? We are going to tell you the most interesting thing about Volodymyr at the end of our report, and we will try to describe what exactly happened to the man and how doctors abandoned him, in detail.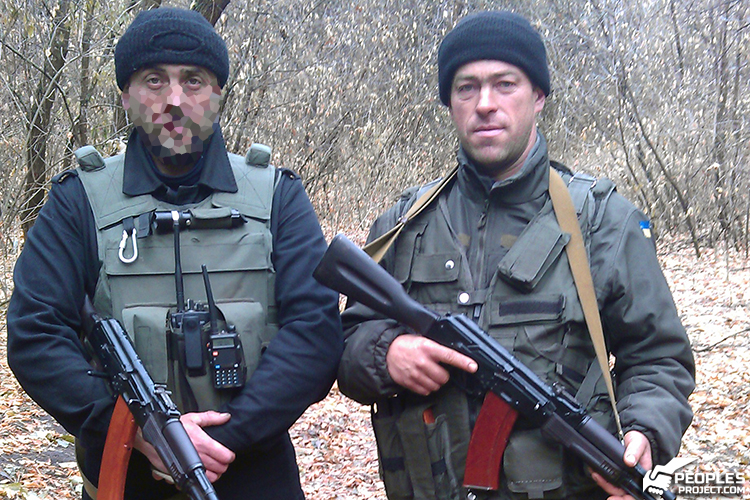 Volodymyr's misfortune lies in rupture of the cruciate ligaments of the knee that had been damaged by an overload; now these ligaments are unable to fix the bones in a proper position. Volodymyr got this injury in the ATO zone: the man served in an artillery battalion where he maintained and guarded large-caliber self-propelling guns. Under the ceaseless enemy shelling the man had to exploit his leg in full, either while jumping down into a trench or pulling up some heavyweight stuff, and all this wearing his bulky ammunition on the shoulders. So the knee failed to handle such strain: one day in March, under another unexpected shelling Volodymyr rushed awry, twisted the leg and got that shooting pain in his limb – the ligaments went ruptured with overload.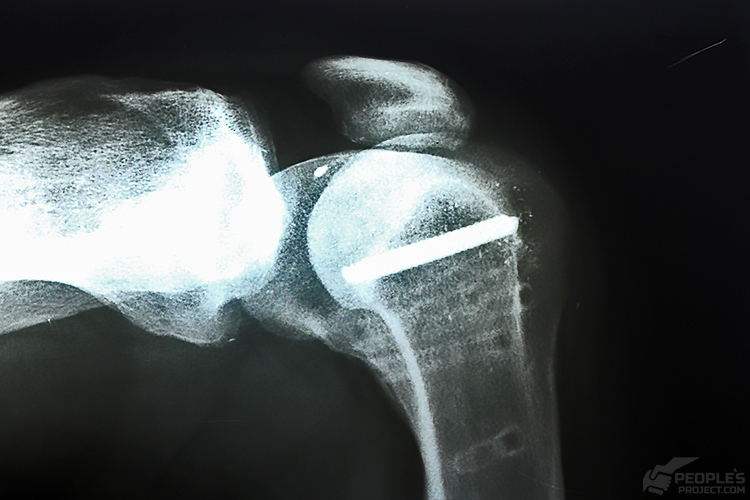 This is how Volodymyr's knee joint looks today: disfiguration in bone position is identifiable for specialists only
Later, a chain of queer events occurred in a hospital. Medical examination revealed a metal plate in the man's hip: around five years ago Volodymyr had had an accident, and since then his hip bone was fixed with a metal plate. This detail allowed the doctors to carry out a tricky manipulation: the plate was removed and the leg stitched up; and Volodymyr released from hospital to do whatever he wanted as they considered him fit for military service. Still the leg did hurt. Eventually, the man was advised to undergo a number of further surgeries and tests at his own expense – he was diagnosed with his previous injury and no ruptured ligaments were mentioned in the medical statement.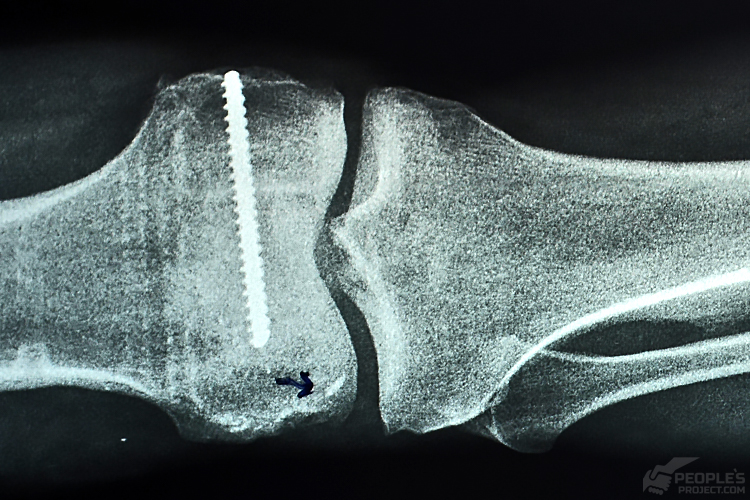 The broken screw is well seen for everyone. It does not cause pain but impedes further treatment
Afterwards, Volodymyr had to undertake medical examinations on his own. It was found out that during the surgery doctors broke one of the old fixing screws in the bone. This made the complete MRI test aimed to define the scope of work, impossible. It was Volodymyr Oksymets's skillfulness that saved the situation: the doctor examined the patient very carefully, and from both limited information provided by the CT test and his previous practical experience he concluded that the problem lies in ligament rupture. This allowed to determine the approximate scheme of Volodymyr's prospective treatment.
For today, it is quite easy to help Volodymyr: he is not the first patient suffering from a similar injury, within the «Bioengineering Rehabilitation for Wounded» project. First of all, the doctors are going to remove the screw fragment and examine the area closely. Then the surgeons will restore the damaged ligament tissues in their normal physiological position. Then the rehabilitation, observation and check-up period will follow; possibly, additional correction of the joint will be needed. All this package of measures will allow Volodymyr to come back to normal life quite soon as his chances for recovery are quite big.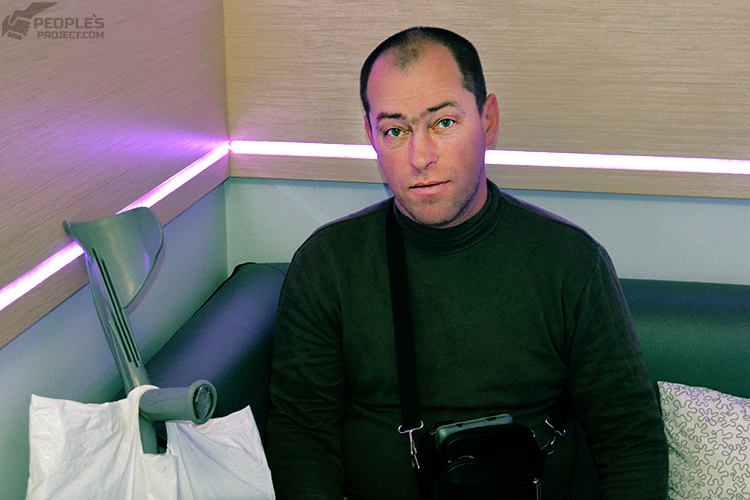 Volodymyr is far from being wealthy; he neither speaks from the rostrum nor goes eloquent on a TV screen. He is just a nice countryside fellow who is responsible for his gigantic family: together with his wife they have six own children and two other kids whom they adopted after wife's late brother. He had the right to refuse military service due to his status of a many children father, but he went to the war without hesitation. Moreover, even after his demobilization Volodymyr planned to stay on a contract until the final victory.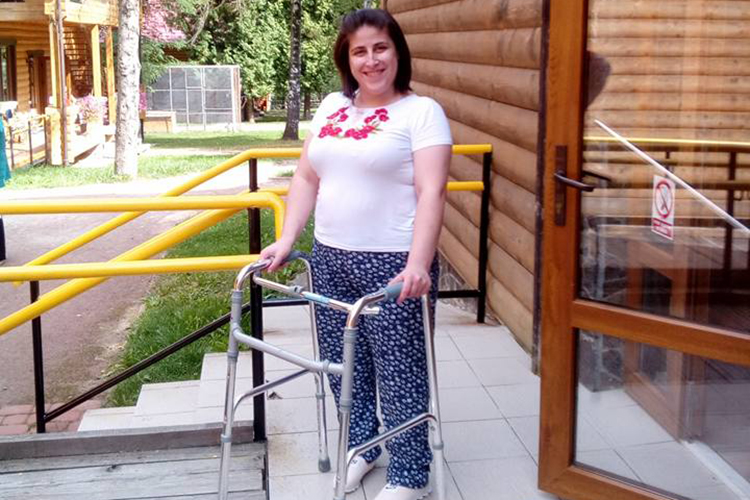 Myroslava on rehabilitation in a sanatorium. This lovely girl possesses a huge caring heart
This nice woman, Myroslava, has played a big role in Volodymyr's life. She has been undergoing treatment at the ilaya clinic herself: all her life the girl has been fighting against the consequences of serious illness, and lately she has made the first steps on her own legs. In spite of loads of her own problems, Myroslava got interested in Volodymyr's case a lot: even before he joined the Biotech initiative she had started raising money for his rehabilitation. Myroslava has transferred the collected money (which made rather a substantial amount) to the Project's account, and we have already paid for the first stage of treatment. Nevertheless, the full sum is still to be raised, and that is why we apply for your assistance again. As you can see, the state has finally worked out its position as regards bioengineering rehabilitation of wounded, so no support on their part should be waited for, and when it comes to making a fighter able to walk on his own legs and bringing him back to normal life, it is our shared responsibility solely. So we need to keep together, dear friends, and never let our defenders down, otherwise all our patriotic slogans and inspirational speeches are not worth a penny. Join the «Bioengineering Rehabilitation for Wounded» project: your donations make a vital part of support for our injured defenders.