Description
Why is it important?
The project
Bioengineering Rehabilitation for Wounded
is a fundraiser for the restoration of injuries in wounded Ukrainian soldiers, for whom traditional medicine is unable to be of assistance. Significant fractures that do not heal over a period of months or years, massive bone defects, injured joints and some types of neurotrauma – these are all conditions the project deals with. To give the men a second chance at a full life, we use the revolutionary cellular technology program ilaya.regeneration.

About the project
What exactly do we offer those enrolled in Bioengineering Rehabilitation for Wounded?
The process is quite simple. Specialists at the iLaya Medical Company conduct examinations on the wounded and develop a detailed plan for medical procedures as well as calculating the estimated cost. We collect your donations and pay for treatment. Doctors use biotechnology to select cellular material from patients. According to the profile of a bone defect, they may make a special three-dimensional matrix. They then "grow" the patient's own living cells and subsequently transplant them at the site of the defect. Due to the fact it is the patient's own tissue, the implanted material faces a minimal threat of rejection and grows at the site of the injury in a manner that makes it appear as if the injury never occurred. In addition, recovery is several times faster in these cases than in the case of traditional medical procedures.
At a time when state-funded medicine offers only crutches and prostheses, we operate on the cutting-edge of medical technology that makes it possible to return the wounded to normal.
Are we too confident? After all, we are talking about something you really only see in science fiction films. We are very much dealing with science fact, and if we were not seeing practical results, it would be difficult to believe. However, for more than two years, through the Bioengineering Rehabilitation for Wounded, more than 50 wounded soldiers have already been treated. Almost all of them have completed treatment or are on the way to a steady recovery.
Specific success stories:
Volodymyr. was 19 at the time he was wounded. A horrific injury he received when the cowardly Russian artillery shelled Ukrainian troops at Zelenopillya. Debris from projectile ripped through the bones of his left foot, almost depriving him of the ability to walk. What's was to come next? Amputation and prosthesis or, at best, reliant on crutches for mobility.
Fortunately, the iLaya doctors were able to put Volodymyr back on his feet. For some time the re-grown bones have been in place and has fully recovered and returned to normal life with his girlfriend.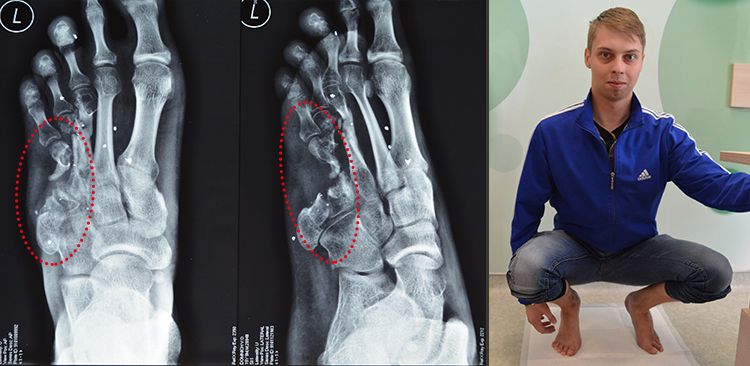 ---
Oleg. Volunteered to go to war and during an intelligence mission with the Mariupol squad Oleg was caught in an ambush.An enemy machine gunner shot his leg, turning his tibia into splinters. Oleg's advanced multi-comminuted fracture was soon taken on by the specialists at iLaya.
After examination, preparation and then relevant surgery – Oleg is confidently walking on both legs unaided.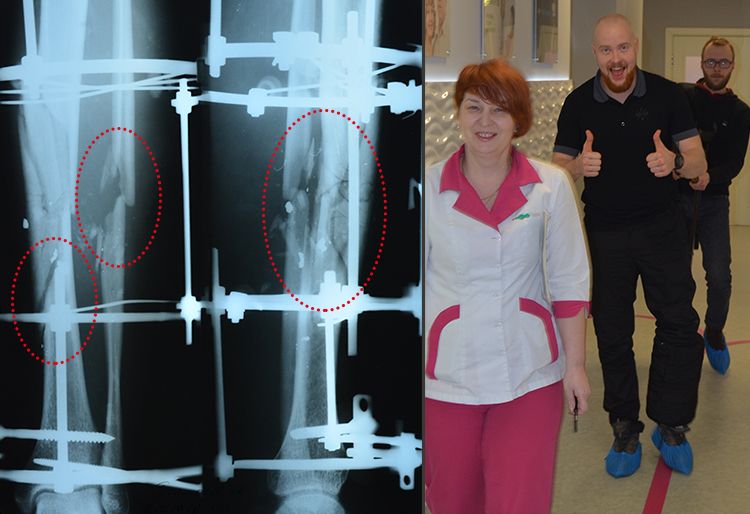 ---
Roman. Was severely injured at a defense checkpoint when a grenade exploded nearby injuring both legs. His left knee had to be completely rebuilt. Public health doctors had almost written Roman off as a lost cause, however, the Biorehabilitation Rehabilitation for Wounded gave him a brand new joint. Today Roman continues rehabilitation and confidently heads towards a full recovery.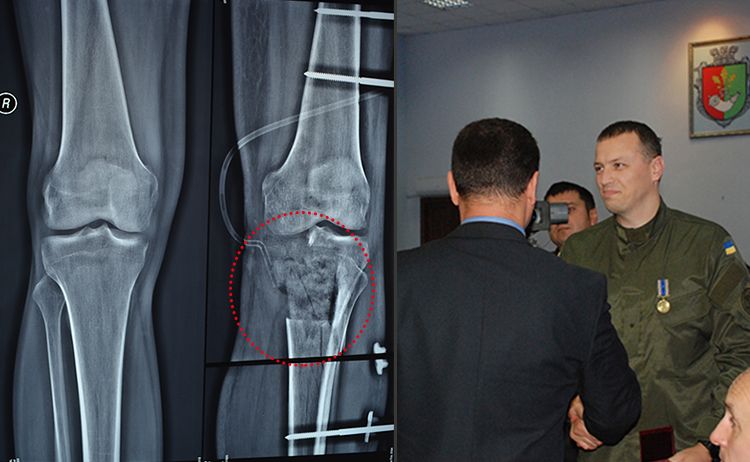 ---
Oleg. One of the most difficult cases faced by the project, Oleg's severe injuries were received during the battle for Lutugyne. Oleg almost lost his right humerus – the defect was 12 cm, his right femur lacked 4 cm. Six months of treatment in public hospitals brought no result. However, biotech brought unprecedented results and over time bone has regrown. Although his recovery continues, Roman has a chance for a full one.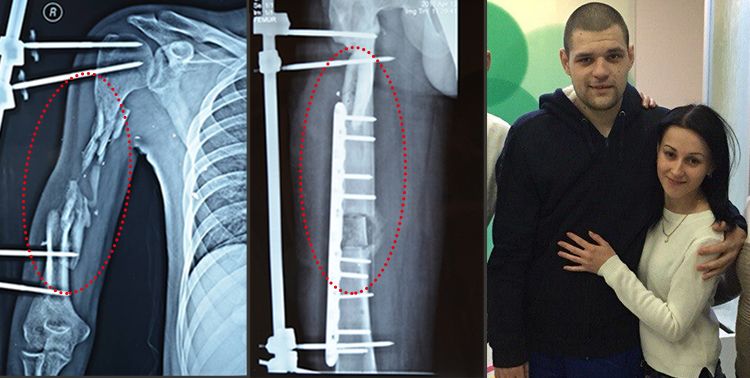 ---
Mykhailo. In battle near the village of Piski he took a bullet from an enemy machine gunner. Mykhailo lost 10 cm of his right clavicle. Of course, this lead to a complete lack of mobility in his right arm. Following his course of treatment at iLaya, the bone was regrown and now Mykhailo has fully recovered, is actively involved in sport and has returned to service in the ATO zone.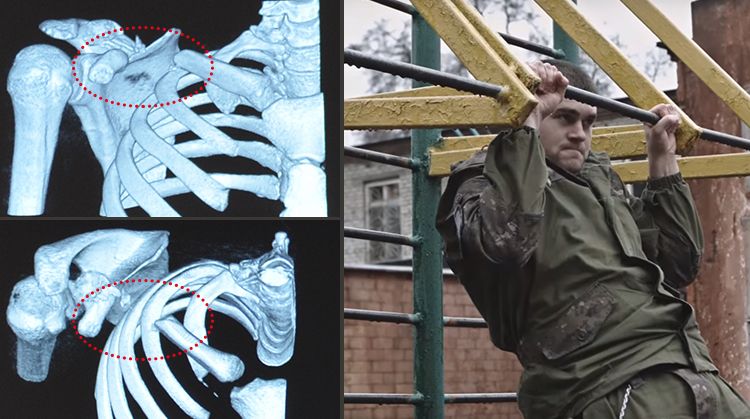 More about how biotechnology aided Mykhailo in his recovery:

This year, nine men enrolled in the Bioengineering Rehabilitation for Wounded project took part in an annula charity fun-run in the Ukrainian capital Kyiv. The nine took part in the "Chestnut Run" on their own feet and overcame the distance. Contrary to all predictions in the public health system, which were of disability and hopelessness, our defenders have returned to normal and have silenced all skeptics.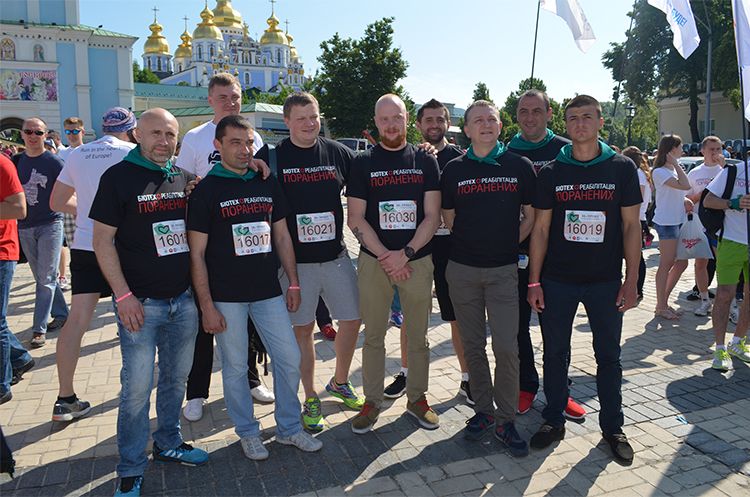 Why ilaya.regeneration?
Cellular technology is already used in several leading medical clinics around the world, however, in Ukraine, it is still a novelty. Utilizing this scientific technology requires such a high level of ultramodern equipment, staff with high academic qualifications, long-term study and certification. The specialists at iLaya were literally pioneers in the study and application of this technology in practice. The first patients were seriously injured miners, then the same methods were applied to the treatment of road trauma victims. Since the beginning of Russian aggression against Ukraine iLaya has dedicated this technology to the treatment of those seriously wounded in service defending the county's territorial integrity.
Anyone can join this project, either as a supporter or as a wounded soldier actively seeking treatment.
If you or a loved one has been injured in combat and has injuries that are beyond the realms of traditional medicine, fill out this application form with medical and contact information. If approved, the specialists at iLaya will determine a course of treatment, and we will beging the fundraising process and pay all necessary expenses.
If your interest is in contributing to the project, we welcome any donations. There is a waiting list of seriously wounded Ukrainian military requiring care, so every hryvnia counts.
Professional military, Colonel of the Armed Forces. For a long time, he guided the defense of a military base surrounded by terrorists in Bakhmud (formerly Artemivsk). Wounded in a fierce battle.
Read more →