Recently, we got lucky to talk to a legendary Army sniper, a commander of a separate sniper unit with 17th Tank Brigade. Today we are publishing another piece of his memoirs dated by the period when the sniper squad was holding the outpost in one of the hottest sectors in Luhansk region. There will be no photos as usual: they went out to work, not to take pictures. Like before, it is the first-person narrative, the previous part of which you can find following the link. 
---
All the most thrilling incidents happened really unexpectedly. For example, winter time. Our neighbors, infantrymen, went to examine the township nearby. Came out and vanished. We were getting worried: two soldiers seem disappeared, maybe something happened to them, although there were no shots heard. Still no: these two daredevil contract soldiers came back overwhelmed with joy and told us they got lost in the woods where later they stumbled upon a tank. What tank? Who knows, but it was located in about two kilometers' distance from our positions. It was the terrorists' tank, and it was just standing there, among the woods.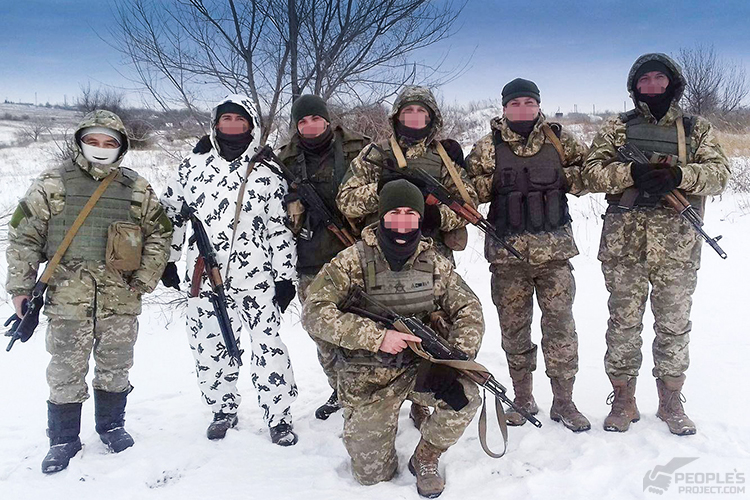 This is a picture of the sniper squad, taken the last winter
At first, nobody believed them: there could be no tanks there. I unfolded a map in front of them, but they failed to locate the object in it, just pointed to some area. Started to question them in detail – they said there was some old dugout near the lost tank. It obviously stood there for long as it looked totally frozen, covered with snow and frost. Well, just logical: suppose its engine started, we would hear it immediately. Sounds spread far in winter time, and to maintain the combat condition, a tank needs to warm its engine up periodically: take for example ours, its motor had been regularly run twice a day.
Well, fine: there was a stray tank somewhere. So we decided to inspect the spot. Unfortunately, on this very day we expected some audit, and a verifying team had to arrive soon, so we all had to be present. Still the inducement to see the tank was so tempting we could not resist. So we woke up early, got our things packed and went out toward the spot. Almost at once we detected our infantry men's footprints: they seem wandered there a lot, so we had to double their way, and finally got to the tank.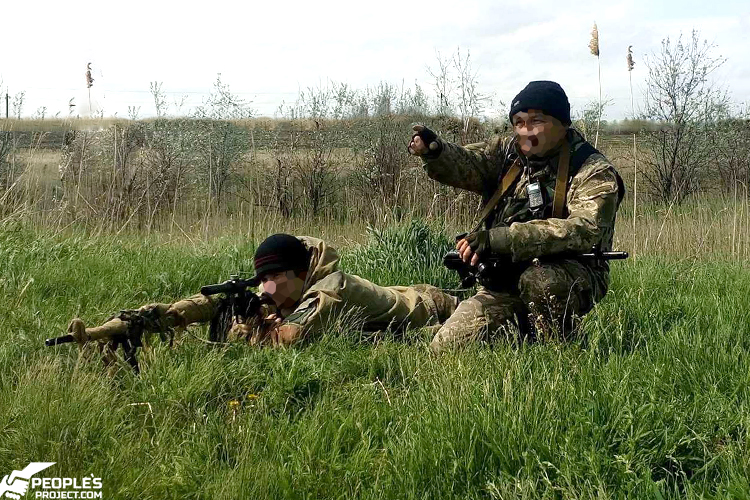 The sniper squad fighters at training. Perhaps, the participants of this story are among them!
The clue was rather simple: we got to know the rest of the details a bit later. Actually, the tank went out of order so failed to get back on position in time. The terrorists' commanders left the staff to guard it, but not the whole crew of three tankmen – just two of them. They dug out the hole, installed a wood burner inside, and lived there quietly. Judging by the quantity empty cans and bottles scattered around the place, they stayed there at least for two weeks: probably waited for the tank to be transported back to positions or for something else; anyway, they sat there and drank.
We got closer and started to watch; nothing was clear at first: where they were, either inside the tank or probably in an ambush; besides, there also could be mined area around the spot. Suddenly, an empty vodka bottle is thrown out of their dugout. Followed by a couple of cans. And then one of them goes out to take a leak. Then another does. We waited for the third one as well, but alas. Later, they all came out to gather some firewood for their stove. While gathering it, they approached the place where we sat, so we had to shot them both. Then we waited until the third one comes out having heard the shots, but in vain. We came closer and throw a few grenades into their hole – it turned out there was no one left in it.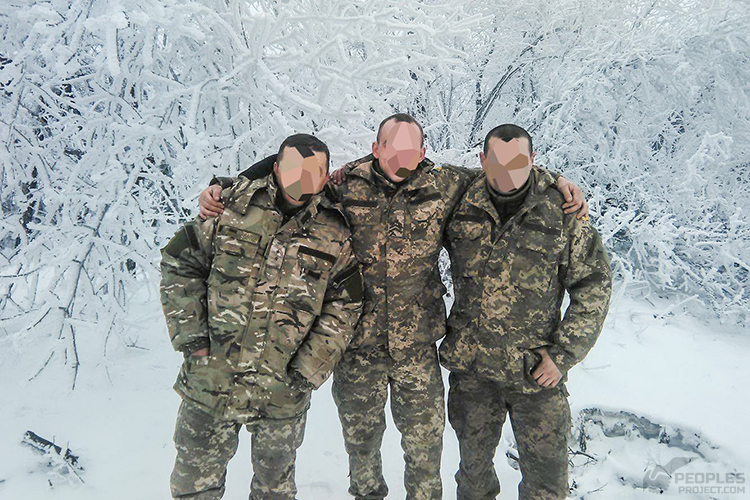 And the situation we found themselves in, was rather dubious. We approached and made lots of noise there. It was about two kilometers to our positions from the spot, and about one and a half – to the terrorists' ones. The noise we produced was quite heavy: a few gunshots and grenades (we did not have any silencers at the moment). So anything might happen next. What were we supposed to do with that tank? Maybe, we could take it along to our positions? But how? Who could drive a tank? Nobody could. We got inside it. I tried to recollect my mechanical skills and pressed a couple of buttons, trying to check the gear, still it was quite obvious the machine needed serious repair, otherwise they would not have left it here in the woods. Well, it was a pity still we could not take the tank along with us, so we took all the equipment we found there, installed a few mines and left the spot.
And at the same time we got back to our positions, the verifying team arrived. A few officers came over and wanted to see the commander. Here he is! I reported that we were out for a regular watch on our positions, and that the situation was routine and no incidents took place. And at this very moment in the tank's direction we heard a HUUUGE BOOM! Of course, the officers wondered what happened there and asked me about it. So not trying to keep a secret, we told them everything about that tank. I should say the ensuing scandal was even more massive than that bloody explosion. How dare you? Who gave you permission for this? Who ordered this? Luckily, we had a very smart commander of the battalion who later left for another brigade. He backed us then, having told the auditors it was he who ordered us to check up the info and act according to the situation. So the guys did.
The finale of all that story was rather common – all of us got fined, – the most popular form of penalizing then. But it was worthwhile destroying an enemy tank.
---
Dear friends, we sincerely hope you like to read the genuine military memoirs told by an immediate participant of the war. We are getting more chapters ready for publishing, and meanwhile we would like to draw your attention to the silencers aspect. Just because our military did not have any at the moment, they made too much noise, exposed themselves to danger and got into an awkward situation with verifying team. And we initiated the separate «I Am Sniper»project to satisfy the needs of the Ukrainian snipers. Within it we accumulate donations made by people willing to assist the Army, and buy all necessary stuff for our accurate shooters. Right now we are getting another parcel ready for the Special Forces sniper unit actively working in the frontline. Silencers, weather stations, thermal sights, optics – all this gear makes the guys' work more effective and secure. So right now your donations would be exceptionally welcome: sometimes even a few hryvnias make great difference. Dear friends, please participate in the project, as to win this war we need to combine our efforts.