Why is it important?
The role of snipers during warfare is very important. A professional sniper, in addition to having the ability to shoot extremely accurately, should be very balanced, patient, able to concentrate, independently make the right decisions and be prepared to wait for long periods of time. These inherent virtues are possessed by only a few. In addition to these personal qualities, professional snipers learn how to use optics, good camouflage, how to move covertly, and calculate the trajectory of a bullet, depending on several factors: wind, temperature, elevation and more.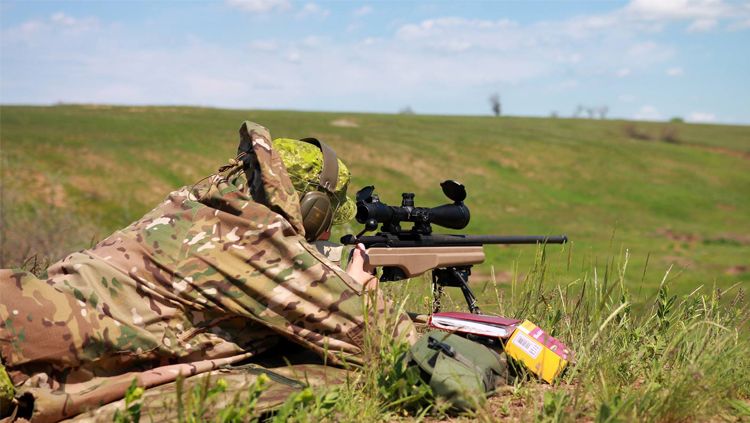 According to Wikipedia: "A sniper is a special infantry soldier, or other armed forces or law enforcement officer that affects the important objectives of the first shot in what is usually a camouflaged ambush." Thus, the goal of a sniper is to take the first shot accurately and effectively. Error in war can be very costly.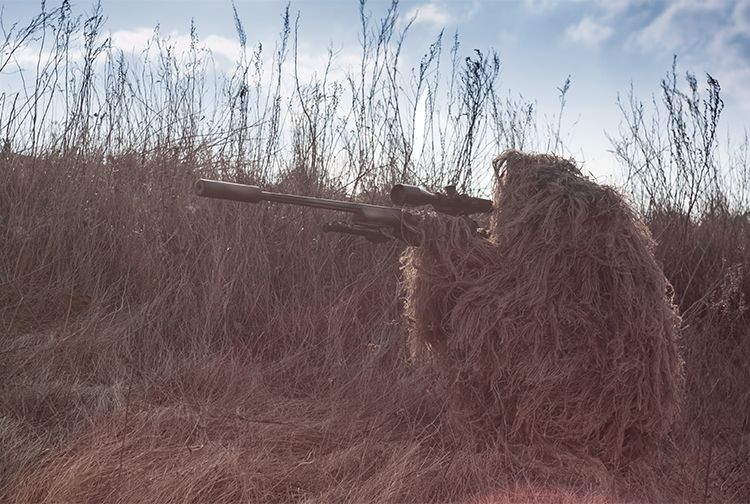 A beautifully prepared sniper poses a serious threat to the enemy, and to neutralize the enemy a sniper uses a lot of resources. The purpose of this project is to ensure individual snipers and sniper units have all necessary devices and equipment, to make them more accurate and less visible. Good equipment and optics will make our men not only more efficient, but more importantly, safer. Indeed, as experience in this war has shown, a truce on paper does not mean a real ceasefire.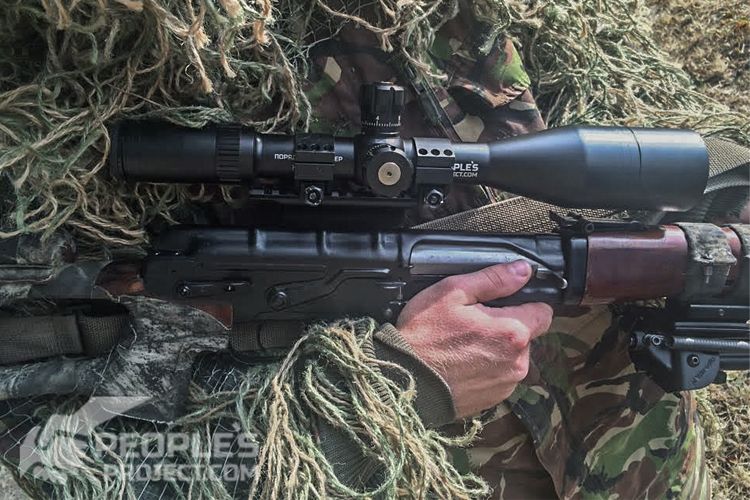 Where does the money go?
As stated above, the purpose of the project is to help snipers to see better, while remaining undetectable. Funds for this project are going to provide snipers and different units with scopes, mounts for them, bipods, silencers and camouflage clothing.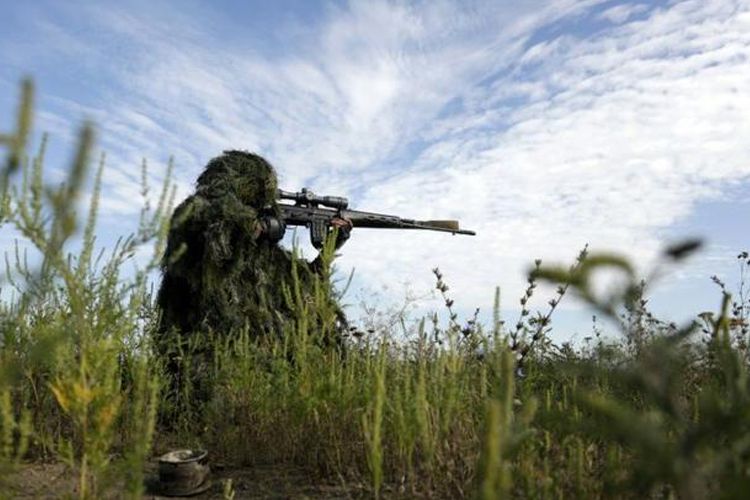 Due to their quality and practicality, these things help a sniper gain a better chance of success when in a shooting situation, thereby increasing the successful execution of tasks and minimizing the risk to the sniper himself.
It is possible that during the project, the list needs to be added to with additional equipment.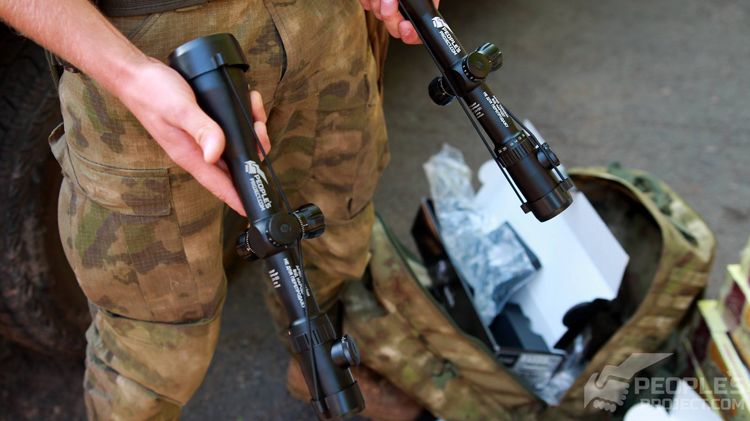 13

September

2019

Project budget increased by UAH 157 644. The Pulsar Thermion XP50 thermal sight for the anti-sniper unit was added to the list of project needs.

17

December

2018

Project budget increased by UAH 11 594. The needs of two sniper units added to the project budget. Namely: weather stations, mufflers, rangefinders, and active headphones.

20

September

2018

Project budget increased by UAH 10 272. Concrete blocks, used to equip one of the National Guard sniper polygons, were added to the project budget.

13

September

2018

Project budget increased by UAH 3 105. Two new items, namely sniper rifle covers for sniper platoon of the 17th brigade, were added to the budget.

15

December

2017

Project budget increased by UAH 1 968. The project budget has been revised and modified. Instead of few sound suppressors for SVD we added and purchased ACE UTRA J-Z ACE and ACE UTRA SL7i sound suppressors for one of the sniper units on the front.
Rifle scopes

Bushnell ET6245F 6-24x50 FFP 30mm sight
918 000 UAH

Bushnell ET45305GZ 4,5-30x50 ERS 34mm
695 535 UAH

Rifle scope BSA Essential 3-9 x 32 AO
1 720 UAH

Thermal sight Pulsar Trail XQ50 with rail
114 220 UAH

Thermal scope Pulsar Thermion XP50
157 644 UAH
Bipods

20 800 UAH

Bipod Tip Top S5, EZ Pivot
6 808 UAH

1 496 UAH

7 312 UAH
Brackets and mounts

9 720 UAH

SCTM-16 30mm Tactical Low Weaver Mounts
12 200 UAH

SCTM-23B 34mm Tactical Low Weaver Mounts
7 455 UAH

ATI Mosin Nagant Scope Mount with Bolt Handle
2 530 UAH

21 472 UAH

Magpul M-Lok QD sling mount
1 680 UAH

19 920 UAH

253 UAH

GrоvТес M-LOK Picatinny 5
1 923 UAH

Mounting rings, 1", Weaver, medium
201 UAH

Wаrnе Savage Long Action rail
5 168 UAH

21 288 UAH
Rifle stocks

Rifle stock Magpul PRS Precision (Mil-Spec)
20 224 UAH

Rifle stock CTS sniper v-1
3 139 UAH

1 056 UAH

14 112 UAH
Devices for snipers

Leica rangemaster crf 1600-b
165 000 UAH

Weather MetersKestrel 4500NV
31 800 UAH

Weather MetersKestrel 4500NVBT (with Bluetooth)
46 050 UAH
Other

Rubberized pistol grip FAB Defense AGR-47
1 773 UAH

65 000 UAH

Pistol grip Magpul MIAD GEN 1.1 AR 15
2 480 UAH

Active headphones Howard leight impact sport
31 000 UAH

Concrete blocks FBS 12.4.6
10 272 UAH
Magazines

Detachable 5 round magazine Archangel AA762R01
4 520 UAH

MDT 338 Lapua Magunum 5 Round Magazine
7 888 UAH

Savage Arms 5-Round Magazine 110BA
14 520 UAH
Chassis

9 416 UAH

MDT TAC21 chassis for Savage
19 840 UAH

MDT HS3 chassis for Savage
27 776 UAH
Sound suppressors

Sound suppressor ASE UTRA SL9
45 216 UAH

Sound suppressor ASE UTRA SL7
31 598 UAH

Sound suppressor ASE UTRA SL7i
58 896 UAH

Sound suppressor ASE UTRA Jet-Z .30 Compact
31 488 UAH
Rifle cases

Megaline rifle cases 125x25x11
6 712 UAH

8 755 UAH

1 344 UAH

Sniper Rifle Case Baltes 2010-D
1 762 UAH
Totally:
2 688 977.00 UAH
---
Requisites
Privatbank for UAH transfers
Mykolaiv regional charitable foundation "BLAGOCHESTYA REGIONAL FUND"
PC CB PrivatBank
SREOU: 36143302
MFO: 326610
Account: 26008053217880
Purpose of payment: charity donation for "I Am Sniper"
SWIFT-transfer in USD
Beneficiary: Mykolayiv Regional Charitable Foundation "Regional Foundation Blagochestya"
IBAN­code: UA803266100000026009053209659
Account: 26009053209659
Beneficiary address: UA 54000, Mykolaiv, Buznyka str. 5, 118
Beneficiary bank: Privatbank
50, Naberezhna Peremogy Street, Dnipropetrovsk, 49094, Ukraine
Swift code: PBANUA2X
Intermediary bank: JP Morgan Chase Bank,New York ,USA
Swift code: CHASUS33
Correspondent account: 001-­1­-000080
Description: Charitable donation for 'I am sniper' project
or
Intermediary bank: The Bank of New York Mellon, New York, USA
Swift code: IRVT US 3N
Correspondent account: 890-­0085-­754
Description: Charitable donation for 'I am sniper' project
SWIFT-transfer in EUR
Beneficiary: Mykolayiv Regional Charitable Foundation "Regional Foundation Blagochestya"
IBAN­code: UA413266100000026009053206287
Account: 26009053206287
Beneficiary address: UA 54000, Mykolaiv, Buznyka str. 5, 118
Beneficiary bank: Privatbank
50, Naberezhna Peremogy Street, Dnipropetrovsk, 49094, Ukraine
Swift code: PBANUA2X
Intermediary bank: Commerzbank AG ,Frankfurt am Main, Germany
Swift code: COBADEFF
Correspondent account: 400886700401
Description: Charitable donation for 'I am sniper' project