A control X-ray of 51st Brigade fighter Yuriy's leg has confirmed the full recovery of his tibia. Thus, his severe trauma is now in the past. The soldier can easily place full weight on the leg, as he was before being wounded. He is now free to enjoy the summer and, naturally, is in excellent spirits.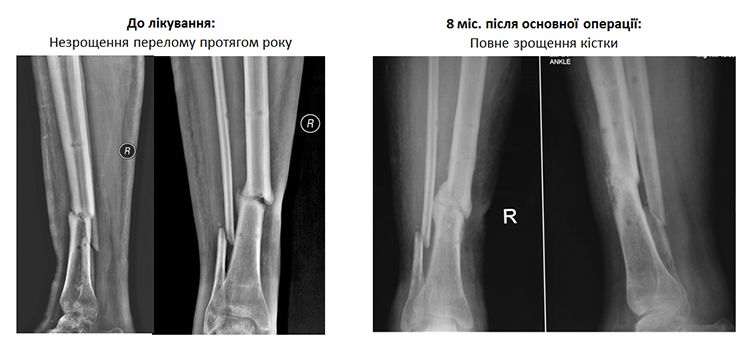 Yuriy was enrolled in the social project, Bioengineering Rehabilitation for Wounded with nonunion fractures to the right tibia and fibula bones and valgus deformity. Earlier in the year from the date of injury, the bones of the fighter would not heal. He even started to form a false joint because his leg remained non-functional. The project coordinators of Bioengineering Rehabilitation for Wounded were contacted by the head of the Soldiers' Mothers organisation in Novovolynska, Natalia Volohatiy, who reported Yuriy required treatment for combat injuries.
Yuriy's  treatment started on August 13 last year. Doctors conducted sampling of cellular material and installed an Ilizarov apparatus. The long preparation of cellular material took place for several weeks in the biolaboratory then, on October 2, the soldier underwent a surgical procedure to implant the cellular material in the form of three-dimensional osteo-progenitor chips in at the site of the nonunion fractures.
The first results of his treatment were received in December last year, only 1.5 months after primary surgery. And on April 22, Yuriy completed treatment when doctors removed the plaster from his leg.
Again, thanks to all who helped raise the necessary funds for treatment. Any support is important. We, like anyone, know by combining efforts we can achieve a lot. We continue to rely on your support. Without it, wounded Ukrainian defenders have no hope of being put back on their feet.