His face may seem common, like many other faces around, still it is distinct for its somewhat soft and warm expression. Suppose you have met him in the street, you would just turn around and smile at him. Few could imagine that for a long time this very man has been holding positions in the hottest spots of the forefront as a head of the unique military subdivision. Even today his guys are terrifying the enemy awfully.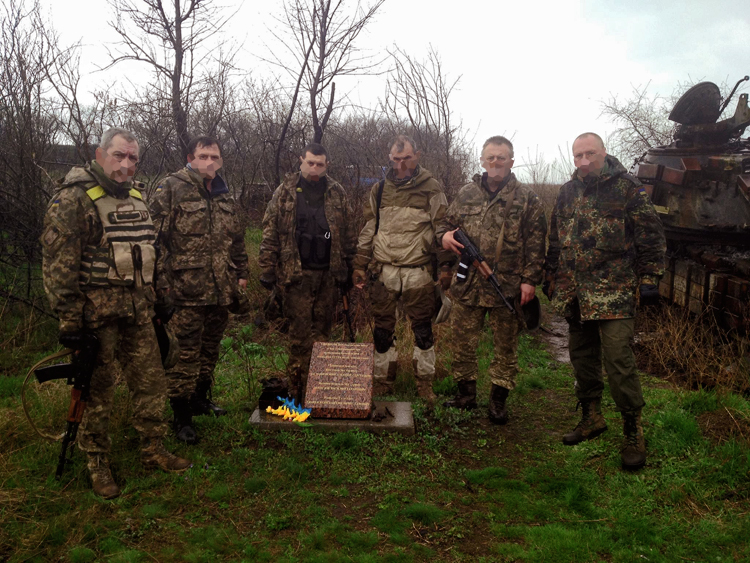 The eldest fighters of the squadron are honoring their fallen comrades' memory
Every time we try to express our warm and heartfelt feeling towards these fighters, a sniper squad of the 17th Tank Brigade – it is a bit weird that these perfect shooters found their housing with an armored unit. Below we are publishing one of the stories from their combat life which their commander has lots in supply. Now we are going to share this firsthand recollection with you.
---
…We have never sat still on our platoon positions. We had been taught different tactics, so we always advanced forward because a sniper should gain practical experience at any occasion. I often took one or two soldiers along with me, and we approached to the enemy positions as we had a detailed map and knew their locations well.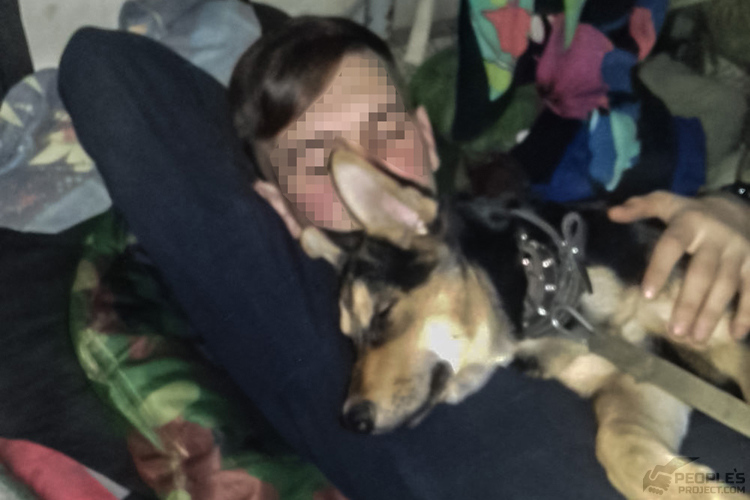 One of the unit's snipers. Who knows, maybe he is the main character of this story. For obvious reasons, there are no actual photos of that outing: the guys went out to work, not to take pictures.
At a distance, there was a small village located in the grey zone: it actually belonged to nobody. But even despite the fierce battles people still lived there – a few households remained comparatively intact. A nearby railroad boiler still worked in spite of being hit constantly – it made our source of hot water until it went out of order under another shelling, so we lost our hot bath.
How to wash when there is no hot water? We decided to explore the village. It came out there was a sauna at one of the households, and the owner's family used to let strangers in for a wash. Still there was one tiny "but": we were allowed to attend it on certain weekdays, as the rest of time… terrorists used to wash there!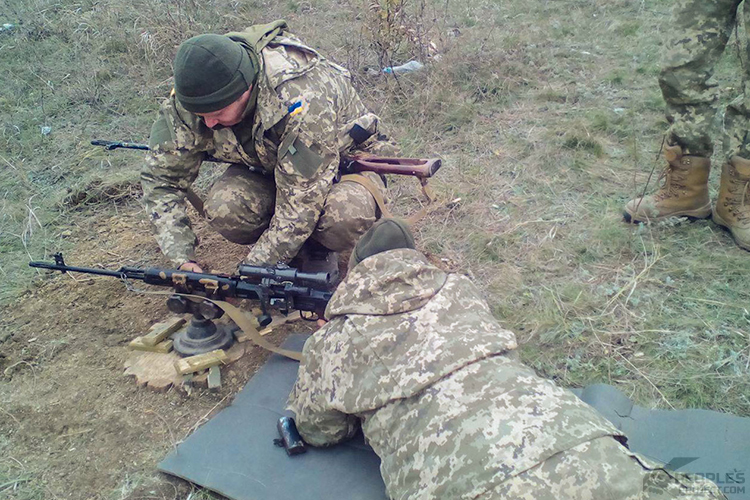 We could hardly agree to these rules: we are snipers at work, so how could we negotiate with terrorists? Following the little recon, we decided to visit the terrorists on one of their "separatist" washdays.
There was also another issue in this story. As it was only late 2014, our armed forces were equipped rather poorly. Specifically, we had no transport options apart from an ancient KAMAZ or a civilian auto we could theoretically borrow from locals. But then we did not have our own military vehicles for everyday work.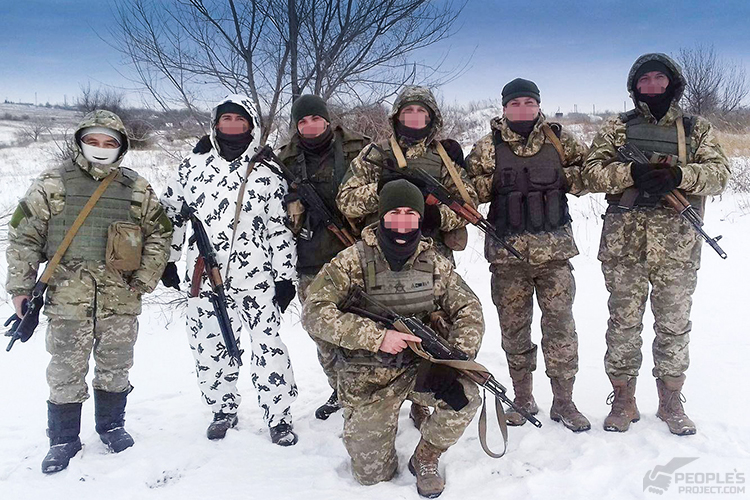 The "backbone" of the combat unit, a separate sniper squadron of the 17th Tank Brigade
Now to the outing itself. As we reached the position near the sauna we saw… a brand new UAZ Patriot shining as if it had been delivered here specially for us, unless the separatists' insignia on the door. Our eyes lit up, we decided both work hard and pick up this UAZ from terrorists. The cabin of the vehicle was empty as all the terrorists were inside the sauna. We waited a bit taking a look around, and crawled toward the car.
Having approached it, we opened a passenger door and I headed inside. I have seen this many times in films and thought: if there were no keys, I would just break the lock and connect two wires to start the engine, and we would get home on a new car. Still the reality turned out to be quite different: as soon as I opened the panel, I saw a whole bundle of unknown wires and contacts. To be fair, there were a couple of dozens of these. Which exactly should I connect? Where to insert it? Only God knows. Besides, it was getting hotter as the terrorists seemed finished their procedures and made much noise in the corridor, probably just went out for a smoke.
It became obvious we could not just hijack the vehicle from under their nose, so we decided to wait for the separs to go out and try to take away it openly. We mined the doors having put a grenade in, and dispersed on our positions; the gunner on the right to back us if necessary, and we started to wait. We hoped to shoot them through the windows to get the vehicle safely, along with keys. To hijack that UAZ became our idée fixe.
Of course everything went not as planned.
The first separatist who came out, was their driver. As he approached the auto, three more terrorists came out of the building and went to the gates. The driver opened the door and an explosion happened – the rest fell down to the ground and began to shoot back. Our gunner got furious and shot so fiercely that he turned that vehicle into a swiss-cheese not leaving a single spot of it intact. We calmed down the rest of the separs, but the only thing we had time to do was to get their arms, documents and retreat before more terrorists have come in support. We covered that 3 km distance back in the snow so fast that we most likely set some new world record. The only good thing was we got much warmer after such a longtime chilly ambush in the snow.
Then another interesting story happened as well.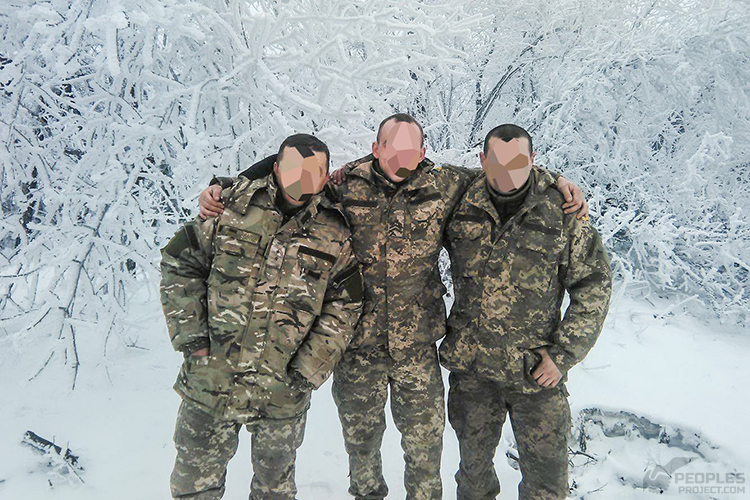 ---
Let us here break up for a while and postpone the following story until the next publication: during our conversation the commander of snipers told us loads of interesting stuff. Stay with us: it would be highly appropriate to assist our shooters a bit. We offer you a decent way to do this: within the corresponding benevolent initiative «I Am Sniper», People's Project volunteer center is collecting funds and purchases necessary gear for snipers. A considerable part of contributions made in the project, was directed to satisfy the needs of this very unit of accurate shooters from the 17th Tank Brigade. Still we are sure you comprehend that the war is rather an expensive kind of activity, and our military are in constant need of newest gear and ammunition. So even a few hryvnias donated by you in the project would be highly helpful now, as the war is still on.