Wounded 7nd Brigade soldier Andriy is almost at the finish line on the road to recovery. After the successful fusion of his tibia the external fixation device has been removed from his leg. Now, Andriy will gradually develop his leg and after one-and-a-half months wil return to the medical center for a control X-ray and examination. We wish Andriy luck luck with the remainder of his recovery. How does the fighter feel now? You can see for yourself (in Ukrainian):
Andriy was wounded more than two years ago – in July 2014 near the village of Izvaryne on the border with the aggressor. During a firefight, shrapnel hit him in the stomach, arms and leg. His injuries and the environment led to the development of osteomyelitis – an infection of the bone tissue which destroyed a large section of bone. Before he was enrolled in the Bioengineering Rehabilitation for Wounded project he had to endure 20 major operations. Unfortunately, the bone did not heal and the situation deteriorated.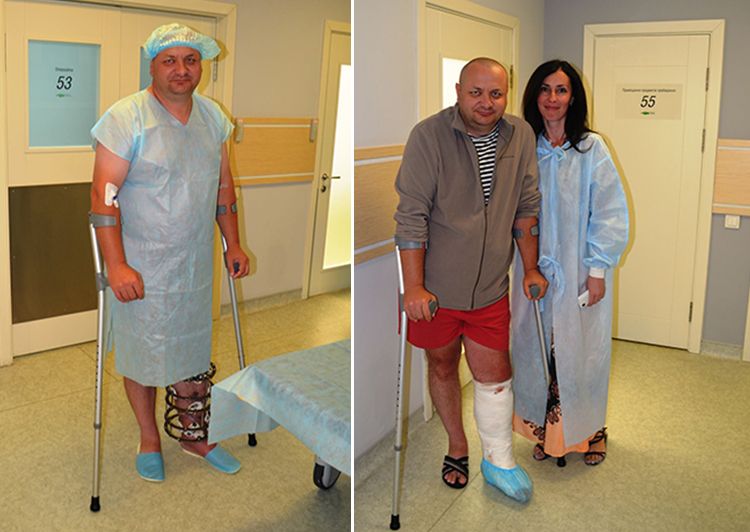 Doctors of iLaya Medical Company managed to reverse the course of the disease, and to do what is most frequently in conventional medicine impossible. The ability of the physicians, advanced technology and the support of everyone who contributed to the fundraising, created a miracle. Andriy hopes soon to confidently stand on his own two feet.
Earlier, The People's Project reported the incredible restoration of the bone in a 19-year-old's leg. Recently doctors formed new bone in a wounded soldier from the "Donbas" Battalion.
Unfortunately, Andriy is not the only wounded soldier requiring treatment with biotechnology. More wounded are awaiting funds to be collected. Since the state, through legislative and other restrictions, can not support biotechnology in the treatment of wounded soldiers only hope for help lies with ordinary people. 
Get involved by clicking the green button below.