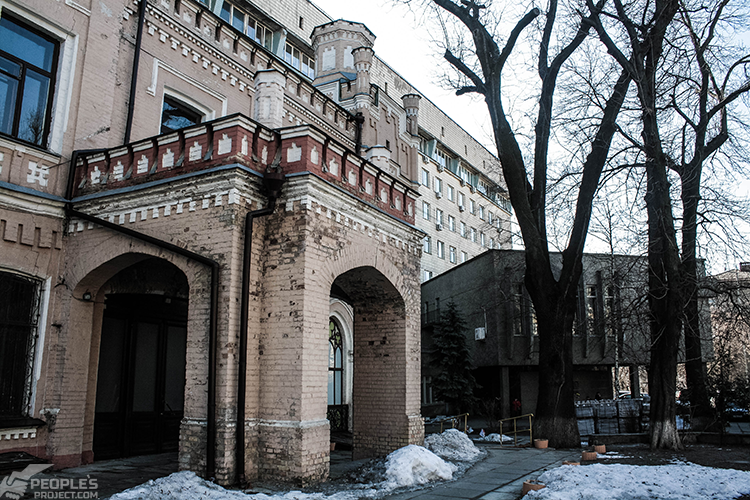 There is a new door at the reception entrance: it was its installation that caused the fuss we saw here last time, when the renovation was in progress. So today we have paid another visit to the Institute of Trauma and Orthopedics. This time we were accompanied by Inter TV channel journal who got interested in our latest initiative, the Last Hope Unit. That's why the purpose of our present visit is to have a kind of  tour over the unit and show you its patients and doctors' everyday life, to say, from behind the curtain.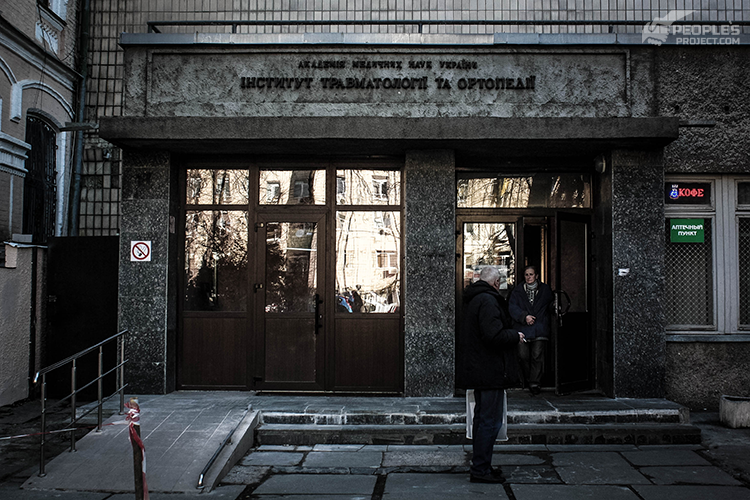 Mykola Pavlovych, as usual, is hospitable and friendly, still we can see he's in a rush. In an hour, a scientific meeting is scheduled, so as the head of the unit he must be present there, to hear the reports of senior doctors on current situation in the unit. So we try not to interfere his work with our requests while the hungry for information journalists put a lot of questions to professor.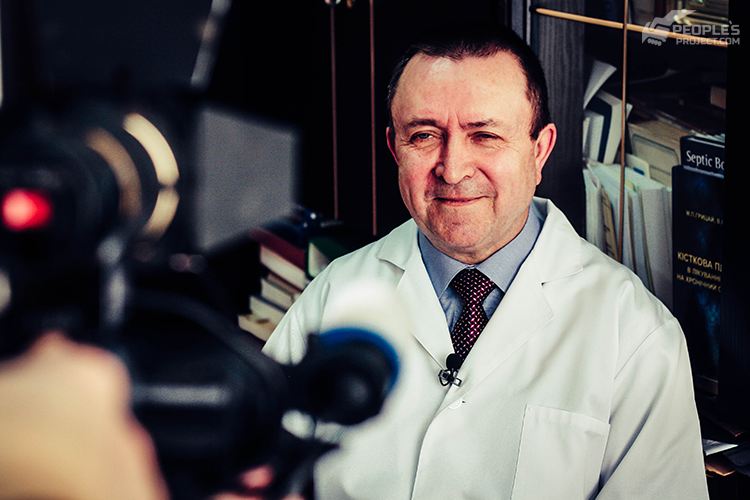 So Mykola Pavlovych tells them about the unit's work and current situation as regards material supplies, and his face acquires less optimistic look. Professor stresses out the biofilm infections. According to latest scientific theories and surgical practice, this phenomenon impedes treatment of the patients with heavy bone infections a lot. According to doctors' observations, pathogenic microorganisms not only dwell in the affected tissues in single separate beds. They form certain symbiotic colonies that produce protective extracellular mucus. This mucus forms a film that protects bacteria from external influence, especially from antiseptics and antibiotics. Of course it is could have been nice of these microorganisms to behave that smart, and maybe it could have been taken as the triumph of evolution if it did not happen within the bodies of living organisms and impeded healing of wounds and led to subsequent amputations and heavy disabilities.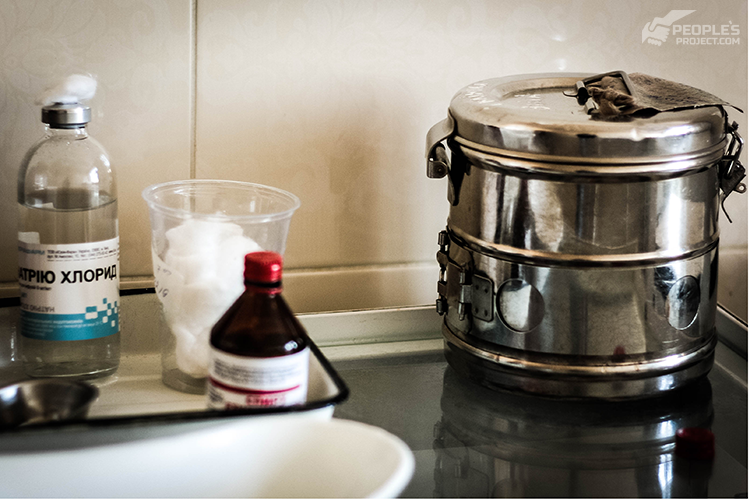 The cavitation we are aiming to buy, is designed to destroy these biofilms and eliminate bacterial colonies. The impact occurs by means of an ultrasound of the preset intensity and frequency which allows to affect the beds of infections just through the masses of tissue without excessive surgical treatment. Logically, this also means effectiveness of the very sanitation and reduction of negative consequences caused by excessive surgical procedures. It is only natural as to heal the wounds caused by repeated surgeries and mechanical cleansing, the body needs lots of time and efforts, instead of investing these in overcoming infection and general recovery.
The patients who are able to move at least on crutches as opposed to remaining bedridden, are walking along the Unit's corridors. We can see a tall man wearing the Ilizarov apparatus wrapped in snow-white gauze. There is some blood on the gauze: the man recently underwent a surgery, and his fresh wound has still been bleeding. Having noted the problem, nurses take the man into an operating room. In a moment, a doctor joins in to check the wound and replace the band-aid.
Meanwhile, a friendly chief nurse Lidiya Mykolayivna (thanks a lot!) escorts us around the unit. We are heading to a ward to see everything with our own eyes and talk to the patients. Total, there are 35 beds in the unit, and they are mostly taken by people who need high-quality assistance of surgeons.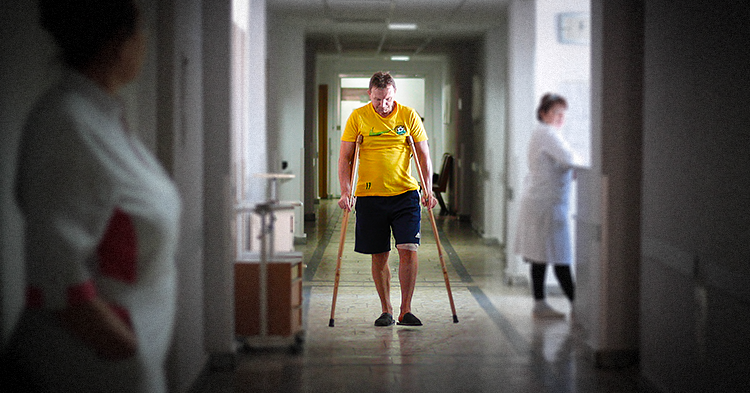 We would like to talk to a young man we mentioned in our previous report; he got severely wounded in the ATO zone and underwent prolonged treatment both in Ukraine and abroad. He was taken to the unit when his endoprosthetic of the hip joint installed in Germany, had to be immediately removed after the wound got contaminated. Still we are informed that the guy has lately undergone a surgery, so it would be inappropriate to ask him for an interview. Well, we move to another ward.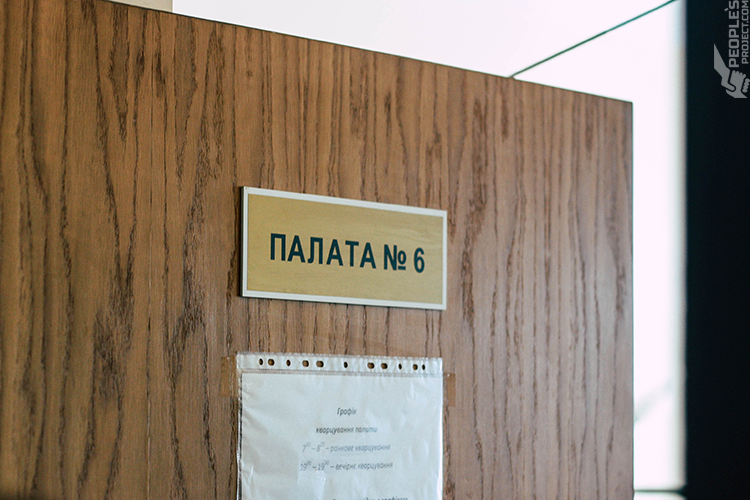 It looks clean and shiny, with no traces of mess or disorder. Six men are resting on their beds; one of them, the very first moment he saw our camera, picked up his crutches and went out to the balcony. The rest of the men are quite happy to share their stories with us: they say, it is nice to see new faces and talk to new people. All the patients are victims of various accidents. Some of them have been treated for heavy consequences of road accidents. The others got wounded in different circumstances.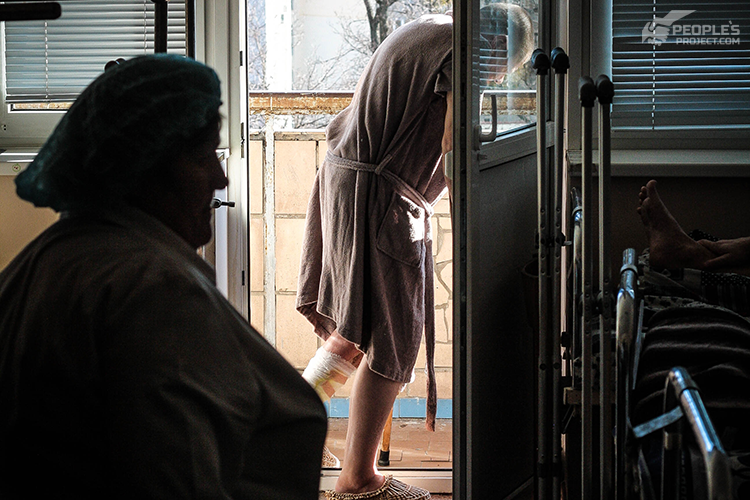 The nearest bed is taken by Mr. Serhiy whose leg is taken into a cumbersome external fixation apparatus. He tells us that he got wounded while at work: he fell and broke his leg. He got treatment in his local hospital where doctors realized they could not manage with a severe infection on their own, so they immediately sent him to the Institute.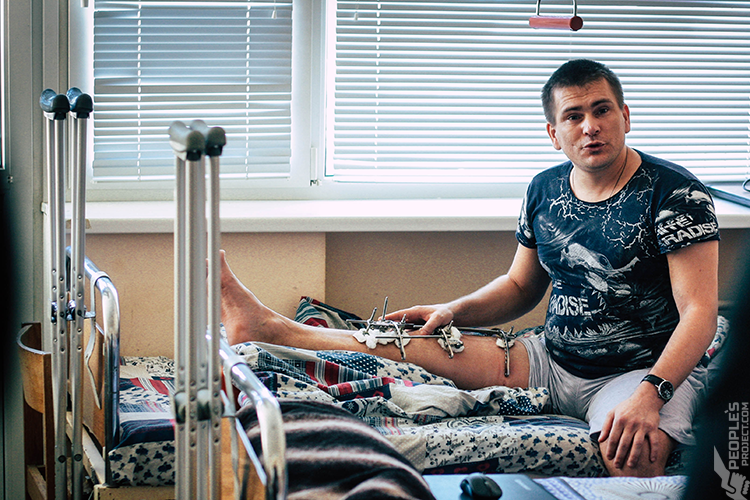 When Mr. Serhiy got to the unit, its doctors performed a sophisticated surgery and cleaned the bed of infection. Also, they sorted through the fracture and out all the fragments in their due place; afterwards, they fixed everything by means of metal pins. While the man awaits healing of the fracture and further recovery, he speaks good of the local doctors and their attitude: her admits they took good care of him, and despite the overall threat posed by the current diagnosis, he's doing quite well so far.
A woman who listens to our conversation from the hallway, pathetically clasps her hands: "My Lord, we all really need that apparatus here! The cavitator, right! It is much better to apply it than to cut the wound repeatedly!".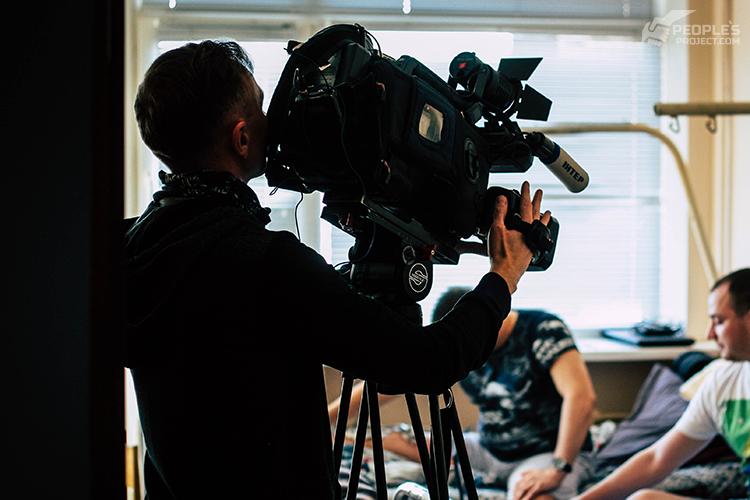 Here, we would like to write a protracted summary, still the real situation we have seen at the unit and the Institute in general, is very upsetting. The bone infections unit which makes the Institute's highest medical qualification body, has to survive in the conditions of zero financing allocated to equipment upgrade. In spite of this, the medical staff try to do their best in treatment of the most complex wounds and infections, giving their injured and exhausted patients chances for recovery.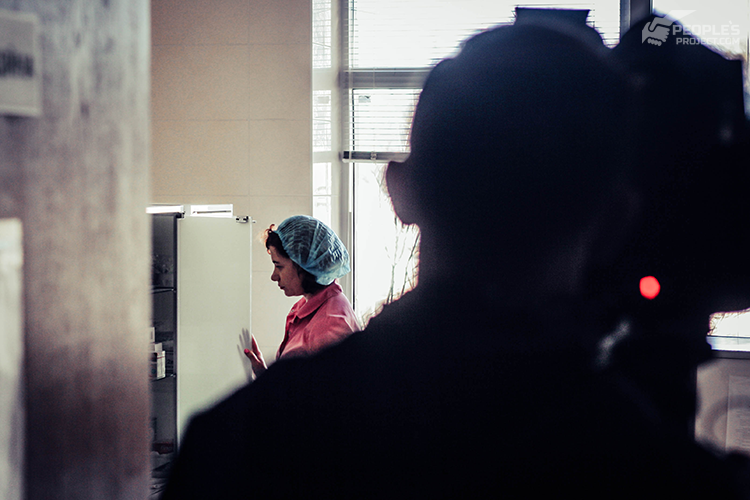 There is hardly hope to obtain the necessary apparatus at the expense of state sponsoring. Still everyone should keep in mind that practically any of us can potentially get into an accident and be taken to the unit. We can fall on a slippery pavement or get into a road accident; get a fracture that could be easily complicated by some infection – in such situation, everyone can experience the consequences of the unit's problems, themselves.
That is why we urge everyone who is aware of the situation, to join their efforts and support the media as much as we can. Within the Last Hope Unit initiative we, volunteers of People's Project, have been raising funds to purchase the apparatus the bone infections unit needs, and ask you to join in the project as well. An ultrasound cavitation will help those patients who have been undergoing treatment at the unit, as well as those who will get here in the future – and it is worth remembering that any of us can get here, too. Dear friends, please join in!