Description
Why this is important
Millions of years of evolution have provided bacteria with huge advantages over medicine. Even the newest antibiotics often cannot beat simple but medication resistant microorganisms. Especially when hotbeds of infections are hidden under the mass of the affected tissue or covered with bacterial slime.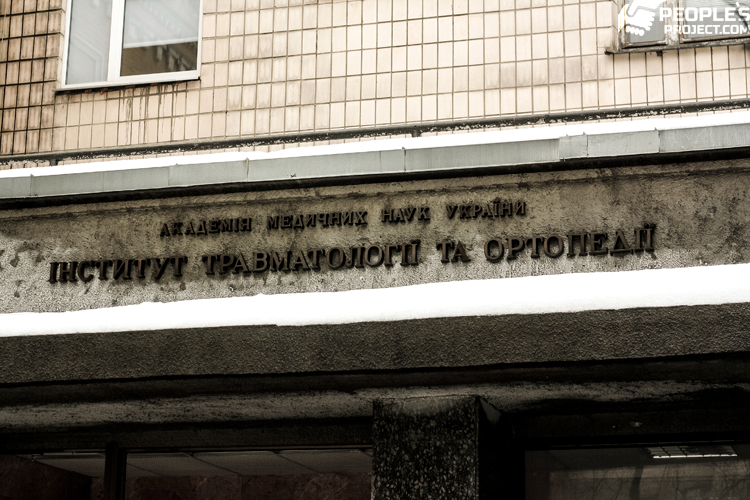 At the Bone Infections Unit of The Institute of Traumatology and Orthopedics of the National Academy of Medical Sciences of Ukraine medics are fighting against the most complicated cases of infectious contagion. Normally, patients of this unit are people who sustained heavy injuries healing of which was impeded by infections. These people are victims of car accidents, work and domestic accidents, explosions and shotgun injuries. Both civilians and military undergo the most sophisticated reconstructive surgeries, get their scary bone and muscle defects renovated, and the most dangerous infections overcome.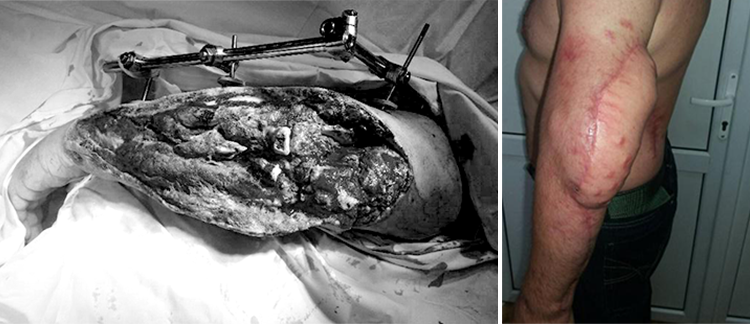 Oleksandr, 42. Wounded in a combat near Avdiivka. The consequences of the explosive injury have been treated with application of complex medical means including transplantation of a piece of tissue.
At the point when doctors at any Ukrainian conventional or military hospital come to see that they can neither heal difficult injuries nor stop the infection and restore the patient, they send him here, since the Bone Infections Unit is the institution of top scientific specification. perhaps that is why the Unit has been tagged the Last Hope Unit. Also, maybe because people get here when totally exhausted and having entirely given up seeking for help anywhere else.
But despite rather pathetic titles and statuses, the state support of the Unit is no good. Those scarce funds allocated from the budget on the Institute's needs, are being spent on operational costs and consumables. Despite the fact the Unit's medical equipment has gone outdated a while ago, and the chances for its upgrading are rather vague. That is why treatment of patients at this medical institution is carried out by means of outdated apparatuses and fervent prayers. Eventually, the medics driven to desperation, applied to People's Project asking help.
What the funds are raised for
The People's Project volunteer center has launched a fundraising initiative aimed to buy an ultrasound cavitator for the needs of The Institute of Traumatology and Orthopedics of the National Academy of Medical Sciences of Ukraine.
In short, the device practically makes an ultrasound "knife" enabling doctors to affect patient's tissues with high precision and effectiveness without excess surgical intervention. A focused ultrasound beam can operate at the prearranged depth with precisely defined power.
The cavitator allows to thoroughly clean the hotbeds of the inner infection, to treat the most complicated wounds, to enhance the tissues' permeability in exactly defined areas, to improve blood and lymph circulation, and to perform all these procedures without excessive surgeries even on the newly healed wounds. In some cases such a method seems to be literally a panacea: just imagine how effective a few surface procedures carried out by means of a cavitator, are as compared to a surgery in which doctors have to clean the complicated wound and hidden hotbeds of infection by means of plain metal instruments? The new approach looks much better, doesn't it?
The cost of the device makes 1.300.000 UAH. For the state institution listed on the National Academy of Sciences's balance, purchasing of such a device looks rather unrealistic if not to say impossible. That is why doctors asked support from volunteer community. Of course, we could have preferred to wait for some auspicious moment which may come when in a few years this urgently needed device finally gets onto some estimate and some authority allocates necessary funds. Still the struggle against infections is going on every day here.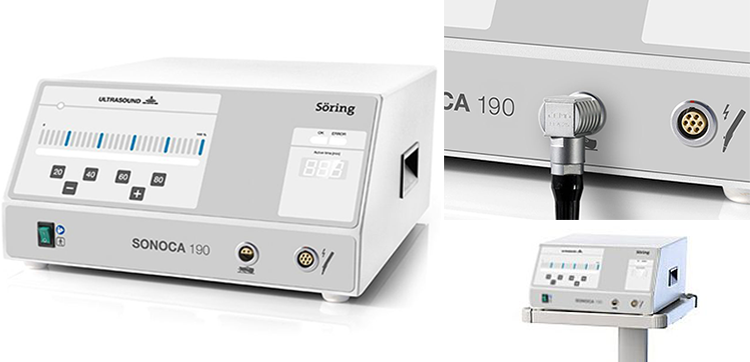 We sincerely hope for and rely on your sympathetic attitude and kindhearted active participation in the project. Your support is a guaranty that injured Ukrainians will get from our medicine the maximum it can provide and be able to fully recover from their massive traumas and severe injuries. As this is the kind of misfortune no one should renounce: it is always unknown whether each of us gets into the Unit doctors' hands or not. All together, hryvnia by hryvnia, as much as we can afford, we can collect the amount necessary to buy this essential for both medics and patients equipment. We are really able to do this: previously, we proved this for many times!

Ultrasound dissector for sound treatment of wounds Sonoca 190 with instruments for wound treatment
1 300 000 UAH
the kit comes as the Sonoca 190 apparatus with all necessary parts and two additional heads
Totally:
1 300 000.00 UAH