In war Sviatoslav volunteered. He was wounded in Ilovaisk when "Donbas" Battalion took part in the storming of a terrorist headquarters. The first bullet from an enemy sniper's gun hit him in the leg. The second bullet pierced a lung and shattered his shoulder. Four months in hospitals and six complex operations were in vain – many complications prevented doctors from restoring Sviatoslav's joint and led to a progressive deterioration of his condition.
At the time when Sviatoslav was enrolled in the project Bioengineering Rehabilitation for Wounded, his bone defect was already about eight centimeters. In the case of such injuries conventional medicine can offer only a full prosthetic joint. But this is a direct path to invalidity – an artificial joint would considerably reduce quality of life.
In this state, Sviatoslav came into the  project a few months ago: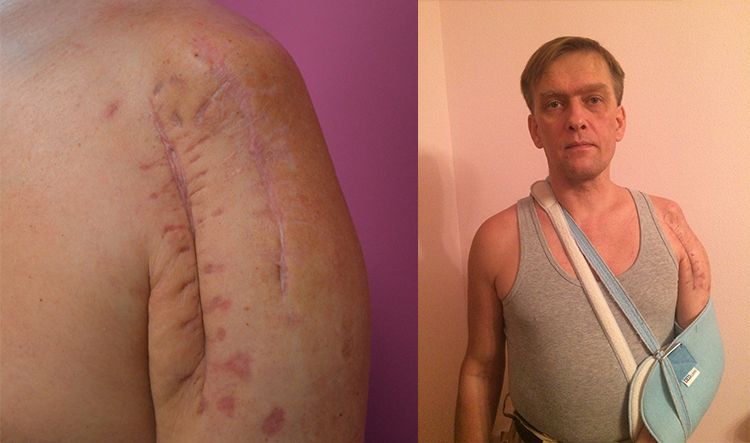 Therefore Sviatoslav is perhaps the most difficult case in our project. The specialists at the iLaya Medical Company made a special 3-D matrix and used the patient's own cells to grow an artificial, but living fragment of bone with a very complex profile. During that time Sviatoslav underwent several preparatory operations and now the main stage of treatment – with doctors finding bone fragments are growing at the site.
Usually the probability of rejection by the body of artificial structures increases after they have been stored for a long time, even after lung operations. In the case of Sviatoslav, this probability could arise several times. Fortunately, his treatment is high-tech and using his own tissue gives him a maximum chance of a full recovery with no complications. Currently Sviatoslav faces an extremely long and difficult period of rehabilitation and hopes the treatment will end in complete recovery.
The man gladly talks about meeting with People's Project volunteers in Popasnaya.
Earlier, The People's Project reported the incredible restoration of the bone in a 19-year-old's leg. Recently doctors formed new bone in a wounded soldier from the "Donbas" Battalion.
More wounded Ukrainian soldiers are waiting in line to join the project. For them biotechnology represents their only chance for recovery. Since the state, through legislative and other restrictions, can not support biotechnology in the treatment of wounded soldiers, their only hope lies with people.
We ask you to get involved and help Ukraine's defenders.