As promised, today we are going to tell you about various tricks the officials use to avoid allocating land to the ATO veterans. The material reflects personal experience of the lawyer who has been engaged in the veterans' matters for a number of years. Read the story told in his own words.
---
Once our veterans' group came up to the KyivZem stage in our papers processing. Briefly speaking, at this very moment following filing a request for allocating along with all corresponding appendices, a number is assigned to the case (it starts with K letter which stands for "application" or "request" in Ukrainian, so people call these "K-shka"). The cases bearing that "K-shka" numbers are transferred to the KyivZem where they get into the hands of a land surveying clerk of the corresponding district. His task is to examine the request, develop a plan of the plot that a citizen is applying for, and issue his or her conclusion. Naturally, if the land surveyor's verdict is positive, it substantially increases the chances for successful passage of the application through the next stages – both KyivRada's land committee's ballot and KyivRada itself. The positive conclusion usually reads in the following way: "the filed request corresponds with all town planning norms". Negative verdicts largely vary in options, and as far as we understood, their variations are countless and can be freely invented or "adjusted" to any reasons. This means an experienced land surveyor can draw a negative conclusion to literally any application, even if it is a totally correct one!
Unsurprisingly, all our applications then got negative conclusions. There were various inconsistencies indicated there, still the majority of requests featured the same problem: the plots' borders got mixed with their adjusting ones. Why, you can ask? We started digging into it, and found the following thing. While filing an application, a citizen has to attach the plot's mapped location. In reality, it looks like an ordinary sheet of paper with a survey map printed on it, where you need to outline the corresponding plot you are applying for, with a green pencil. Still the matter is, in reply to our appeal to provide us with the survey maps containing our prospective plots, the clerks gave us large-scale – that is non-detailed – cadastral maps which made precise plotting impossible due to very small size of the plot.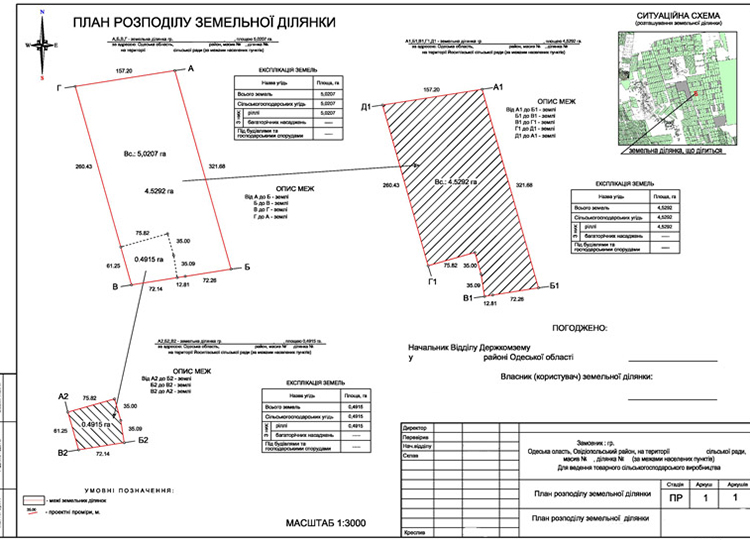 Can you see the tiny red dot against green background in the right upper corner? It is the plot our veterans have to outline in the survey map
A land surveyor's task is to arrange these maps in the way that each plot would perfectly match with the adjoining areas, communications, roads and green zones not conflicting with these in boundaries. Well here is where the clerk has certainly succeeded! It turned out to be that all the plots somehow overlapped their adjoining ones! How this come? Quite simple: suppose a specific plot our ATO veteran is applying for, is 0.23 acres. According to the law he is entitled to no more than 0.25 acres – this looks quite fine as his plot is even lesser than a norm. Still in the survey map drawn by a land surveyor, it turns out that his plot "has grown" up to 0.26 acres and, logically, its limits overlap the adjacent plots. Instead of exact outlining of the veterans' wishful plots in his survey map he just copied shapes of the figures delineated by marker on a large-scale cadastral map!  And then simple geometry followed: the 0.26 acres' plot just cannot go within the 0.23 acres of free land! Having cheated on veterans like this, the land surveyor immediately sent all the applications along with his negative conclusions back to KyivRada's land committee.
When the veterans learnt about this trick, they got rather angry, to say the least. Unable to resist their evenhanded reasoning, the land surveyor agreed to process all the applications properly, to avoid overlapping the plots' perimeters. The ATO vets had to file new requests for re-processing their papers in the land committee. Still there they had to face a new session of bureaucracy! As being a subject of request, only KyivZem possesses the right to withdraw the applications. This was the point we learnt from the land committee's response. Time was lost again, so when we managed to get senior officials (who used to be every time absent due to either sick leave, meetings or some other unknown reason), and forced them to draw a letter of withdrawal, the land committee had already processed our applications and, logically, issued negative verdicts on each of them. Accordingly, we had nothing to withdraw anymore, so had to start everything over again.
---
Hopefully our story will enable those ATO veterans who will apply for land plots on their own, to avoid the alike troubles. In our turn, we address everybody who cares about the 171 veterans to whom we are trying to provide legal aid in obtaining the free land guaranteed by the law: dear friends, despite their previous unsuccessful experience in struggle against the bureaucratic machine, despite their numerous attempts to get their papers processed, now they are aided by a skilled and experienced lawyer who has been guiding them through the circles of bureaucratic hell. So the funds we are raising within the Legal Aid project, will be allocated to pay for his work. Dear friends, please support the initiative: it would be exceptionally nice to set such a useful precedent, wouldn't it?