Ihor is recovering from surgery to remove the external fixation device from his right leg and is preparing to be discharged to return home. After his leg has healed he will begin actively exercising it to redevelop the muscles.
Ihor now awaits for his next control X-ray at the beginning of June. We wish him a rapid recovery and hope he gets to spend some quality time with his friends – something he is very keen to do.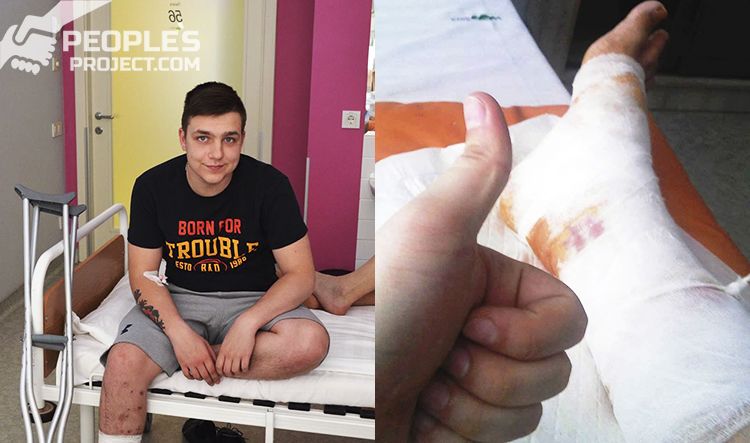 Ihor's history of treatment:
Diagnosis: Right leg as a consequence of high-explosive combat injuries herecieved a closed fragmented fracture of the right tibia at the upper and middle third and distal section. External rotation of the distal fragment affecting the right leg and foot. Aseptic necrosis of the talus. More than three months of treatment with traditional methods in public health facilities did not lead to the bone healing. In addition, the bone was initially incorrectly aligned, meaning if bone fusion occurs the leg will be twisted. Also due to injury in the fighting aseptic necrosis of the talus has set in, threatening the loss of bone and, as a result, a non-functional ankle and leg shortening, resulting in a non-operational foot.
Ihor began treatment when he was enrolled in the social project Bioengineering Rehabilitation for Wounded" in January 2016. During the first stage of treatment, the soldier underwent sampling of cellular material from the ilium and fibula, as well as straightening of  the axis of the leg and fixing it was a LCP-type tibial plate.
On March 16, he entered the main stage of treatment – the introduction of 3D-gel chips of osteoplastic material and autologous stem cells at the site of his aseptic necrosis of the talus. A 1.5 month control X-ray confirmed the active restoration of bone tissue.
All funds for the soldier's treatment, totalling 481,872 UAH came due to charitable contributions from individuals and organizations.
More about Ihor can be read in this publication, or watch the following video detailing his story.
The Bioengineering Rehabilitation for Wounded project continues to crowdfund for other wounded fighters. They need your help. To find out more about the soldiers involved, check out their profiles on the project's main page.
Support the project here: