There is a new member of The Bioengineering Rehabilitation for Wounded Project. His name is Sergiy and he suffers from severe leg wounds, which could not be cured by a conventional medicine. He can overcome this injury with help of a cellular technology. Specialists of The Ilaya Clinics already started the treatment process, and Sergiy went through his first surgery recently.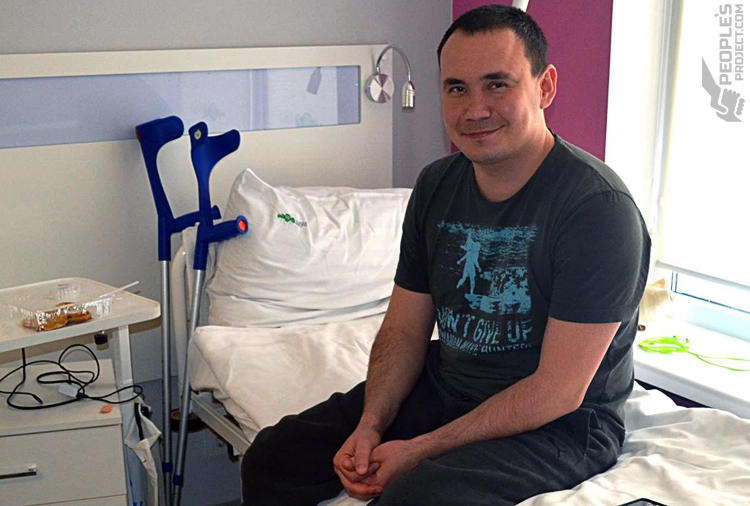 Still with crutches. The leg has not fused and shortened, but Sergiy is trying to walk
Sergiy suffers from the consequences of a serious injury he received at the ATO area. In the ranks of 81st Separate Mechanized Brigade he has been at the hottest spots of Donetsk region. Eventually, Sergiy was included to the mobile group, which fights against smuggling at the ATO area. In February of 2016 Sergiy along with his colleagues carried the ward at a checkpoint near Avdiyivka. A local resident got behind the wheel of his car dead drunk. On a high speed car crashed right in Sergiy. Drunk driver was not able to stop it.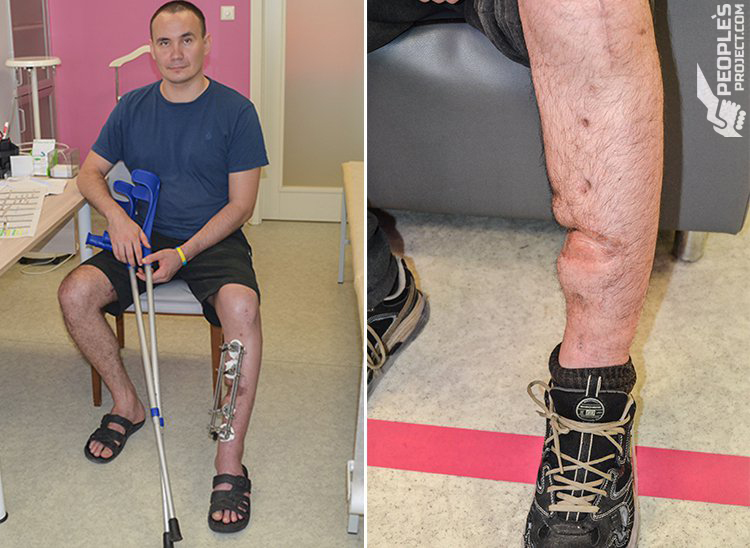 With an extremely severe polytrauma Sergiy went through the range of hospitals at the front line, and finally got by helicopter to Mechnikov Hospital in Dinpro. Sergiy spend 6 weeks in a reanimation department. All that time doctors fought for his life. Broken skull, bruised body and completely crippled left leg were the reasons. When Sergiy's state stabilized, doctors of the capital hospital installed a Kostiuk's device and performed a plastic surgery for the place of an open fracture of the tibia. However, it did not helped a lot. During the treatment left leg shortened for 5 centimeters. And the fragments of a bones have not fused completely till now.
Sergiy's tibia now
The cellular technology can save his life. The doctors will slightly straighten the bone with help of traditional osteosynthesis, a little bit restructure the bone fragments, and fill the fracture with the cellular material, which eventually grow the bone back together. Of course, all this costs a lot of money. Sergiy already received help. A philanthropist financed the treatment before it began, so Sergiy joined the project with the required amount of money, and immediately paid for a full course.
However, after all Sergiy is neither the first, nor the last patient of the project. Not every patients can get help of philanthropists. The money for their treatment can be collected only at the expense of your donations. Your every contribution to The Bioengineering Rehabilitation for Wounded Project gives wounded Ukrainian defenders a chance to avoid a serious injury, and return to a normal life. Join the project to save life.