A group of Japanese scientists plan by 2020 the mass production of artificial blood using induced pluripotent stem cells (iPS-cells).
The company, Megakaryon failed in April this year, to create the first successful examples. The president of the corporation Genjiro Miwa began work on the creation of artificial blood in 2008, together with  University of Tokyo professor Hiromistu Nakauch, and professor at Kyoto University Koji Eto.
Scientists complained that medical progress was often hampered by the fact new technology can not be put on a commercial footing. "Scientists do not always know how to monetize their research. We need to bring someone from the business world, except Japan seriously lags behind foreign competitors in this field," Nakauch said.
According to the developers of the technology, the production of artificial blood is essential for medicine in terms of population aging, through which the number of potential donors dramatically decreases. This technology is also important for doctors in those regions of the world where there is insufficient infrastructure for organizing blood transfusion stations.
Currently Megakaryon is able to produce only small amounst of artificial blood – hundreds of thousands of times smaller than the real needs of medical institutions.
After the Japanese scientist Sin'ya Yamanaka won the Nobel Prize for medicine and physiology for research into stem cells in 2012, interest in the subject, both in Japanese society, and from the Japanese government rapidly increased. Regenerative medicine has been declared one of the priorities of science.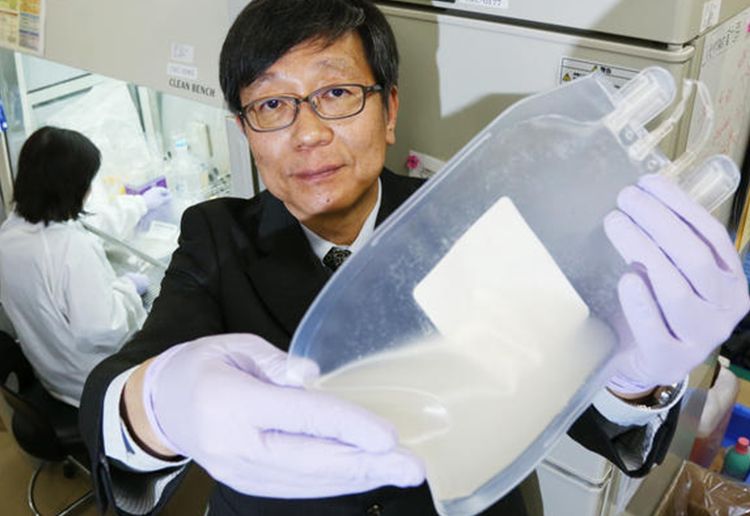 Ukraine also has made great achievements in the development and application of cellular technology. Ukrainian biotechnology has restored bone, tissue and nerve cells. This technology is being used to restore damaged joints and limbs in injured ATO soldiers, returning them to function and mobility. This technology is offered by only a few clinics throughout the world, including in Ukraine. Ilaya Medical Company and The People's Project, as part of Bioengineering Rehabilitation for Wounded initiative, the latest biotechnology is being used restore the damaged limbs of wounded Ukrainian soldiers.
Earlier, The People's Project reported the incredible restoration of the bone in a 19-year-old's leg. Recently doctors formed new bone in a wounded soldier from the "Donbas" Battalion.
Currently the collection of funds for the treatment of five wounded is underway and four more are waiting in line to join the project. For them biotechnology represents their only chance for recovery. Since the state, through legislative and other restrictions, can not support biotechnology in the treatment of wounded soldiers, their only hope lies with people.
We ask you to get involved and help Ukraine's defenders.