Tomorrow is an extremely difficult day for Oleh. He will undergo another operation under the project Bioengineering Rehabilitation for Wounded. This intervention should be the final in what has been a long and difficult course of treatment – Oleh will have the last of the orthopedic plates that hold the remain of the broken hip bone removed.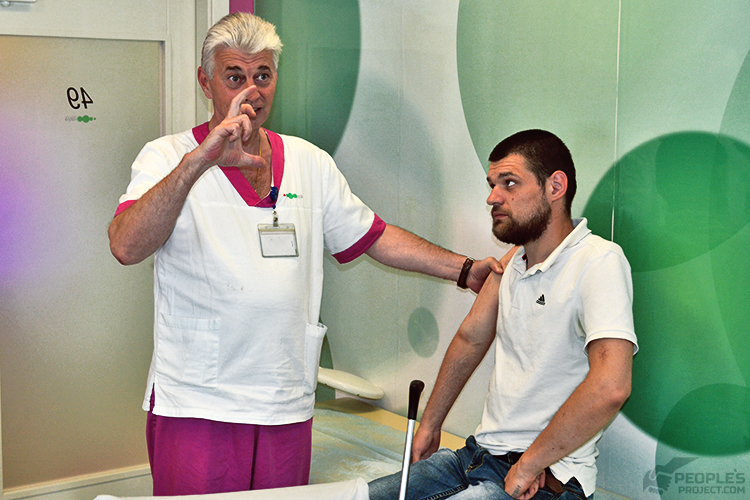 From a fragment like this from the shoulder bone Volodymyr Mikhailovych treated Oleh
The examination showed: cell materials have increased the fusion of bone fragments with each other, and the newly developed hip is able to bear weight. So a wait until autumn or even next year, as previously planned by doctors, is not needed. There is the possibility he can start active rehab and become more likely to use his own legs.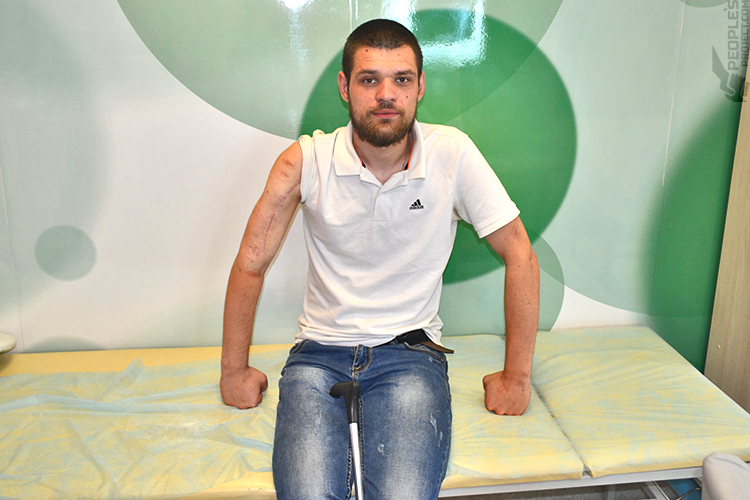 Oleh at review a few days ago. The arm that was tipped to be amputated is almost normal. His leg also: a guy who was thought to be confined to wheelchair, now confidently walks with a cane
Oleg went to the army in 2012 under contract – serving in the Marine Corps. He participated in the liberation of Novoyadar and detained 14 separatists during the presidential election on May 25. Together with his fellow soldiers, he liberated the city of Shchastya. He took a block post at Metalist and other strategically important objects. Among his achievements is the capture of 18 members of the special forces – "Don" and assisting with the evacuation from the area of many Ukrainian soldiers.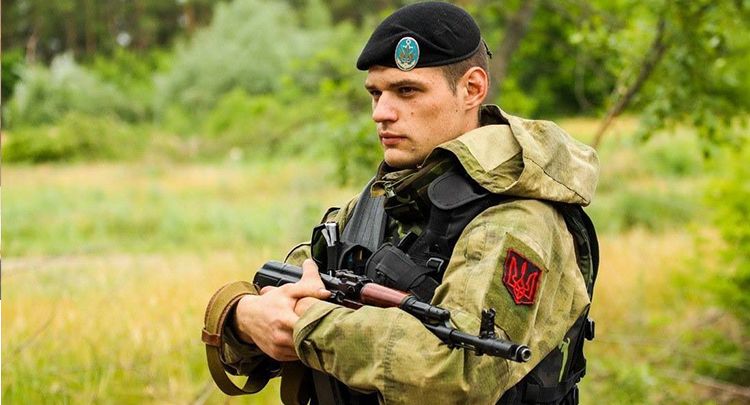 He was wounded in Luhansk region, where he fought in the battalion Aidar, when his battalion came under attack. Oleh is the only one from his unit who survived. One of his comrades covered him with his own body and lost his life. As soon as Oleh got to the hospital, he was given little chance at all – his whole boy was severely wounded by close explosion wounds and shrapnel. Fortunately, doctors in the military hospitals were able to save Oleh's life but with his arm and leg injuries they had less luck: state medicine simply does not have the means to treat such serious injuries.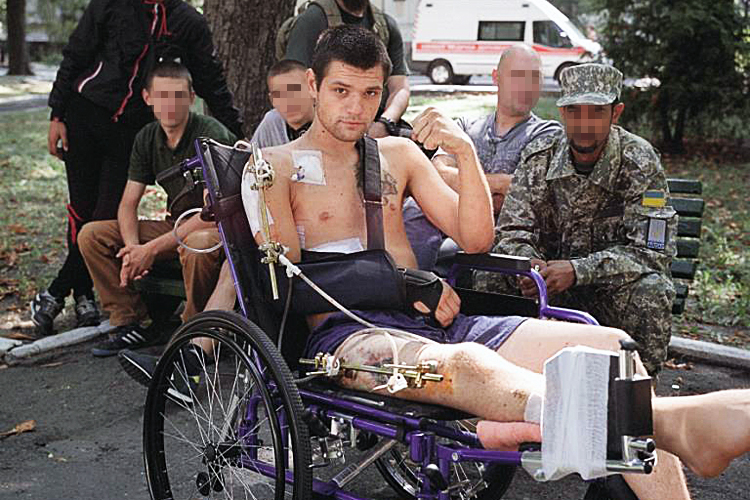 Doctors fought for Oleh's life for a long time
Oleh joined the project with a 12-centimeter defect of the humerus, a 3-centimeter defect of the thigh and a heavily twisted foot. In addition, damaged bones were further destroyed by osteomyelitis, and the overall weakness of his body after massive injuries significantly slowed down the process of recovery and treatment.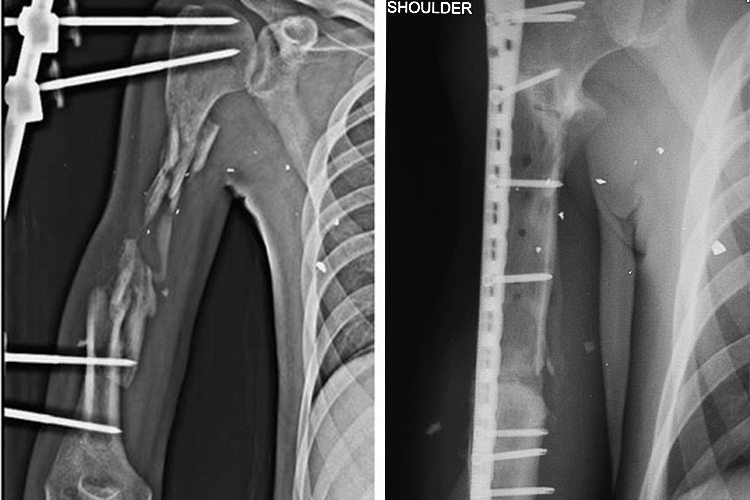 Oleh's arm at the beginning and at the end of the course of treatment
With the help of unique innovative technologies, using cellular materials, the ilaya clinic doctors still restored Oleh's shattered limbs. About six months' ago his arm was released from the orthopedic plate.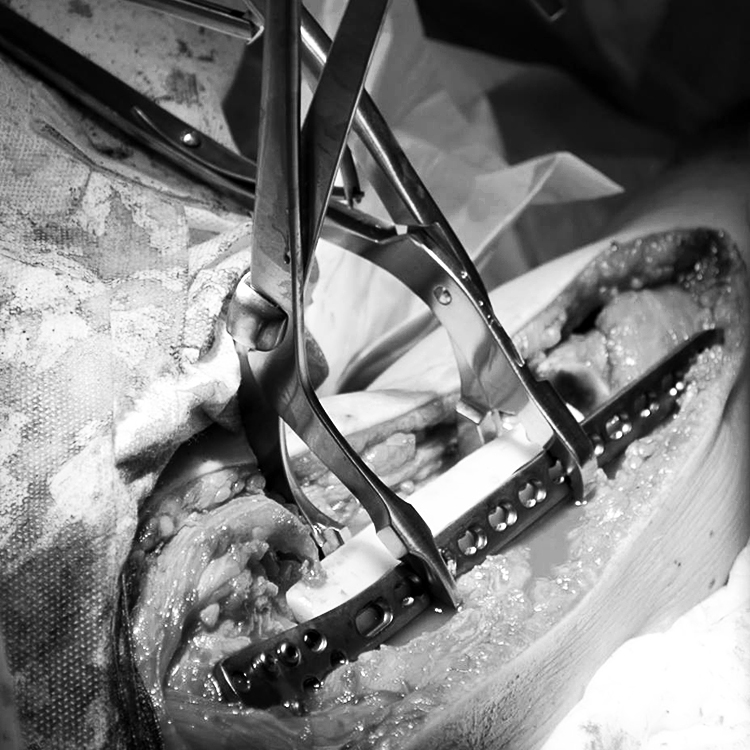 This white piece is a bone matrix, which also replaced 12 centimeters of absent humerus. The orthopedic plate kept it in place until the whole structure, surrounded by bone materials, grew into a monolithic bone.
Now X-rays have shown the bone of the hip has also grown beyond all expectations. Maybe it does not look very aesthetically pleasing – a massive bone glove surrounding the place of a fracture. However, the bone has acquired primary strength and will fully carry a natural load independently – the more so that in future newly developed bone tissue will only be strengthened. The rest of recovery now falls on Oleh himself: he has to undergo a course of active rehabilitation and then will return to normal life without crutches, wheelchairs or prosthetics.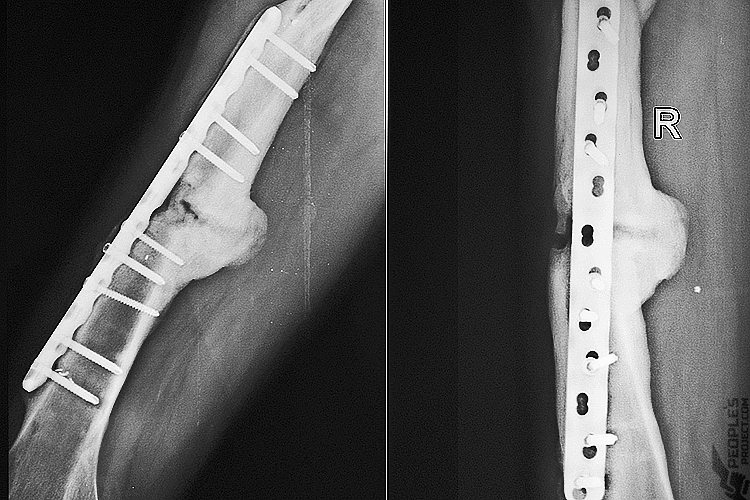 This plate will be removed tomorrow
We have paid for the full course of Oleh's treatment, through donations collected by The People's Project volunteers. It cost us over half a million UAH and this sum was collected due to the generosity of individual benefactors. Unfortunately, the state remains aloof: the Ministry of Health has taken a principled position, and all Ukrainian state medicine can offer is amputations, permanent disability, wheelchairs, and prostheses. We return these guys to a more normal life, which is why your assistance under the project Bioengineering Rehabilitation for Wounded allows us to save more and more wounded fighters. Even your smallest donation increases the chances of wounded defenders recovering from the worst of wounds.