Volunteers of the School of Military Divers in co-operation with instructors of the Paton Institute of Electric Welding have given a course on underwater welding for divers of the Ukrainian Naval rescue and cadets of diving specialities of the Ukrainian Navy Institute.
This was not an introductory course as all the students have already undergone a similar one at the Paton Institute's labs. Earlier, the volunteers of School of Military Divers initiated collaboration between the Ukrainian Navy and the Institute. Lately, they have invited a team of their instructors into the current training course.
The exercise took place off the coast; during it a combat situation involving a ship damage has been simulated: in a real battle, these happen rather often. For instance, last year during the NATO military drills near the Norwegian coast the newest Fridtjof Nansen-class frigate got damaged and sank. To successfully and operatively manage such situations, the sea rescue divers have to possess proper skills in underwater welding and cutting of metals. It is an exceptionally sophisticated process that requires a firm hand and continuous practicing. A diver who hasn't trained for about a half of a year, can lose his competencies and fail to cope with his task when necessary.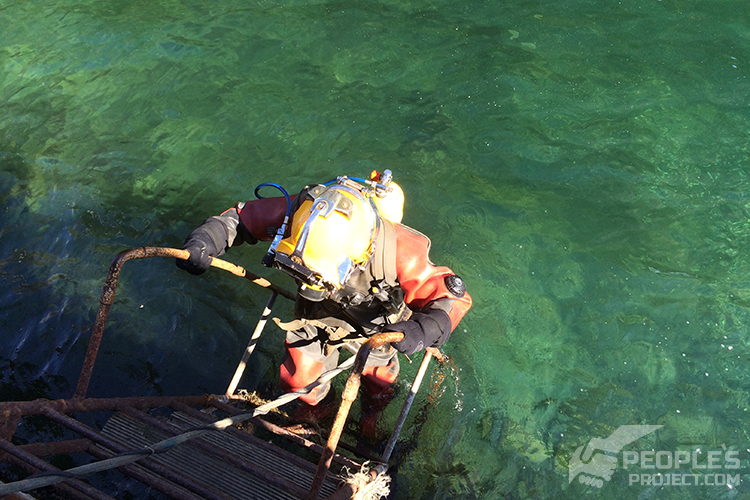 On the whole, the Ukrainian Navy commanders as well as diving instructors have been satisfied with the results, while the guys looked really happy after getting their missions completed and as they took off their equipment afterwards!
On our part, we can add that this definitely was not the last training we had: yet, to have more of these we need your support!
Within the School of Military Divers we have been assisting the fighters of the 10th Naval Aviation Brigade aiming to buy them equipment necessary for rescuing people at cold stormy sea. Dear friends, go join us!