The difficult to treat injury to the femur of a volunteer "Donbas" Batallion fighter has been restored by Ukrainian doctors. The soldier has "grown" the missing 14 cm of bone thanks to cellular technology. Financing of the project Bioengineering Rehabilitation for Wounded was provided by People's Project volunteers with the help of donations from the people of Ukraine.
The last examination in the clinic, iLaya, showed complete recovery of Oleh's bone. The soldier's story and doctor's comments can be seen in the following video (in Ukrainian).
Oleh was in Ilovaisk on August 19, 2015. While clearing the city from the armed forces of Russian invaders, the enemy sniper wounded a few of  Oleh's colleagues before he himself was shot in the right leg.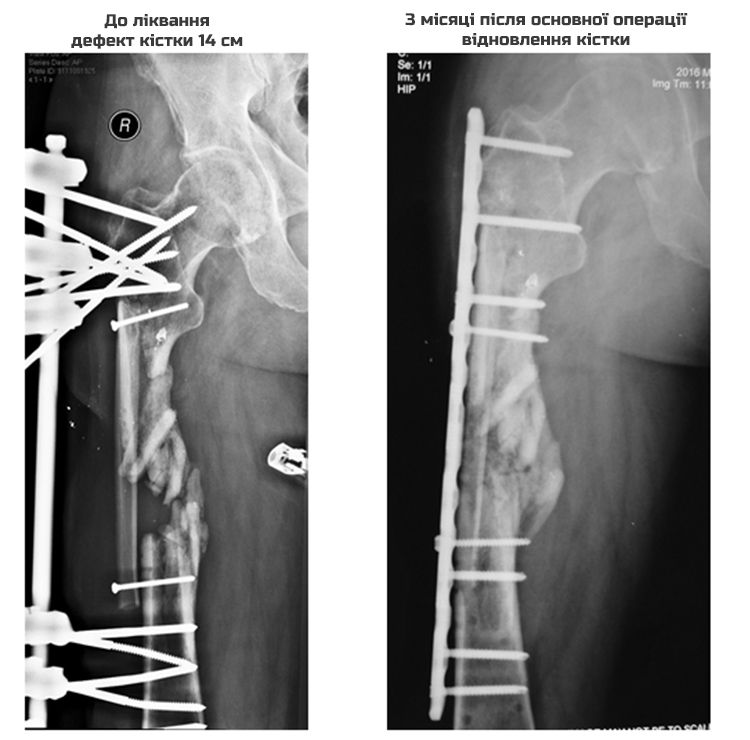 Wounded, Oleh pulled out the bullets himself, before first-aid was brought in from Starobesheve. Then the soldier was treated in various military hospitals abroad.
The soldier had almost lost hope of recovery after prolonged treatment (almost a year) brought no effect. Further development or complications of his trauma could lead to disability or even amputation. But thanks to your support of the project Bioengineering Rehabilitaion for Wounded, нога Oleh's leg is fully restored. With ongoing rehabilitation the soldier is already trying to walk without crutches.
Unfortunately, the budget of the project keeps increasing as the queue of wounded soldiers who need treatment grows. We try to take into the project all of those who need treatment with cellular technology. But without your monetary support, we can not do it, and the guys are threatened with permanent disability. Follow our news on this site and in social networks. There is much more going on behind the scenes in this war than what is reported in mainstream media, we are on:
Facebook, Twitter, YouTube, and Instagram.
To assist financially, click the green button below. However spreading the word about wounded soldiers and their plight via social media also raises awareness and can help.