The volunteers of The People's Project have collected the required amount and paid for the first phase of treatment of Roman, another participant in the Bioengineering Rehabilitation for Wounded project. Roman represents one of the most serious cases undertaken by the project, due to the complex nature of his wounds and the treatment required. Those wounds were received in September 2015, during fierce fighting in Marinka – a mortar expolded near Roman injuring the right side of his body, fragments tore a significant piece of bone and muscle from his shoulder.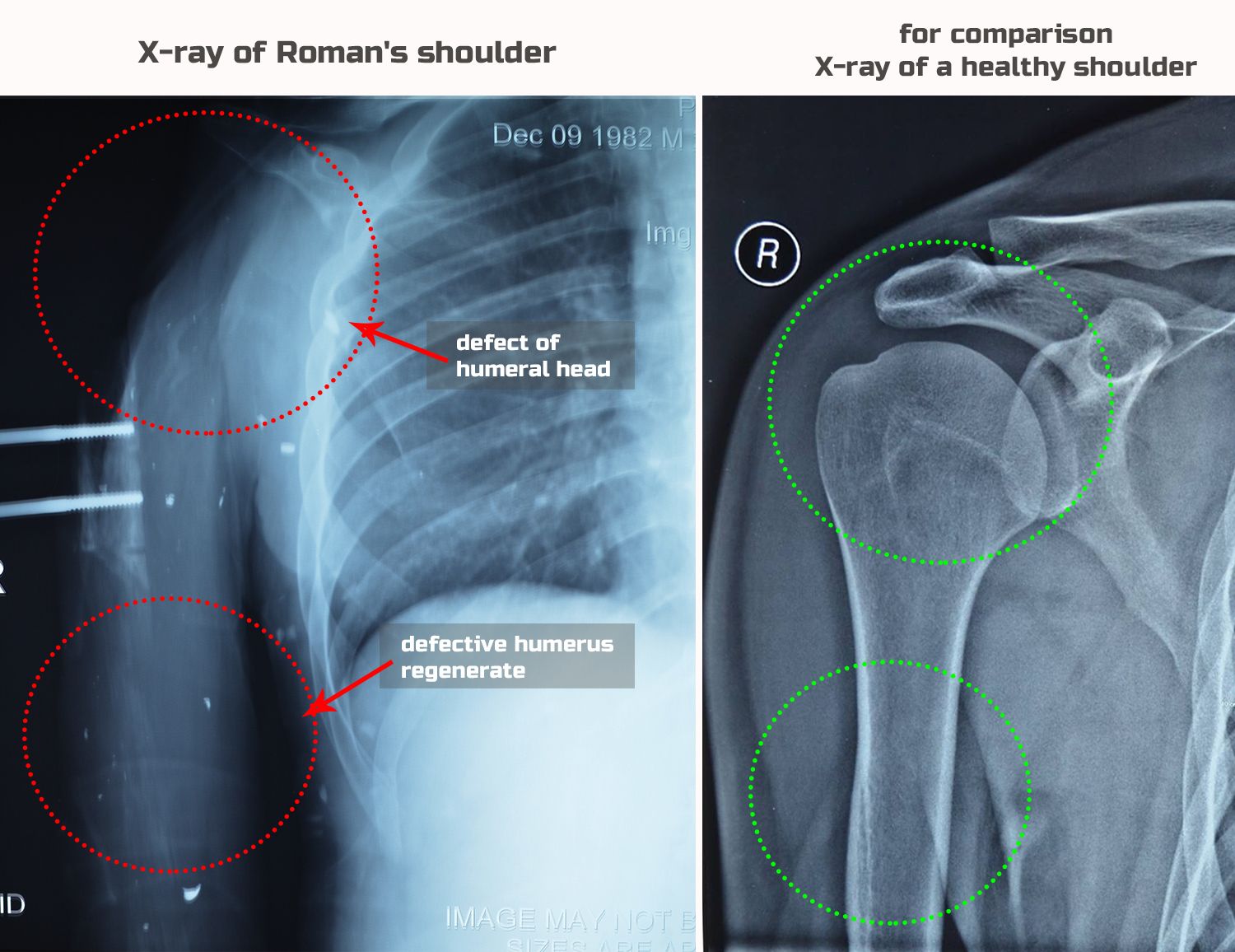 Roman was in a coma for some time after being wounded. Meanwhile he underwent a dozen stabilizing operations at military hospitals. However, his main problem is still not resolved, at the moment Roman is missing most of the humerus including the head of the joint. This renders the arm non-functional, so the serious question of what to do next arises. Modern traditional medicine offers few solutions: either amputation or fusion – affixing the remainder of the humerus to the shoulder blade, without the possibility of restoring any function. The only hope now for Roman lies in cellular technology, the biotech specialists at iLaya Medical Company have taken the needed bone fragments and plan to rebuild the shoulder almost anew. Roman shared his story with The People's Project:
A few days ago, physicians undertook the preparatory work – sampling of stem cells of red bone marrow from Roman and the removal of a piece of bone, which will be used for the manufacture of a three-dimensional matrix. While materials were being prepared, Roman underwent several medical procedures to prepare him for major surgery. The experts are cautiously talking about the chances of success since this is the first time they have treated such injuries. Progress in treatment of other project participants, Oleksandr, Sviatoslav, and Vladislav, with similar injuries bode well for success in Roman's case.
Roman gave a year of life in service, was at the hottest parts of the front as part of the 28th Brigade. Two of his brothers also serve in the Armed Forces of Ukraine. Next to him, in hospitals, his young wife Lyudmila is a constant presence, his life is still ahead of him. In collecting the remaining funds we have about two months left due to the amount of preparatory work required. We once again urgently need your help – only your donations can help give Roman a chance at a full life.
Help is very simple: you can press the green button below. For more details see the Bioengineering Rehabilitation for Wounded/a> page.