And back to Oleksandr again. Poor man looks rather unhappy: his recovery seemed so close, almost at hand. But due to certain misfortune Oleksandr got onto the surgical table again.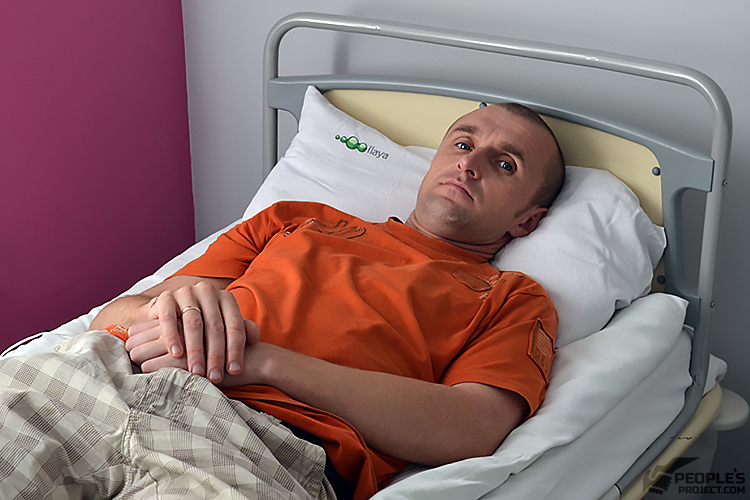 A few hours before the surgery
Oleksandr has been experiencing treatment within the «Bioengineering Rehabilitation for Wounded» project for about a year. Despite complicatedness of his injury, it does not look surprising to his doctors. Oleksandr fought with the 81st Airmobile Brigade and held defense in Promka (an industrial zone in Avdiivka suburbs). During the enemy shelling a 40 mm grenade hit Oleksandr's shoulder. The circumstances of his injury are mostly unknown to us, still we are sure that the explosion could have easily cut his head off; happily, the man was lucky to stay alive. The wounded was immediately transported to hospital where the doctors examined his wound and started treatment: it turned out that the grenade destroyed the joint head of the humerus.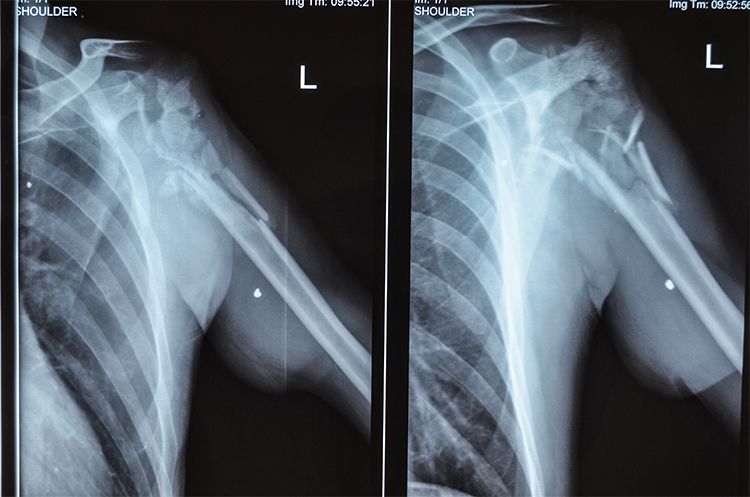 This is how Oleksandr's shoulder looked before he joined the Project
Despite four surgeries, medics' attempts to recompense the problematic defect prove unsuccessful. Over time, osteomyelitis began to ruin the bones. Next thing would have been amputation, but Oleksandr joined the Bioengineering Rehabilitation for Wounded project. Within the Project, the doctors of ilaya clinic restored the missing bone fragment using the man's own cells, so quite soon Oleksandr was back to normal life. The doctors considered the treatment successful as well: one of their most problematic patients recuperated rapidly and with no complications.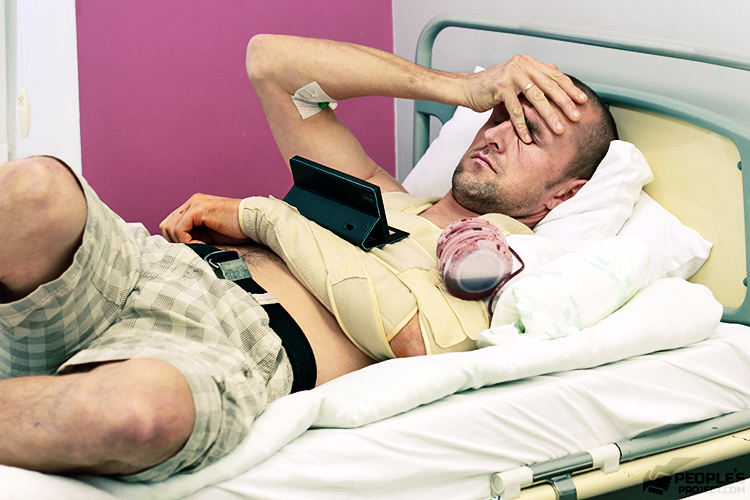 Hours after the surgery. Waking up from anesthetics is not too enjoyable
Unfortunately, during the active fusion period a misfortune occurred: due to an accident Oleksandr unintentionally damaged his new bone again. These days he has arrived in the clinic again and undergone another surgery on renewal of his hurt shoulder – naturally, the guy just should not be left alone with his trouble. We at People's Project are going to pay a part of these extra expenditures at the expense of your donations, and another part is to be compensated by the clinic in token of their goodwill. 
Certainly, these are not the final expenses within the Project. So once again we ask you to help: your contributions within the «Bioengineering Rehabilitation for Wounded» project will allow us to continue further treatment of wounded fighters to get them back to recovery and normal life. Join the Project today!