One of the youngest participants in the project Bioengineering Rehabilitation for wounded successfully continues his recovery. Recently turned 20, Ihor visited the Kyiv-based iLaya Medical Company for a control examination. The results confirmed that despite all the predictions of traditional medicine, there is a positive forecast for his full recovery. It seems stem cell technology has saved him from disability. You can see this in the following video:
Ihor was wounded in September 2015, when as part of the OUN Volunteer Battalion he was performing a combat mission near Donetsk Airport. He came under fire from two directions 300 meters from enemy positions . He received many shrapnel wounds – mostly to his right arm and leg. Finding himself in a difficult situation with two (also wounded) comrades, he contemplated using his own grenade on himself to avoid capture by the enemy. Fortunately, his fellow sodiers managed to pull him and the two other wounded from the battlefield and immediately evacuated them to hospital.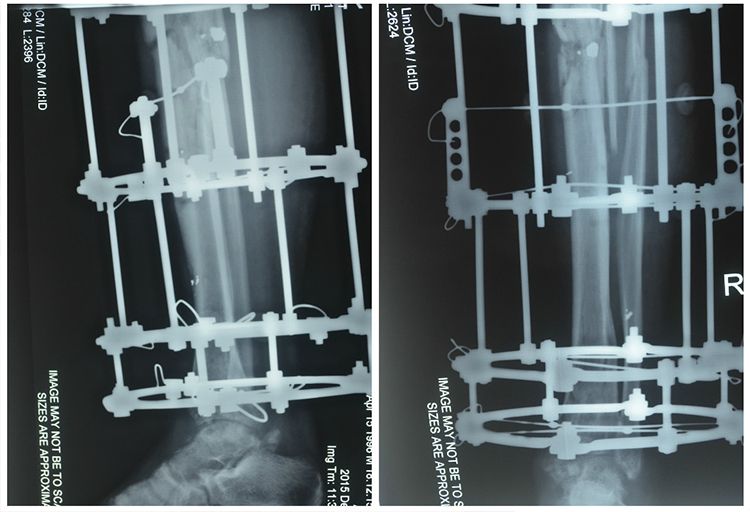 The defect of the tibia as of December 2015
Ihor First aid was administered in the settlement of Selidove where helicopter was sent to fly him to a military hospital in Dnipropetrovsk. In Dnepropetrovsk, live-saving surgery was performed as was surgery to prevent the loss of his right leg. On September 15 was flown to Odesa Military Hospital for further treatment. In early October an Ilizarov apparatus was fitted to the leg and medical procedures were carried out. However, because the bones of the foot and lower leg were severely fractured, treatment did not have an effect. Subsequently, the bone began to die, and he was threatened with permanent disability or even amputation. However the specialists at iLaya were able to offer an alternative. At the site of the defect they inserted a special gel, rich with Ihor's own cells. After some time new bone began to form at the site of the defect.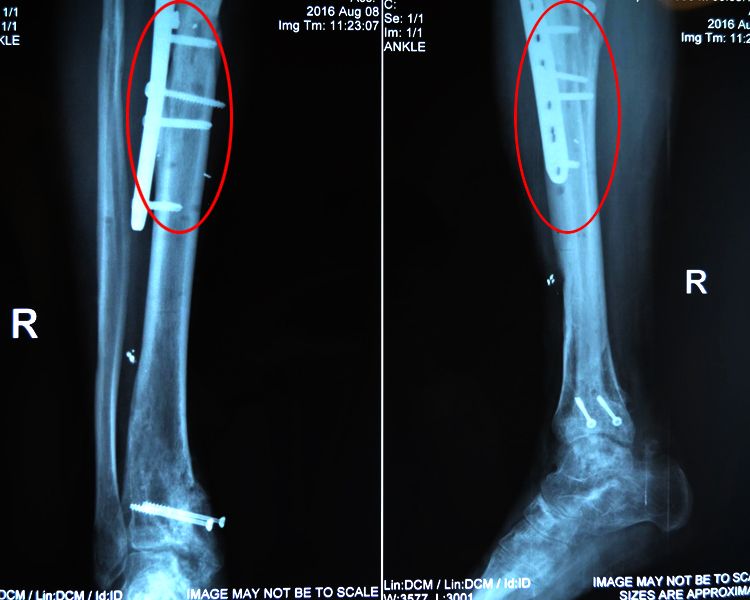 X-ray from August 2016: bone plate affixed
at the site of the defect which has almost formed new bone
Before the war, Ihor was keen on dance and sports, so the loss of leg function would have put an end to these activities. He volunteered to go to war but was refused by both the volunteer "Azov" Battalion and the Armed Forces of Ukraine due to his age. He joined the OUN Battalion and quickly matured in combat. Now he is full of hope for a brighter future. Cellular technology has given him a chance, and you can be sure he won't squander it.
Unfortunately, the fate of some seriously wounded Ukrainian soldiers is not as positive. They need the same high-tech treatment using cellular technology, but this costs money. That is why we really need your help – only your donations can help Ukraine's wounded defenders return to normal life.