People's Project goes on with publications of memoirs of a combat sniper, a commander of a sniper unit of the 17th Separate Kryvyi Rih Tank Brigade. This part will contain recollections on the initial days of work at one of the hottest forefront positions as well as the guys' first accurate shots. As usual, all materials will not be illustrated by any photos; the story is the first person narrative. Its previous parts can be found here:
Ambushing terrorists. A Ukrainian sniper's military records
A stray tank. A Ukrainian sniper's military records
---
…One night we witnessed a fierce battle nearby. There were flashes and roaring all around, and we could not even guess who was exactly fighting against whom in that battle. So we sent our scouts, the best ones, from the 17th Brigade, to examine the situation. In general, it looked like this.
There was a checkpoint called "Spinning Top" near Troitske. When the brigade who previously held the position, were leaving, their commander withdrew all his guys from there, and they just left the checkpoint empty. It seems the enemies have figured this out quite soon as well. So everything started from this moment: they fired at the checkpoint several times and saw there was no response from there, so sent their group to examine it. At the same time our scouts approached the checkpoint from another direction. Not aiming to take the position, the groups faced each other, exchanged fire to mark their presence and left the position untaken.
And this is where another part our military story begins. Whose order it was, I am not sure, still the whole operation was titled "The Bridge". I was ordered to call all our snipers; in addition, a few infantry men were sent to reinforce us. The column formed out of forces engaged in the operation, was just huge. Hard to judge about their exact number, still there was a tank squadron, motorized rifle troops on APCs we called "bekhas", our snipers on KAMAZ, some UAZ etc. Total amount of concentrated forces was rather difficult to imagine. And all these forces were brought to take the "Spinning Top" in broad daylight.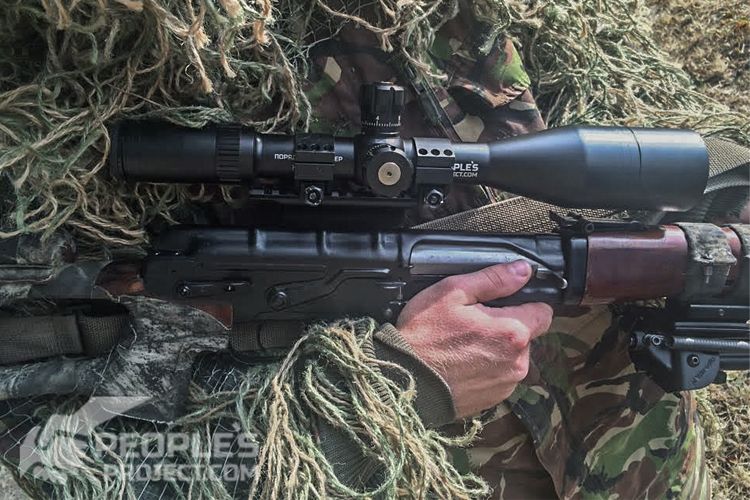 So we unloaded the supplies and the snipers. On the way over there I realized it was our new position. We are to take and hold it, as despite being abandoned the area was quite important. It was located in Troitske outskirts, on some unmapped height… The height itself looked like a range stretching for more than two kilometers and two hundred meters in distance. In spite of the fact it was not the highest one, it was still very significant because it faced Troitske, Myronivske, and Artemivsky direction which looked wide open from there, with the 30th and 128th brigades' positions adjoining it; our own, the 17th one, was located a bit farther.
So we are taking this position, I am observing the amount of vehicles and think to myself: "Well, right, so I'm going to be the boss here!". Suddenly, a minute later, all this military equipment starts, turns around and just leaves. They left me with one tank, one APC and 22 soldiers to hold the spot 2 km and 200 m in dimensions. So we sat down and had to decide how to hold such a territory with so little forces. Luckily, a bit later additional APC came back to support us. But we had to manage with all we possessed: at the edges of our spot we put APCs, placed the tank in the center of it, and in front of the position there was a mine field left by our predecessors, the 128th Brigade. Of course we were not equipped with any map of these mine fields – they just pointed it to us like: "There are mines here, here and there. No vehicle can drive across – still, there is a thin path allowing to sneak through it". Roughly, they instructed us like this. Actually, we had no chance to check up where the mines had been placed and whether they were there altogether, as there was nobody to ask about them: the whole of the previous brigade has left.
Of course we were angry with them. It was early spring. Mud and sleet, and practically no equipped positions – the said brigade was not going to stay on the height and spent just a short period of time there. In fact, there also were neither civilized dugouts, nor infrastructure or communications ­– hence, we had to just roll around in the dirt and dig into the earth. We burrowed and feared bearing in mind that the surface area was enormous, and there were too few of us. That is why we were constantly asking to send us more people, still nobody did this, on various reasons: there were too many of those far from military duty at our main base. So the majority of soldiers had been already appointed to hold their footholds. The fact was we lacked people then. So I started to pick up the guys one by one and even withdrew my snipers from other groups, so in some time we managed to form rather solid combat unit at that height.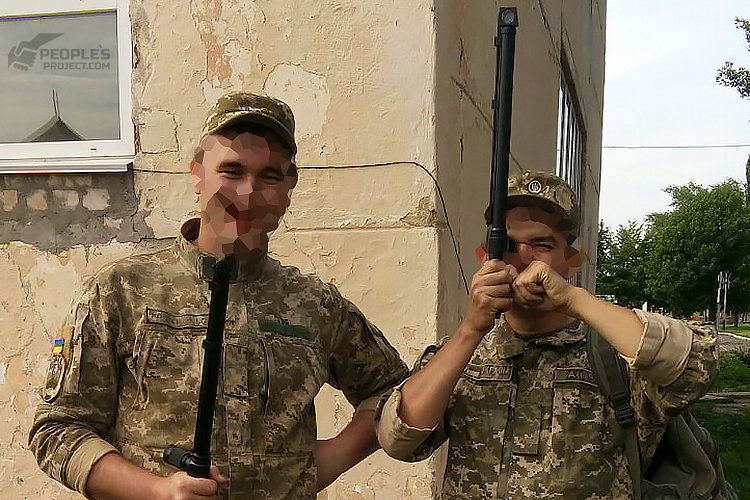 Our brave guys, the snipers of the 17th Brigade. Yet recently we have sent them another parcel of gear
I used to regularly visit the commander of the battalion, and each time I asked for the same thing: give me more people and some fuel for power houses. That is all. We had the rest of stuff in plenty: ammunition, food – there was enough of these. From the very first days we were getting supplies of foodstuff from our fellow volunteers, girls from Kryvyi Rih, so the food was really generous. Well, while on that "Spinning Top", we used to effectively utilize everything we had. The previous brigade left us a few uniform sets, so we enthusiastically made scarecrows out of them: eventually, there were about half a hundred of these. We put helmets, body armors, jackets and trousers on poles and even gave them names. I would like to point out that these scarecrows proved to be extremely useful: when the enemy snipers worked on them, we could later define the direction of their shots using the ramrod which allowed us to "greet" the terrorists' snipers in response quite effectively.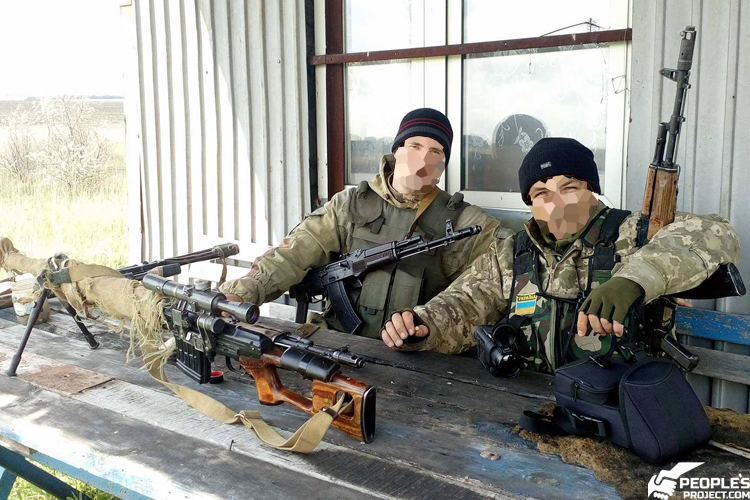 …and these guys are brilliant, too
First, we were afraid to move forward: being uninformed about the mine field scheme, I would not just allow anybody to advance. It took us about a month to get used to this place, to equip the position, so sitting still we were just exploring the possibilities there. Additionally, we were unable to see the enemy positions: despite being located just in front of us, they stayed hidden by the ravine slopes. Hence, the maximum we could do was to employ our AGS grenade launcher and hit them blindfold. Later, when the soil got a bit drier, we began to work actively. Of course, nobody was going to sit still as we were tired of involuntary inactivity, but the same could be said about the separatists. And they invented the following thing: there were dried weeds in front of us, like feather grass or something else. Following the spring sleet, it got dried at last. And when the wind blew in our direction, they used to set fire to it, to clear mine fields in natural way and come closer to us. Of course, we had to resist this.
There was – and still is – a very accurate sniper whose call sign is Borya, in my unit. He is a decent happy lad. We used to work in pairs – we would choose a working position, come out, split the night into two watches, and wait. While burning down the grass, the terrorists used to hide behind the blaze, for us not to detect them. Still we got used to their manner – the gusts of wind blew the flames down occasionally. And during another gust, Borya made his first accurate shot. The wind blew the blaze aside, and amid the flames we clearly saw the figure holding a canister in his hands. The rest of them were running around with torches, yelling and squealing like hell, and this one just stood still. And these were his last seconds.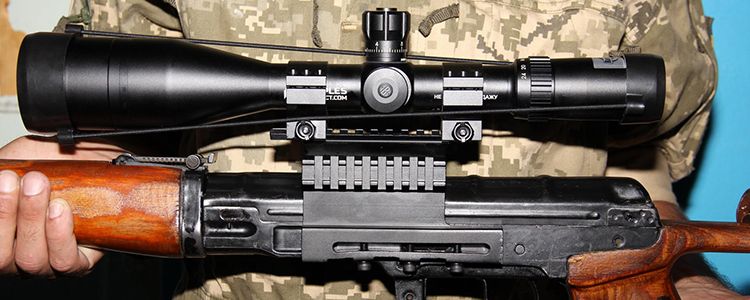 People differ, you know. As a commander I cannot proclaim total no-alcohol policy and watch everyone to abide it, so I am supervising the process. There are responsible guys who never lose control of themselves, and I allow them to relax a bit sometimes, being confident they will not let me down. Those lacking self-control are not allowed to take alcohol, and they are aware of their personal prohibition as well. I need to say Borya was able to control himself well, even if he had a few drinks.
And here is his first accurate shot, and he has killed a living being, though an enemy, for the first time. And I am asking him: "How does it feel like? Perhaps, you need a drink?". He stares at me, looking quite calm – "No, commander, I am fine. May I just take a nap?". So he went out, snuggled into his bed and started snoring immediately. Later, he learnt the trick and on his second accurate shot he came up trembling: "I am so upset… You mentioned last time you could allow me a drink, so this time I really need one…". Together, we had a good laugh.
We thought that night we shot down two enemies, still it came out there were three of them – our scouts told us the exact number and greeted us, just before the commander of the Brigade arrived at the spot. These were our first accurate shots on this position.
---
These snipers still had a lot of things to happen ahead, and later they faced different situations. Some occasions were funny, some incidents bad; also, they experienced their first combat losses. We are going to proceed with the story in the next parts. But right now we can thank our Ukrainian snipers working in the frontline as well as effectively support them, by using a big green button below. We are grateful for your assistance, as only together, with our efforts combined, we can win this war.