Biotechnology specialists at the iLaya (page in Russian) clinic have completed the second phase of treatment of seriously wounded ATO soldier from the 25th Brigade Viktor. Sensitivity has begun to return to his feet and he has even been trying to get up out of his wheelchair. After a gunshot wound to his spine received in the ATO, the 24-year-old fighter was confined to a wheelchair through almost complete loss of sensation down his legs.
Financing for his treatment was provided by The People's Project through donations from caring people.
At the beginning of treatment, the fighter told the story how he was wounded. Watch (in Russian).

Now, Viktor faces treatment to his spinal cord, which is a difficult and complex process. Doctors have conducted two phases of treatment and the soldier will soon enter rehabilitation. After that Viktor will return to the medical center in late summer to undergo the final stage with the use of cellular technology.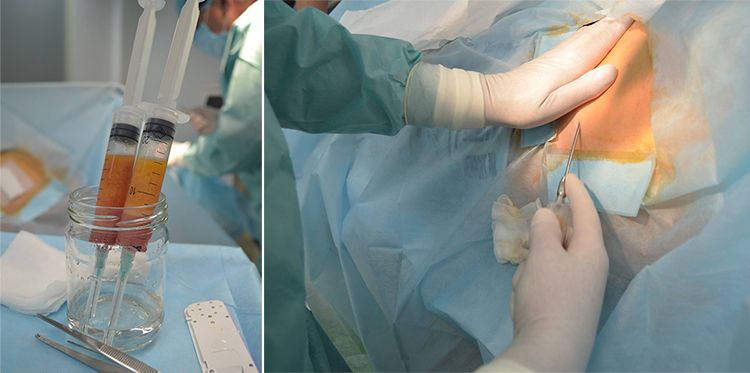 Viktor, a career officer and Lieutenant in the Ukrainian Army, went to the east at the very beginning of the war. He served in a lot of hot spots. During the clearing of Russian terrorists from Zhdanivka near Yenakiyevo, in the Donetsk region, he came under mortar attack. Viktor's entire body was pierced by fragments and he received numerous fractures and burns, but the most affected area was the thoracic spine. For 18 months, Viktor did not recover from his injury and his condition remained unchanged. The legs of the 24-year military barely functioned and he was forced to use a wheechair.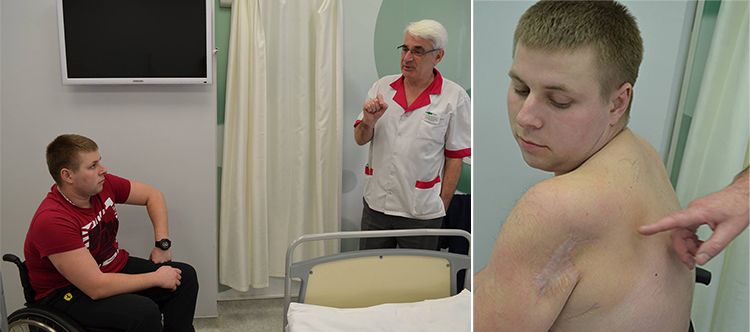 Fortunately, volunteer Yulia Koval appealed to the project Bioengineering Rehabilitation for Wounded for help. In early 2016 the project added neurological trauma to the existing bone and tissue treatment regimes using biotechnology, and soon Viktor was admitted for treatment.
The first phase of treatment (sampling of cellular material and the introduction of allogeneic cells) was completed in March 2016. The second phase, in which into the paravertebral area the fighter's own cells were introduced, took place in late April 2016.
In April The People's Project fundraising for the first two phases of treatment was completed. Part of the money was transferred by the NGOs Strong Men and by Veterans ATO – Honor and Dignity.
We still have wounded fighters waiting in line to take part in this unique recovery process. Men for whom conventional treatment in public hospitals has yielded no results. And because the state does not support biotechnology treatment for a number of reasons the guys hope our, and your, assistance will give them access to this unique Ukrainian medical biotechnology.
Earlier The People's Project announced the sensational restoration of the foot of a 19-year-old volunteer. Recently doctors grew bone in the leg of a wounded soldier from the "Donbas" Battalion. 
Get involved, click the green button below to contribute.