Did you know, dear friends, that we also have our own Petya, and he is far from being a computer virus? Our Petro is a young soldier who is actively recovering after a number of surgeries that he underwent within the Bioengineering Rehabilitation for Wounded project. The doctors of the Project are trying to save the fighter's foot that had been turned into a mess of bones and soft tissues by a mine explosion. Today we have accomplished an important thing – we paid the first bill for the guy's treatment which constituted 200 000 UAH total. This sum has been raised at the expense of your generous donations.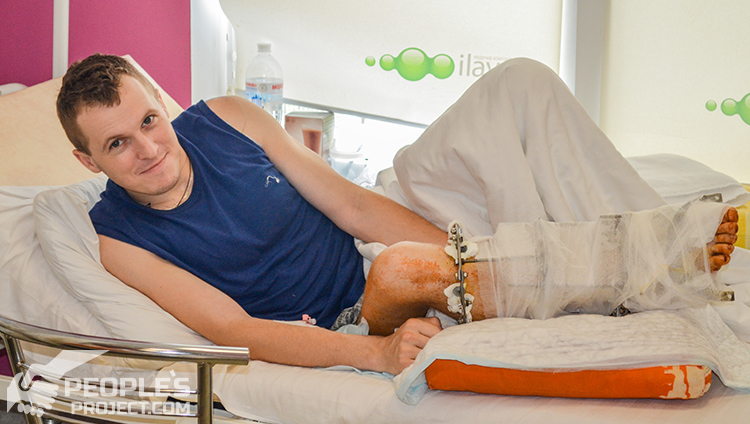 The most amusing thing about Petro: a bit gloomy in the beginning, as soon as he got encouraged the guy started to smile again
Petryk is a very young soldier, a university student that had signed a contract and volunteered to the war. For two years he had been serving as a scout with the 90th Battalion of the 81st Brigade, until the extremely unlucky day in last May, when during a reconnaissance outing Petro struck a mine. During the last month the guy underwent seven surgeries, but medics in conventional hospitals failed to help him.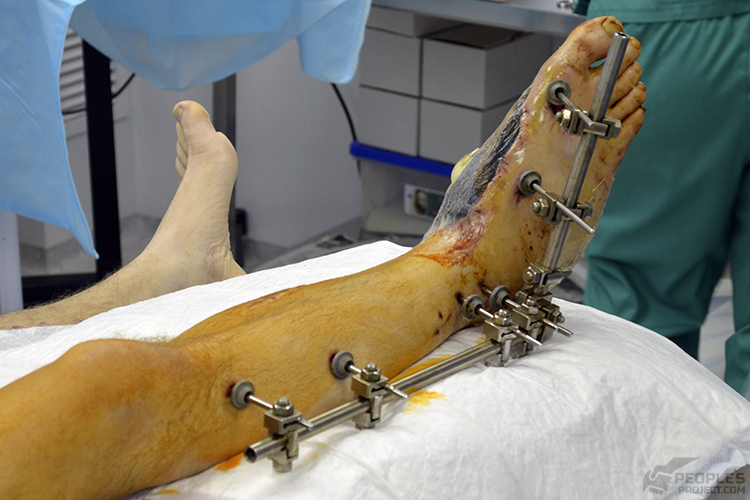 This is what Petro's foot looked like when we met him for the first time. For you to understand better, there was more hemostatic sponge than the foot itself there
Supportive volunteers literally pulled Petro down from the surgery table as the guy had been already appointed an amputation procedure. Within the Biotech he underwent primary surgeries at the ilaya clinic: the situation was too bad to postpone treatment, so it was about either amputation or an immediate start of radical treatment. So we started it at once.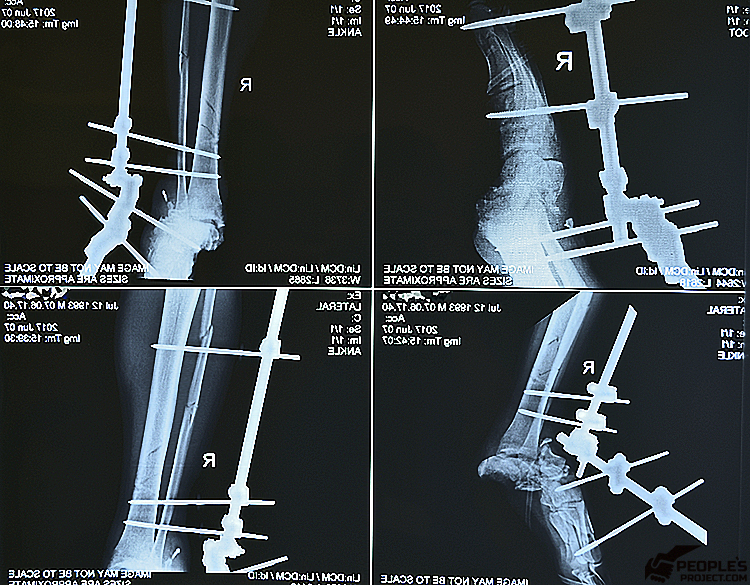 The X-ray would be more comprehensible for specialists: the foot is lacking its principal bones
May we emphasize that situation is really extraordinary due to complexity and scale of the injury, and to a number of factors impeding its healing. These include torn muscles and blood circulation problems; destroyed foot, heel and shin bones – as a matter of fact, Petro lacks the entire foot at the moment. So the treatment is to be split into several stages: first, we need to save the soft tissues which means growing a new the muscles and the connective tissue, and forming of new blood circulation ways. Once a number of reconstructive surgeries are done, the time for restoration of bones will come: with application of cell materials the doctors are going to grow up all lacking bones anew, to sculpture a brand new foot able of supportive functioning, for Petro. For today, the external fixation apparatus has been re-adjusted, and the remains of the foot fixed in due position for further treatment. For you to understand how bad it was, we are giving the possibility of a closer look at Petro's foot. Warning: the photos are really graphic.
There are good chances for success in this case, but the cost of treatment is rather impressive. Even the first stage's cost amounts to 500 000 UAH. This is a considerable sum, but it presents the guy with the chance to walk on his own legs. Instead of limping with crutches or hopping on a prosthesis looking enviously on those who walks on their own feet, he will be able to walk naturally. We urge all compassionate people to participate in the Bioengineering Rehabilitation for Wounded project. We would be happy to get support from both ordinary people and companies and enterprises who could join us as official sponsors of Petro's treatment. Together we can bring the wounded defender to normal life. And Petro definitely deserves this, does not he?