"The trip was unusual. Probably, it would not have been that remarkable if I hadn't been alone. A lot of people – old friends and total strangers – helped me. I am grateful to everyone who has contributed to the delivery of warm clothing for the soldiers to Ukraine."
The story of our volunteer Vasyl's journey across the European Union has all the makings of a good blockbuster script. At this point we'll let the man himself enlighten us.
"My friends who love Ukraine and were ready to help, met me in Paris. I explained what I needed: warm and high-quality winter clothing for our soldiers.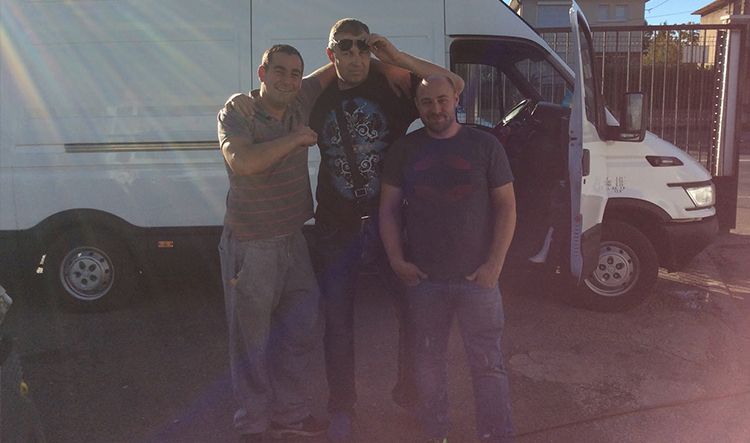 The delivery of that clothing took a week. Meanwhile, I was exploring Paris and was searching for a van to buy to use for the delivery of the clothing to Ukraine. I chose a super fuel efficient car – Iveco Daily.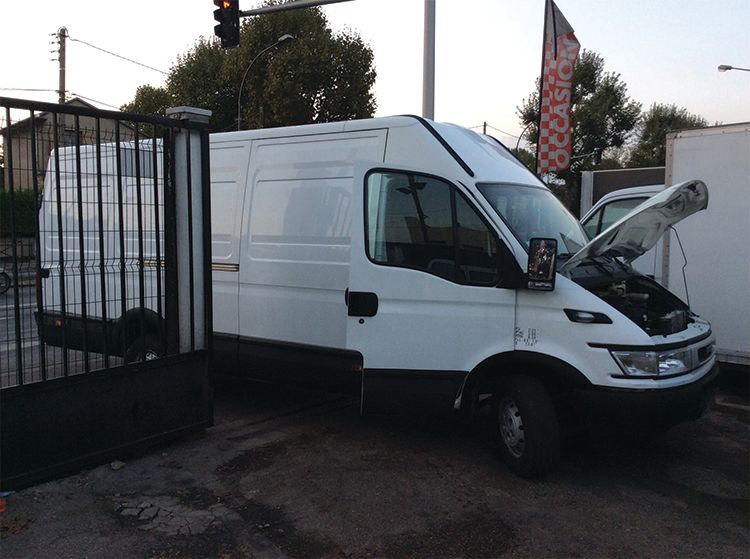 When we loaded it was overweight as there were plenty of clothing. But by that time, frosts were already occurring in Ukraine, I couldn't bear to leave any warm clothing in Paris.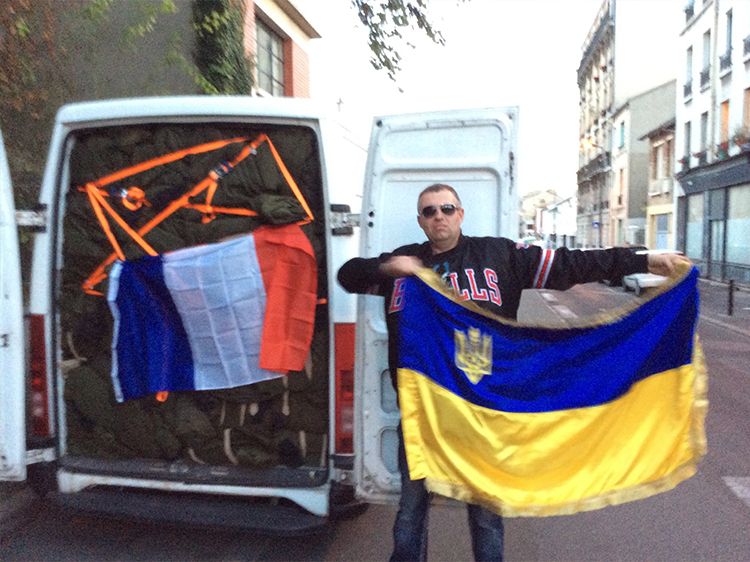 I started on the road back to Ukraine. I left Paris, France heading to Belgium. I chose the Northern direction as there were perfect highways and no mountains. I passed through Belgium without incident.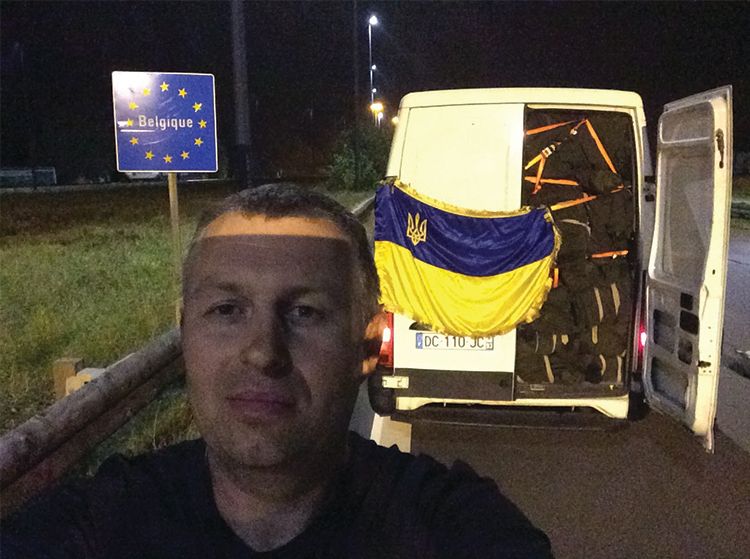 When I was crossing the border between Belgium and Germany, I looked into my left wing mirror. I saw small lights far away – a car was coming. I looked into the mirror again and saw that the lights were very close to me. At the same time, the thought crept into my mind, "What is its speed?" When I looked into the mirror for the third time, I saw no lights a split second later and a violent impact! The car continued at speed passing between me and a road safety barrier. Its speed exceeded 200 km/h. About 30 meters ahead of me the inevitable happened, and the car was turning a cartwheel on the highway before disappearing out of sigh in the darkness. I stopped and left my car, trucks were blasting past. Only one tail lamp of my car was working. I understood that somebody could hit my vehicle again and pulled off to the side.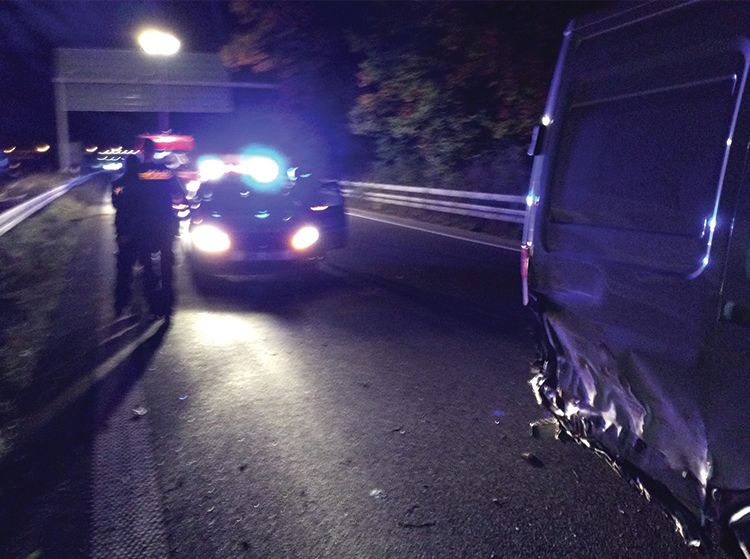 Within two minutes, a police car arrived. One of the policeman explained to the other, "He says that a car has rapidly passed between him and the road safety barrier. But I see no car. I'm going to have a look." And he left having placed some hazard lights on the road. After walking about 200 meters, he turned on more light signals and called his partner on the radio, "Here is the other car."
I approached the car. There were two Romanians bleeding, they had just left their car. Probably, the buckled seat belts saved their lives. They were wondering where they were. Little remained of their car, wheels, springs and other parts were all over the road.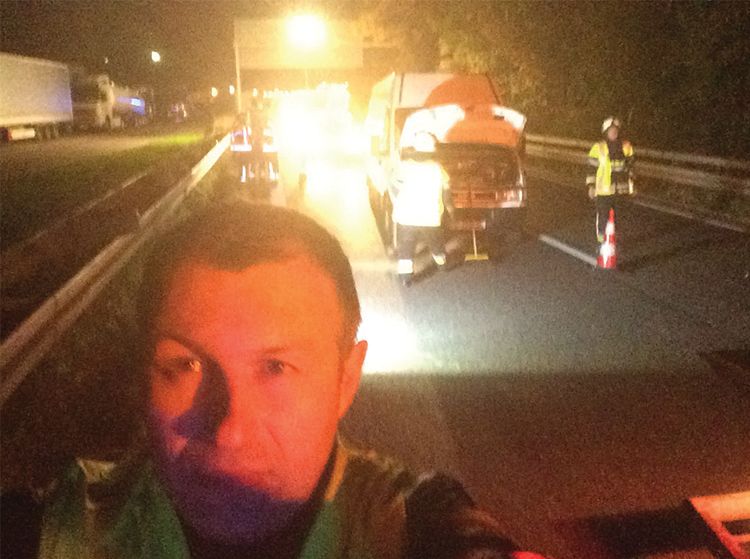 I analyzed the accident. Firstly, the Romanians were out of their head. Secondly, it was almost 2 am. Their Golf had British registration – was a right-hand drive. In Great Britain, passing on the right is allowed. They'd forgot that they had left Britain and passed me on the right along the road safety barrier.
The fire fighters and other rescuers came and did their best to treat the injured.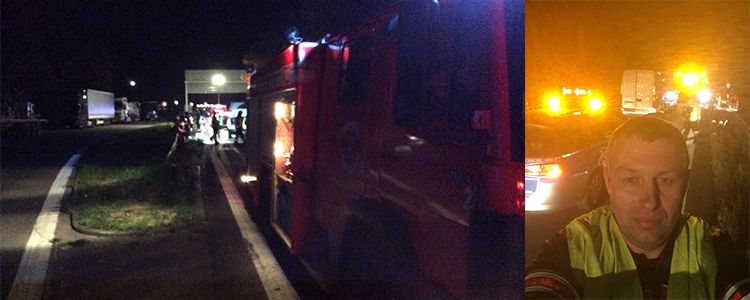 My car was badly damaged. The right rear door was broken. The rear wheel was twisted inside out. A tow vehicle arrived. As my car was overweight, the tow vehicle could not elevate it. Another Iveco arrived, we reloaded some clothing. I was brought to the towed car parking.
I didn't sleep that night repairing my car. I bought a flashlight, wheel, paint, painted the car, bought a drill and screws and installed a flashlight with Scotch tape (instead of the tail lamp).
When I was informed that I had to pay EUR 860 for towing, I got that it was high time to leave.
But they had my vehicle document. I saw where it was. I approached a girl who was standing at the reception desk and asked to charge my phone, and informed that a socket where I was charging it did not work. She took my phone and charger, and left. Meanwhile, I took my document.
In 10 minutes, I said, "Thank you for charging. This is enough for me to make some calls." I took my phone and waited when to start. The car was overweight. The rear tire was ill-fitting and was from a much smaller car. I started driving.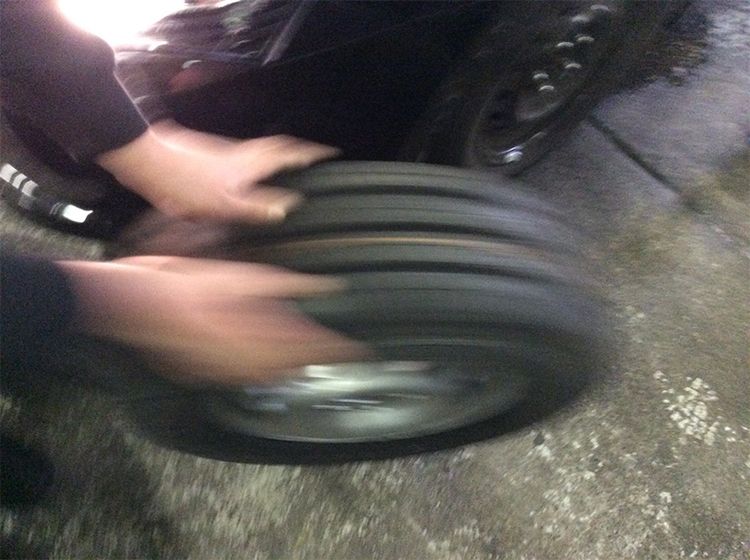 The Germans were panic-stricken. They did not understand what was happening. In about 10 seconds, they came to their senses and started running to their cars. I was already on the road. The first turn to the right was a dead end. I continued up the road. The second turn, to the left was also a dead end. I continued and turned into a track through a park. I rapidly drove park with bicycle lanes, grandpas and grandmas in wheelchairs. They moved out of my way giving me the green light. The track turned slightly to the right, the gates were open. In 30 meters, I entered a car park near a hypermarket, where a lot of cars were parked.
I parked my car near a fruit stand, bought a coffee and kept watch. Two tow vehicles rapidly passed in pursuit of me I had escaped paying EUR 860. Probably, they wanted to tow me back.
I decided to wait until dark.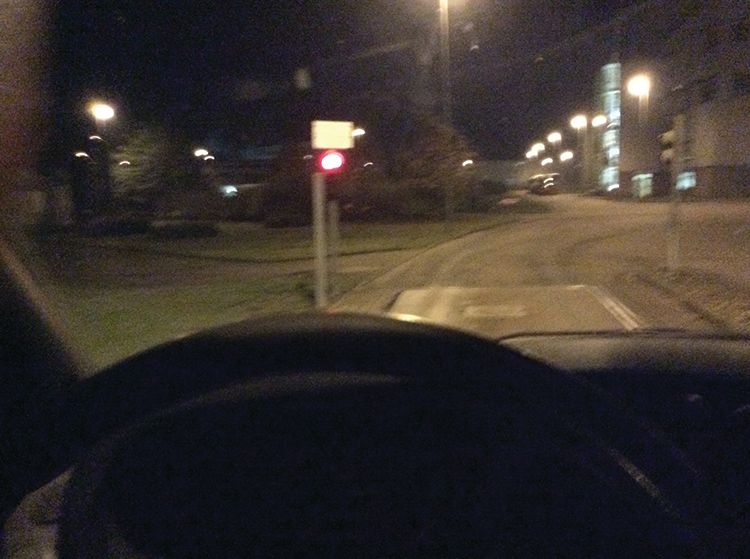 At midnight, the parking security guard approached me and said that it was closing time.
I had to leave for Cologne. But it was obvious that they were still waiting for me. Therefore, I decided to take the opposite direction. It was drizzling. I drove 40 kilometers before reaching the highway and saw Cologne road sign.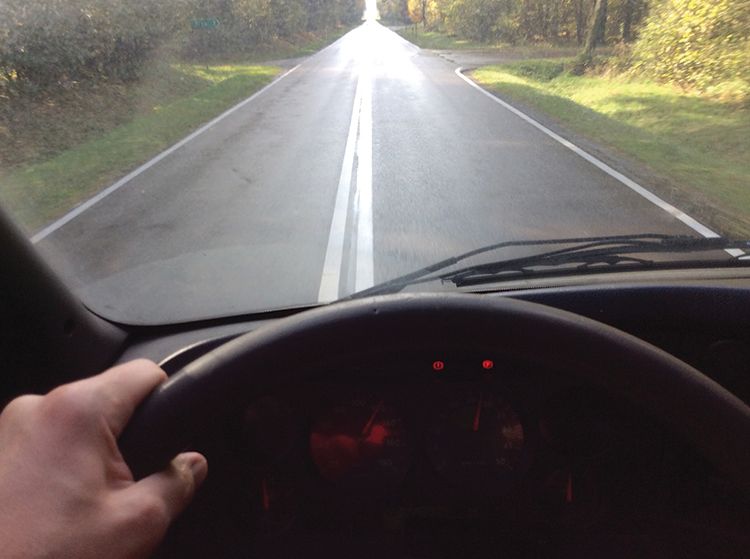 And, there my right rear wheel fell off.
I understood that I had fixed the wheel badly when leaving the tow business' car park in a hurry. I removed the screws – one from each original wheel, took the jack, lifted the car, and the jack collapsed. The police arrived, "What has happened?" I said, "I am changing the wheel and the jack has collapsed." The policeman said, "I will help you." I answered, "Thank you, but I will break yours. Call a tow vehicle with a large jack!"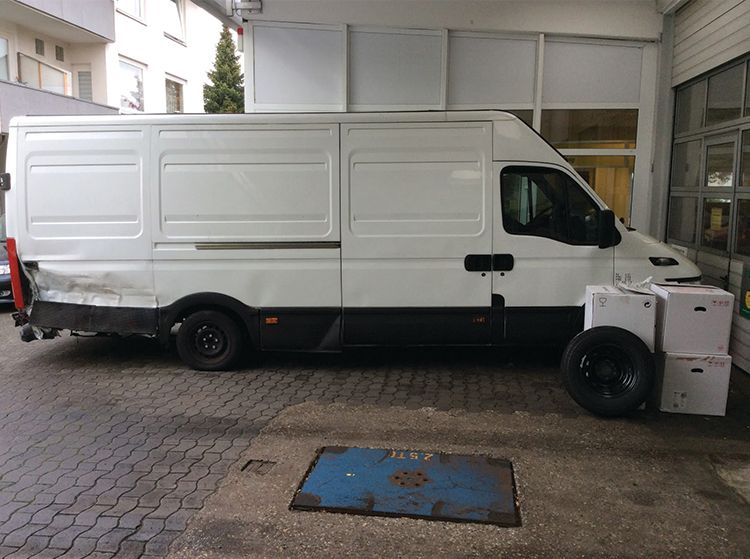 The tow vehicle arrived in 20 minutes. This system is clear and plain in Germany – police, highway and tow vehicles. The vehicle arrived and took the jack that weighted several tonnes. And that one also collapsed. My car was overweight.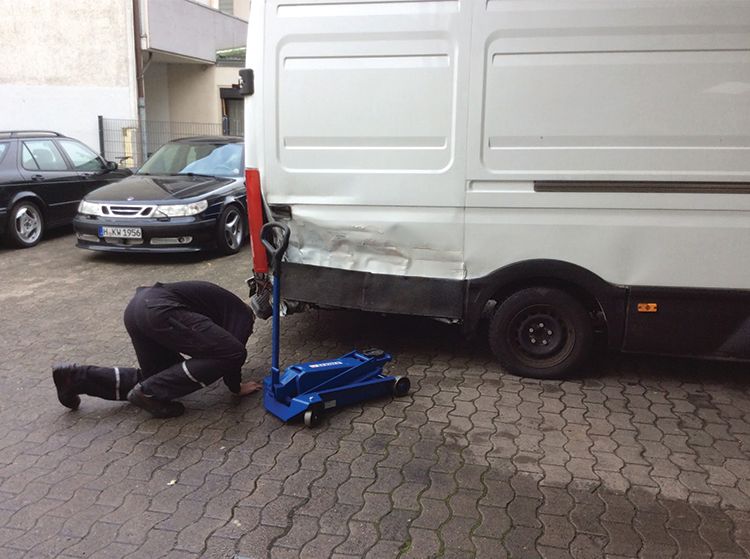 We could not find another way out but to tow the car. They asked me where to tow it. I asked to get me to the Iveco maintenance station.
I was surprised when the station gates opened and the workers were ready to repair my car at night. The local transport means of the city – ambulance, fire fighting vehicles and public transport – all appeared to be Iveco. Therefore, the maintenance stations were open at night as that transport could not wait. The station manager understood Ukraine and its internal situation well. He said, "Don't worry. We will have a quick look at and repair your car, and you will be back on the road."
They installed a new shock absorber, brought a leaf spring from another city. The only thing they did not find was an original wheel.

I received an invoice for EUR 1,750: EUR 750 for towing, and EUR 1,000 for repairs. The station manager asked for a photo with the Ukrainian flag and car. He said me, "We hope you win as soon as possible. We don't want Russia entering Ukraine and neighbours with Europe. We like Ukrainians very much, you are completely different. I want to get a picture near a car that has overcome so many adventures and is delivering warm clothing for the Ukrainian soldiers."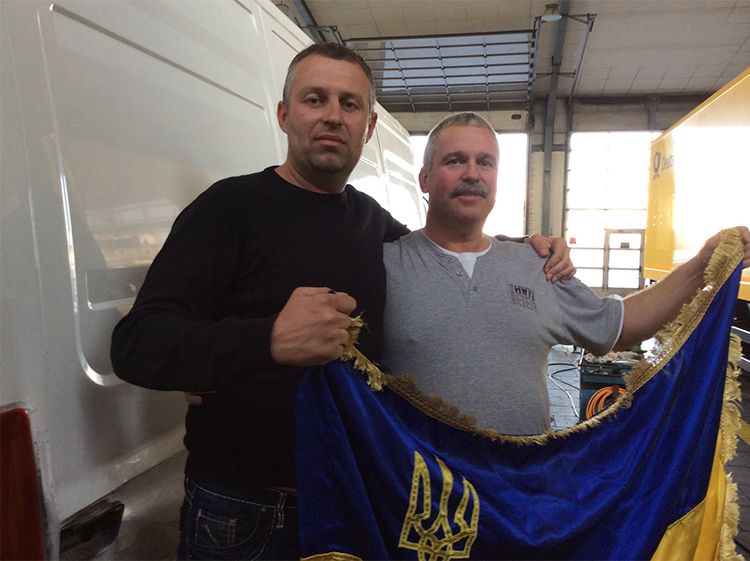 It was time to go. The second night without any sleep.
In 150 – 200 km, the police stopped me. They checked my documents and car, and noticed the load. They said, "Let's go and check the weight."

It appeared appeared I was 2 tones overweight. I received a fine totaling EUR 260. I thought I would pay it and continue my way, but the policeman seized my document and said where I could find them. As soon as I normalized the weight, I would be able to leave. It was 3 or 4 am, and I thought, "The night brings counsel."
I woke up at 8 am. It had been still drizzling. It was the suburbs of Hannover. I had a cup of coffee in the café, and went looking for the maintenance station. I found it and it appeared to have the wheel I needed. I said, "I am from Ukraine, I am delivering the clothing for the Ukrainian soldiers." They answered, "From Ukraine? It's perfect. We will make 20% discount for the wheel." It gave me some lift. I felt the support again: a usual German who understood what was going in Ukraine.

I called my friend in France. He was a volunteer, Ihor. I said, "Ihor, I have participated in the road accident, you know. And, it is the third day of adventures."
Ihor posted on Facebook that a Ukrainian volunteer was delivering warm clothing. He had passed France and Belgium without problems, but in Germany he'd had multiple adventures, he needed your help.
You even couldn't imagine how quick the post was reposted within social networks, my phone couldn't calm down – calls from France, Italy, Germany, Luxemburg, England. People from all over Europe offered me their help, "We will help you and find a way out, involve the friends and arrive by ourselves. You must be tired of the road! Choose any hotel and go to sleep, we will pay for it. We will transfer EUR 1,000 to your card account that you can have a meal and repair your car. I answered, "Thank you, but I don't need money. I have to leave the part of clothing somewhere."
It felt the support from all over Europe – responsive people! I would not have stopped in any case, but that support boosted my confidence.
My phone called, "It is Ksenia from Hannover. I will arrive soon, please tell where you are."
In 15 minutes, two guys came, they were Anton and Yakiv from that small town. They looked like two guardian angels. They arrived by a large minibus and we reloaded almost a tonne of clothing. We went to the weight control.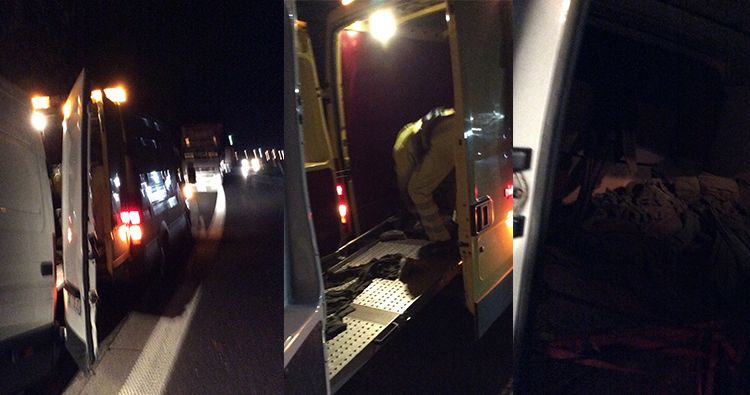 Jacob knew how to deal with the police. He said, "You don't understand, this minibus is delivering the warm clothing for soldiers in the Anti-Terrorist Operation area. And you have stopped and imposed the fine. There is a war going on, the soldiers are cold. Journalists are waiting for this minibus on the border. If it doesn't arrive in time, our mass media will say how you treat Ukraine and humanitarian aid!"
The police gave me my documents back.
Having looked at me, Jacob invited me to have a sleep at his place. Afterwards, I continued my way.
By the evening, I left Germany and entered Poland, spent a night near Przemysl, and crossed the border next day.
The Polish Customs Service made me show what I was delivering.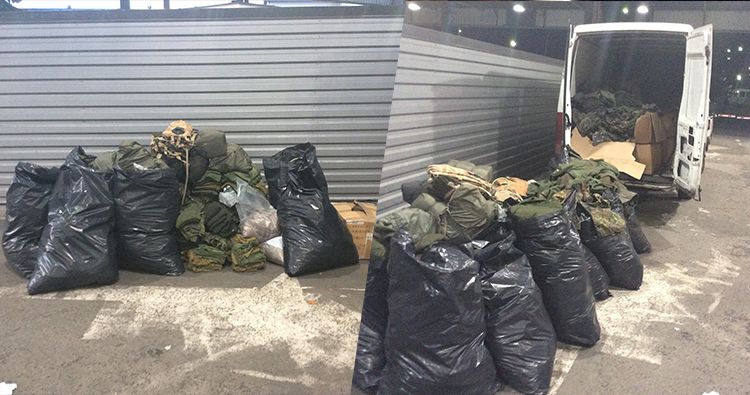 The Ukrainian Customs Service was passed very quickly."