Traditionally, the problem of mental disorders among military and veterans is muted in our society. Unfortunately, this is the upsetting heritage of our Soviet past when there were no depressions and all psychological problems were considered shameful weakness and fiction. For the sixth year in a row, Ukraine has been being in a state of war. And the statistics is so scary that to ignore the problem means to commit a shared crime collectively.
Tend of thousands of military men have been afflicted by PTSD (Post-traumatic stress disorder). As at spring, 2018, over a thousand of Ukrainians who took part in combat actions in Donbas, committed suicide due to the consequences of PTSD. The truth is, this figure is several times higher as de facto only the number of suicides among the UAF's military in active service is registered. But psychologists point out that it is veterans who appear the most vulnerable ones in this situation.  Having returned to civilian life, they get into the circumstances that exacerbate the psychological traumas they had got at war, and thus irreparable things may happen. Without effective rehabilitation, PTSD can haunt a retired military throughout life. They may seem to live the ordinary lives, still at the same time they can have night (or sleep) terrors, outbreaks of uncontrolled aggression or depressive states followed by suicidal attitudes.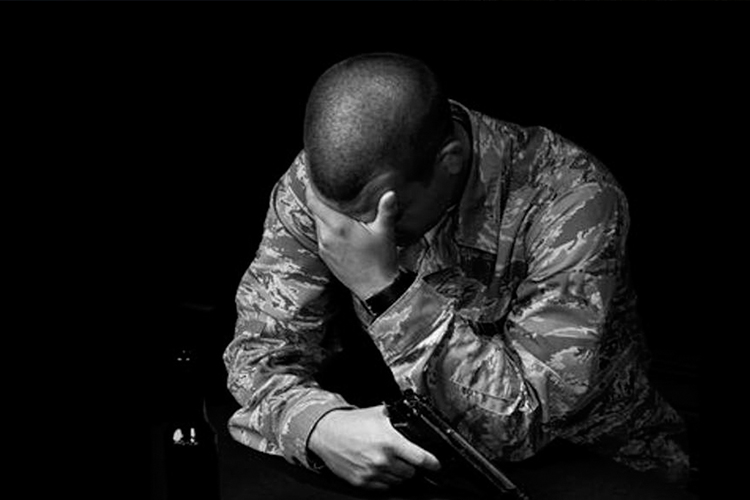 What could be the solution to this problem? Primarily, at the national level the government has to provide proper psychiatric and psychological care for all combatants.
For example, Israel has low suicide rate in the army, as their soldiers and officers are thoroughly taught to avoid combat stress and overcome it. Such trainings forego real combat conditions. Still, the society plays a significant, if not the leading, role as well. We have to listen to these people and try to understand them. Instead of disassociating ourselves from them, we must help our vets.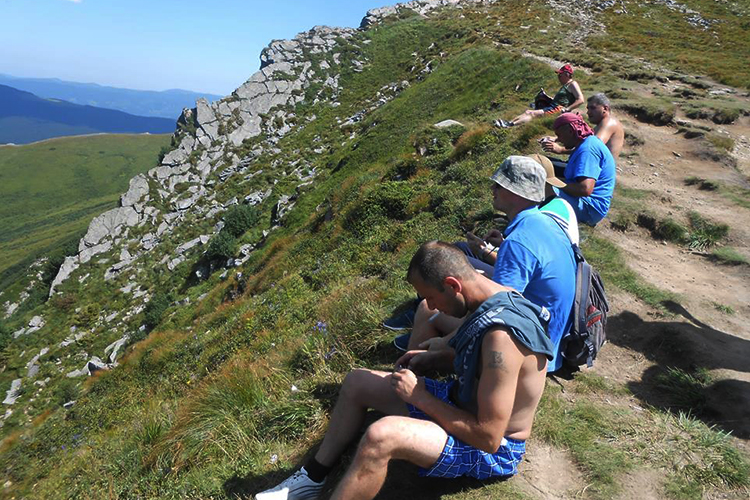 That's why we launched a charity project titled Mountain Therapy. It was initiated by a wonderful volunteer group from Kropyvnytskyi; the aim of the project os to improve the ATO veterans' psychological conditions. Mr. Serhii Noha, the initiator and founder of the initiative, is a former military; today, he is serving as a SpecOp police officer. A while ago, when suffering from post-traumatic disorder himself, Mr. Serhii happen to take part in a mountaineering tour. Upon his return from the tour, he found out he was much better, both physically and mentally. The man took some piece of professional advice, and, having obtained the support of his colleague, Ms. Natalia, initiated organizing similar mountaineering tours specially designed for the ATO vets.
Armed with advanced methods of psychological rehabilitation of stress disorders and PTSD and special workout programs, the volunteers carry out all the necessary activities right in the mountain conditions. During two weeks of touring throughout highlands, the participants try to reassess and accept their experience and to get back to realities of civilian life. Would you agree that people who used to live under the pressure of continuous distress, amidst bloodbaths occurring here and there, and interminable horrors of war, may really need such support.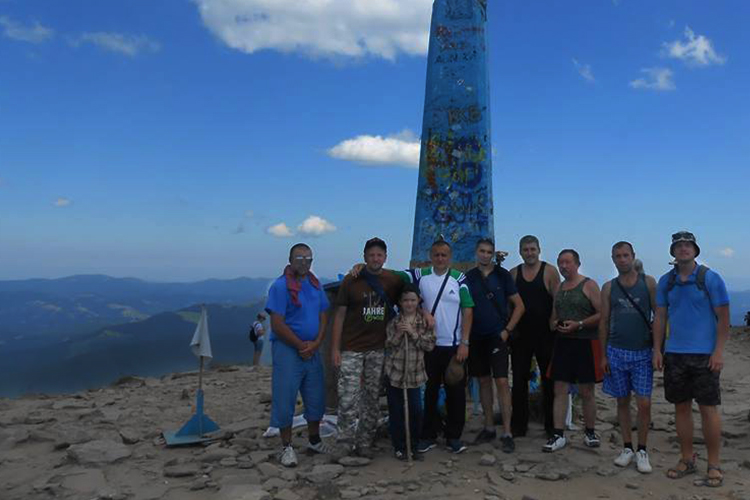 Dear friends, actually, we just cannot leave our military to face the problem on their own, since they got traumatized while defending our lives and peaceful life. So our participation in such a project can serve as a little share of reward for their efforts. Still charity is not about the amounts of support provided, and even one hryvnia of your donations makes an important contribution in our shared mission.
Also, we ask you to repost this posting on FB or in other social networks. Place it in the volunteer or veterans' communities you follow. Tell your family and friends about the problem. Sometimes, people feel they'd like to support a good initiative but are not quite sure which one to choose. Perhaps you will become a proclaimer of the good deed we are collectively in. We would be sincerely grateful for your assistance, dear friends, as we can proceed with this important mission only together with you!