"Risking their lives, they called us begging to come back": the marines' legendary commander of battalion
What would you feel if you were liberating your homeland fast, and then had to withdraw from the recaptured territories leaving locals in the hands of occupiers? How would you feel if you learnt that those who supported you yesterday, today paid with their lives for it? Could you live looking for the chance to make the enemy accountable for all that sorrow they brought into thousands of families, realizing that you were never going to rest until they have paid for everything they did?
Actually, all this came into the life of each military who stood up defending Ukraine, not because they had been forced to, but because they took it as their duty. All the said above can be also applied to Vadym Sukharevskyi, the commander of the 503rd Naval Infantry Battalion.
In the second part of his interview for Obozrevatel he tells about his first battle, about the periods of war he is going to remember until the end of his days; about the people who supported the Ukrainian army and were later killed by terrorists, as well as about the things he is still feeling sorry for.
Please find the first part of the conversation here.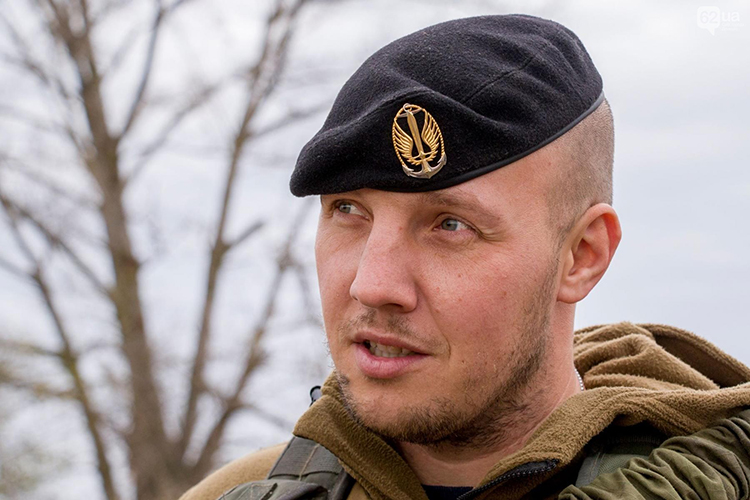 – Can you name the exact date when the war started? The day which marks its beginning personally for you?
– Yes. It is the 13th of April, 2014. The day when the first fighting against Girkin's unit near Sloviansk occurred.
– But this one wasn't your first battle ever?
– I used to fight in Iraq, so gained lots of combat experience there. On the 6th of April the first general military combat of the Ukraine's Armed Forces in Ira. So April is quite an "entertaining" month for me.
– Did the things you witnessed in Iraq differ much from that you saw in Sloviansk?
– Under the first shelling, when the first bullets hit the armor, I smiled to myself. Just recollected how it felt while in Iraq.
– Did this happen during the same incident that was later described as the war's first shot? What was it like then?
– Through my triplex, I saw the enemy advancing toward us – it was a group of well-equipped armed men who were moving tactically, in twos or threes, shooting using their optics, at live targets. I turned back to my machine gun operator and said: What are you staring at? – But what am I supposed to do? – Shoot! – Using which one? (There were two guns mounted on the front part of our BTR truck). I said: Both of them!
– Were there any restrictions as regards shooting then?
– We were not allowed to shoot. They commanded us over the radio: "Don't shoot!!!"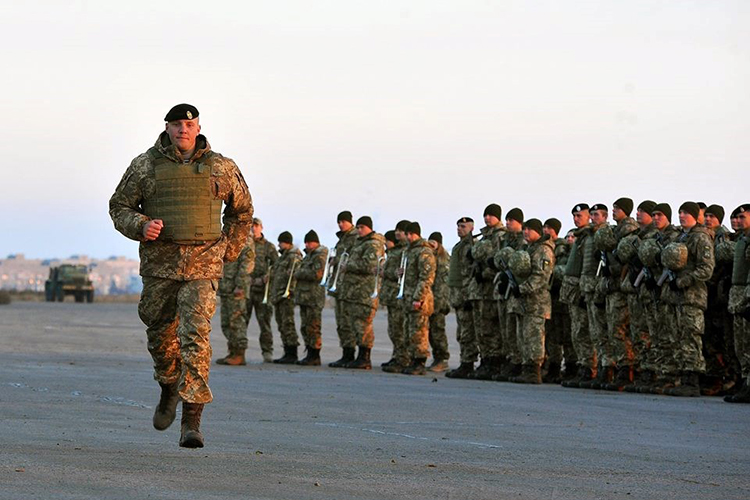 – How's that "don't shoot" when you are fired at, directly?
– This is what I thought then, practically…
– Many commanders admit that then, at the very beginning, they had to almost force their soldiers to shoot back…
– It differs. At that time, I was serving in the Airborne Troops, where war is considered a state of mind. So the fighters were getting prepared for a war since their first day in service. This is what the attitude in this branch of the army is like.
– But to get prepared and to fight is not always the same.
– I was proud of the company I served with, which was made of peacetime staff, without any mobilized personnel. The guys average age was 22 years old. There also were younger fighters aged 18–19. They showed their best characteristics as regards personality, skills and willingness. To force anyone to shoot at an enemy? This was out of the question!
– So you did not have any mobilized fighters there, did you?
No, we had a few. Over time, in autumn when I was back after the injury, in Denezhnikove near the town of Shchastia where my guys were carrying out missions near TES, Krymske, on Bakhmutka, – there were lots of activities. All those events on the 31st and 32nd checkpoints took place exactly at that time. The village of Krymske got entirely destroyed with Grads…
That's when I met mobilized military for the first time.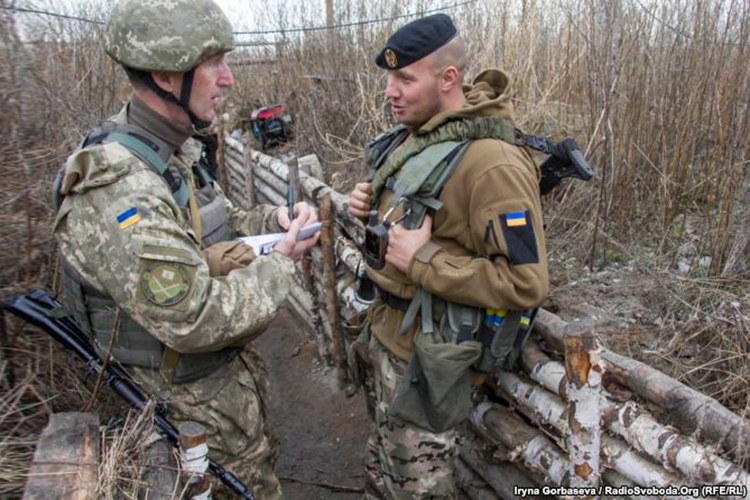 Most of them were quite motivated. In addition, our 3rd company was considered almost a legend among our brigade's military, so the novices took me and my guys as gods.
– What made the 3rd company a legendary one?
– It was thanks to Luhansk airport defense and assaults near Luhansk, I suppose. We advanced to join the 95th Brigade and to separate the "DPR" and the "LPR" between Antratsyt and Krasnyi Luch. During a week, we liberated 7 townships.
This went practically with no losses. During the liberation of these 7 settlements, we had no KIA, only 4 WIA. Plus, their checkpoints. Two of these townships, the town of Lutuhyne and the village of Uspenka, 120 people total, we were holding for two weeks with six our BTRs.
– Wow!
– Yes, there were just 42 of us. At that, we didn't miss the opportunity to take a few prisoners – that RF army major and another 4 separs (separatists).
Also, we had to take on the responsibilities of local authorities as they just scattered. Together with local miners we had to restore both power and water supply…
Sometimes, we needed to reassure people that we weren't going to eat them.
– Did they really believe in this?
– At the very beginning – yes. For the first couple of days following the town's liberation there were no one in its streets.
I remember how I entered a bunker at their local cultural center or theater and I shone the flashlight and looked around – there were hundreds of them sitting in the dark… I said: It is the AFU, your town has been liberated, you can go out.
No one came out.
And in about a week some mothers with their kids started to go outside. They needed food for their children, and there was nothing left in that basement. And we had a whole supermarket full of goods, in the center of the town. So we started to distribute supplies. Children were the first to get nutrition, of course.
The director of that supermarket found me over the phone one day, called me and said: You can do everything you want and take anything you need, still I'm asking you just one thing: keep the building intact. I replied that we were not going to take anything from his goods, still we had to supply locals with some food. The rest of goods remained unmoved.
Local drug addicts who were undergoing treatment, used to come over as well. Looked puffy and swollen, like stung by bees or wasps. We shared our Butorfanol with them, for them not to die.
There were lots of interesting stuff there… For example, once elder ladies came complaining of their neighbor who brought up a gas cylinder to the fourth floor – "He's probably a separ". Well, lots of things happened. And we reached out to clear such suspicious apartments. Once caught a man with certain gear – he received surveillance cameras' signals to it.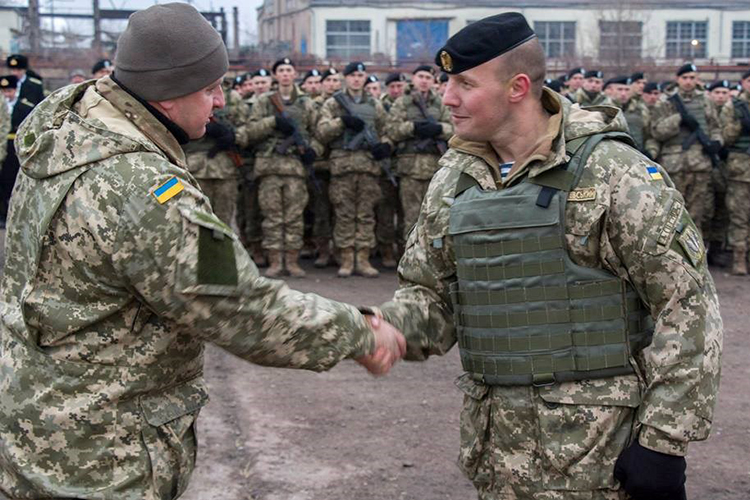 At that time, we launched three bakeries there. I ordered flour from Shchastia, and we used to give away our supplies, too. First, we shared our field rations with them. It wasn't enough, of course, still…
– So you got the chance to observe how Lutuhyne locals' treat of you was transforming, didn't you?
– You're right, their attitude did change radically. When later the 24th Brigade replaced us and we set off for a raid on partition of the "LPR" from the "DPR", many people from Lutuhyne phoned me asking: please come back! They even were going to appeal to the President.
But when Lutuhyne was taken by the Russian forces again, they shot more than 70 people… Neighbors snitched on their own neighbors to them.
They slaughtered the whole family who used to help us while we were defending Luhansk airport. They lived nearby. A husband, wife and their two kids. For almost a year they were considered missing. Until volunteers found them…
A woman from Chervona Polyana used to call me for almost a year, when there was connection there. "I know they are being listening to me, but I don't care. Glory to Ukraine! Guy, please come back, there is no one to fight against"… A local woman living in Kruhlyk was just shot dead in her own yard while she was moving toward the gate.
This woman met us with a Ukrainian flag when we entered the village. And there was another woman living nearby, in the same street. Her husband had fled leaving her on her own. Armed with a gun, she used to guard separ checkpoints. We knew that for sure. There were some photos and the rest of stuff… I told her we knew everything. We even went into her house to examine it. Didn't find any arms though, only two ammunition cartridges. I took these. I told her she should stay under house arrest.
Later, she snitched on the woman who shared her food with us.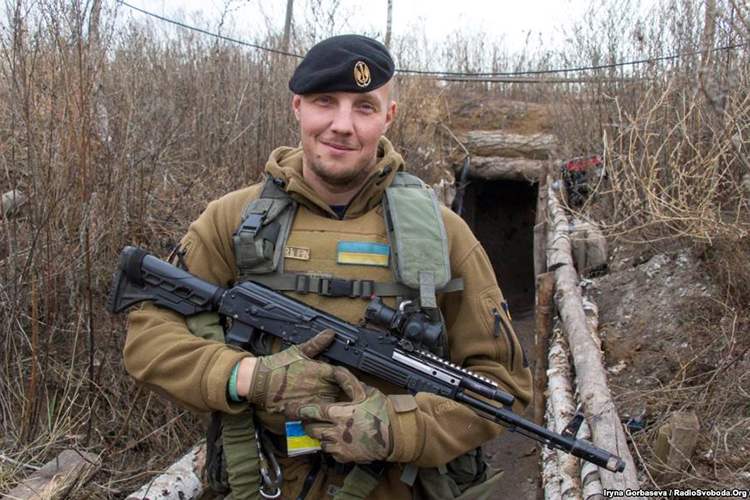 – Do you feel sorry for not passing her on to the competent bodies when you had the chance?
– I feel sorry for not shooting her down. This was also an option.
– In view of all your painful experience, how do you feel about the talks on possible amnesty?
– I don't care. To me they have always been and will always stay the enemies. Forever. Irrespectively of what happens to me in future – they will never see a quiet life.
– Don't you feel disappointed that the story of Luhansk airport defense is not that popular as, to say, the fighting for Donetsk one?
– Honestly, no. I realize that the idea of war in general must be exposed to everyone. That's why I like the Cyborgs film much: it conveys the message well. The atmosphere of it. And the soul. The object itself is less important.
– Don't you feel disappointed that the story of Luhansk airport defense is not that popular as, to say, the fighting for Donetsk one?
– Honestly, no. I realize that the idea of war in general must be exposed to everyone. That's why I like the Cyborgs film much: it conveys the message well. The atmosphere of it. And the soul. The object itself is less important.
– But the fight for Luhansk airport was equally fierce?
– Equally. In Donetsk airport, there never was any complete encirclement. By contrast, we used to live in it. We got our supplies from the air: they dropped both food and ammo from the aircraft. We had to dig holes in the soil to accumulate rainwater to drink it. Not to mention total absence of power and the rest of stuff…
– For how long did you stay at Luhansk airport?
– Since June till the 18th of August when I got wounded.
The guys are asking me whether I got any medals for Luhansk airport defense. I usually say: I never defended it, – I only advanced! So, technically, I cannot be named its defender! (Laughs).
– Didn't you really get any awards for the defense of Luhansk airport?
– I did. It is the Luhansk airport mission that I was awarded my Second Grade Bohdan Khmelnytskyi Order for. I also got another one, the Third Grade, for the Sloviansk actions.
– What battle you took part in you will remember till the end of your days?
– Each of them. In every battle, you mentally say goodbye to your life. And this is a thing to remember.
– Could you specify just one that comes to mind first?
– It's Heorhiivka…
We were moving along the thin line between life and death there… Still this battle had changed the course of the events. Radically. It was a springboard that allowed to break through the encirclement. Thanks to it, there emerged a road to the airport, the "road of life" how they called it. Until the end, it remained the only one leading there.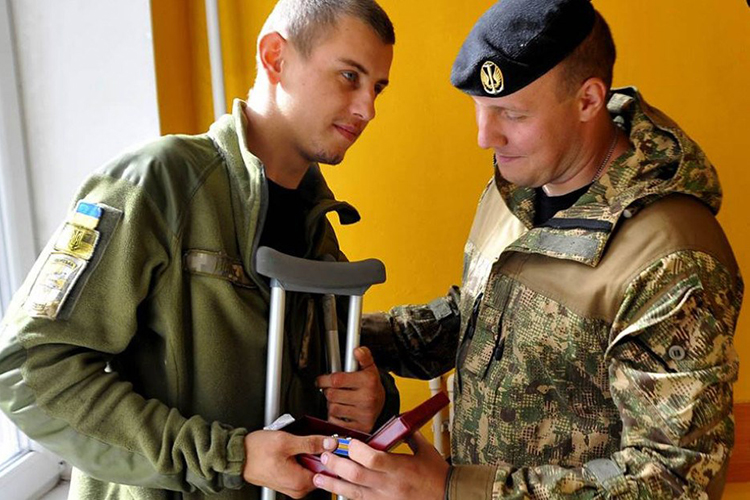 – Where did you get the news about the withdrawal from the airport?
– In a hospital. My fighters called me and said there wasn't no our company anymore.
– What did they mean, no company?
– There was nobody left there, just a couple of fighters…
– How's that?
– They all withdrew on foot, so a whole company was formed of them. Later, it came out that my guys had the lowest number of losses. While withdrawing from there, a commander of unit was killed. My deputy commander, Olezhka Dunduk got wounded. Four fighters got trapped in a bunker, – they were captured and sent to Krasnodon.
But we managed to get them back in less than a month. Oksana Bolozir and the best friens of mine were engaged in the process of their release. It cost us a "gazel" (GAZelle light commercial vehicle) of activated carbon.
– What do you mean?
– The separs (separatists) and the Russians wanted medications in exchange. So we purchased a whole truck of the cheapest drugs like aspirin and activated carbon. They gave us ten our guys, and Oksanka handed them this Gazelle in return.
– It probably makes the most rewarding exchange for the whole wartime…
– Yes, still it was never spoken about.
Luckily, nobody was killed except for the commander of the unit. Then, in 2014, we were extremely lucky.
– Did you feel sorry when you learnt you had to leave the airport?
– I'm still sorry for that, can it be the other way round? This was the territory recaptured at a very high price, and the townships that got back into the occupiers' hands. Such an experience is quite painful for any military. Especially if you knew those people who later were killed by the occupiers… Of course I'm sorry. Not exactly "sorry" – I'm rather angry.
– Perhaps, when at war, anger is even more appropriate, isn't it?
– Well, you can't fight without it. The good side of the war is that it distinguishes white from black well: there is only enemy and a target there. No politics, no other minor things, no trifles.
At least, this is what it was like in 2014. Now the extremes got blurred a bit. The Minsk agreements, OSCE, contact lines, firing restrictions sand so on.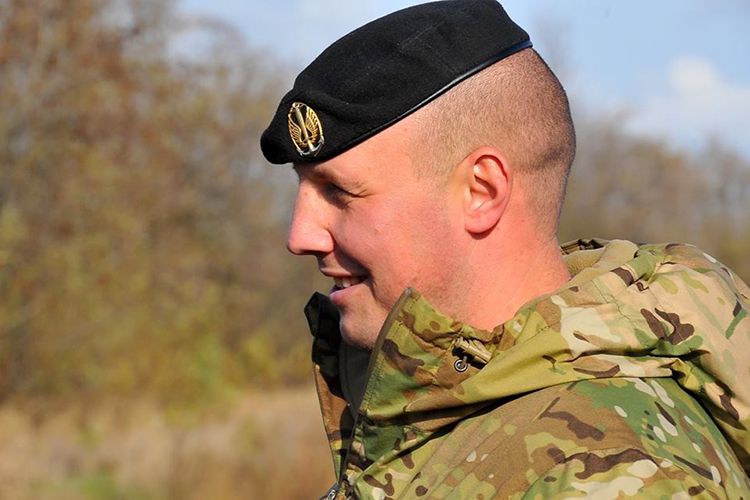 – Is there any room for creativity at war?
– Absolutely! There is a kind of commanders, like in that anecdote, "liuminium". These seems never heard about maneuvers. Such commanders endanger both their subordinates and themselves. But this is wrong. Especially in a proxy war like this.
At the beginning of the war, a high-rank officer pointed out that my soldier dag the trench in a wrong way.
We had a dispute then. Can it protect against bullets? Yes, it can. Can it protect against shelling? Yes, it can. So what do you else want? In reply, I got the characteristics of a "mentally retarded" officer and was told that my mental incapacity would not make me any good.
– The time will tell.
– It has already shown.
– Is there any difference between the things you learnt at the Academy and your real war experience? Do the training programs for the military meet the challenges of the time and satisfy their purpose?
– I've heard some emotional remarks, or rather complaints that they teach us incorrect and untimely things. Still I can say I'm 100% satisfied. The Academy course is a basis. It is about how it should be. And it's your personal experience and your own decisions that determine what exactly you put on that basis. Training you get at higher military education institutions is like a foundation of the house. And it is quite wholesome I must admit. Actually, I'm grateful to everyone who taught me and shared their experience with me.
The last part of the interview is to be published soon.
Text: Lilia Rahutska, Obozrevatel
---
Dear friends, may we remind you that within the Mariupol Defenders project we are raising funds for support of the Marines headed by Vadym Sukharevskyi. Please be sure your contributions are properly controlled and prove exceptionally supportive in making our joint victory closer.