Students of School #5 of Verkhnodniprovsk city of Dnipropetrovsk region conducted a school fair, gathered 8,000 UAH, and transferred it to The Bioengineering Rehabilitation for Wounded Project for the treatment of soldiers, wounded at the ATO Zone. To do this they used the services of The People's Project charity platform.
We contacted the principal Natalia Anistratenko over the phone to get the details. It all started when the deputy director of educational work Tamila Ostashko saw on a TV the story of a severely wounded defender of Ukraine Igor Fedko. For his biotechnological treatment is needed over a 465,000 UAH. Then Tamila suggested colleagues at school to the support the injured soldiers.
The teaching staff of a school analyzed the http://www.peoplesproject.com site, get convinced of the transparency of its reporting system and decided to help wounded soldiers. However, the salary of teachers barely allow them to cover their expenses. But if you wish for something very much, there is always a way to get it.
The school management offered to conduct a charity fair in a school's vestibule. The event was called "Share a warmth with ATO soldiers". The goal of a fair was to share the warmth of a heart with the ATO zone soldiers. Children brought to the fair all sorts of homemade delicacies, and sold them to all visitors – other students, parents and teachers.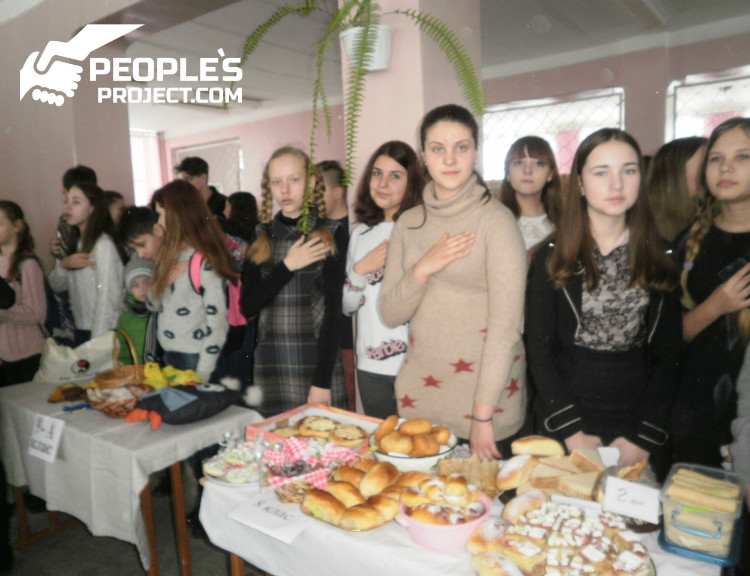 Before the start of a fair the anthem of Ukraine was played, and the charitable purpose of a fair was declared.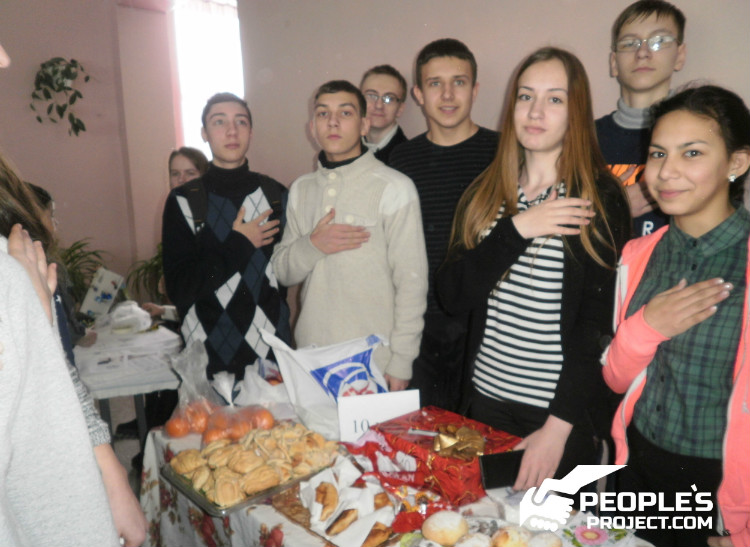 With Ukraine in a heart. Children during the performance of the national anthem
All money collected during the fair were transferred from the school to The Bioengineering Rehabilitation for Wounded Project. About 8,000 UAH was collected.
"We wish the infured warriors health and more caring people," – says the headmaster.

All students were very active, especially the elementary school students, such as class 2-B (class teacher Maryna Sannikova). Young Patriots collected 1223 UAH.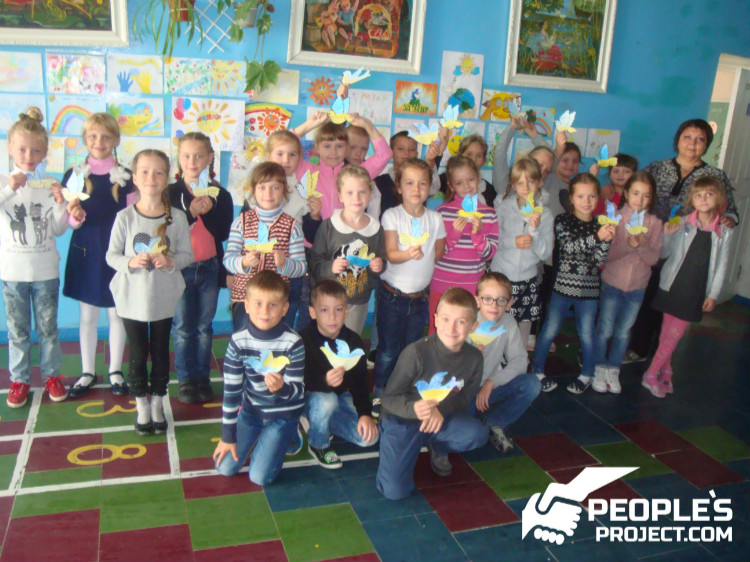 Class 2-B showed the greatest zeal in a charity fair
Last year in this school was organized similar charity fair, and collected funds were used to purchase helmets and other equipment for the ATO zone soldiers.
"We constantly motivate children to help Ukrainian defenders, and children do respond," – says the headmaster.
Ukrainian children participate actively to help the defenders of Ukraine in their fight against Russian aggression. Support of a children is often ignored by media space in questions like this. It is unfair, because their contribution to the victory is essential.
Unfortunately, the culture of philanthropy is still developing yet, but actions like this one give us hope for better future. We are proud with concerned people, and with their help Ukraine will certainly win in this war. Join the project to be the one, who make a difference.