The Ilaya Clinic was visited by the participant of The Bioengineering Rehabilitation for Wounded Project Pavlo, where he came to pass the routine inspection. The main period of the treatment is finished now and ex-patient will be visiting clinic only for the preventive examinations. Three months ago doctors performed a difficult surgery for his knee. Paul seriously injured his ligament in the ATO zone, so medical professionals had to carry out the reconstruction process with the help of patient's own cellular material. Nowadays, the results of the treatment can be considered successful. Paul knee is not yet fully functional, but further healing of the joint he will be conducting himself at home. The success of the treatment can be proved also by the fact that guy came to the clinic without any crutches or sticks. For Pavlo the treatment was made possible by volunteers of The People's Project. All the bills were paid at the expense of the donations collected through The Bioengineering Rehabilitation for Wounded Project.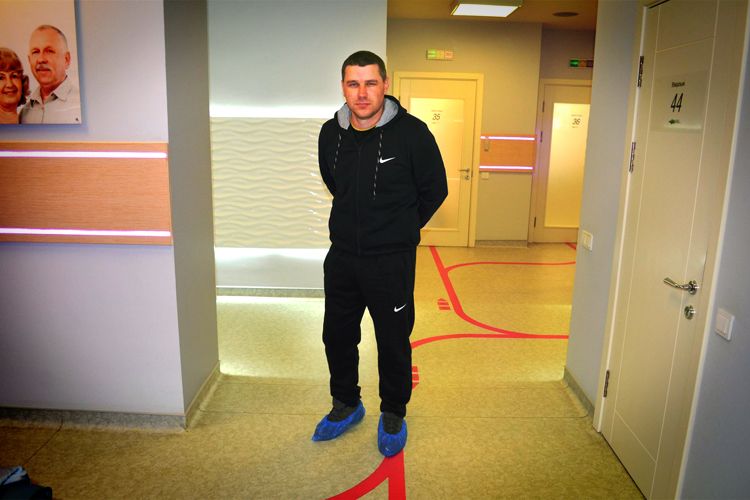 After the treatment Pavlo can confidently stand and walk without any support of crutches or sticks
Pavlo got the injury 18 month ago when he served near the Debaltseve City. For the first time he injured his right knee walking down the hill in full gear. After this case Pavlo injured his knee few times more. And the complete result of multiple injuries reviled itself only after the demobilization when the right leg got swollen and made it impossible to bend it.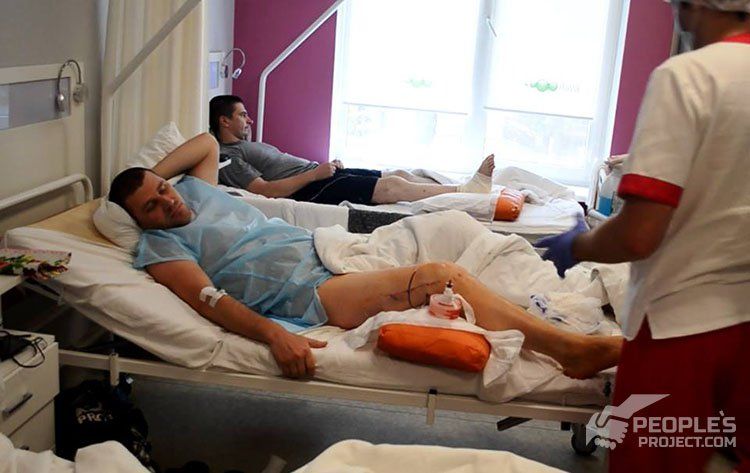 During the few first days of treatment leg was impossible to bent
Unfortunately, the public medical clinics did not help the guy. Only The Ilaya Clinic's orthopedists and traumatologists under the supervision of Volodymyr Oksymets were able to offer the appropriate treatment option. Pavlo agreed to that, and in August of 2016, doctors performed reconstructive surgery, when the required amount of money had been collected by the volunteers. This case is still a work in progress. To make the knee function properly after the surgery and let it move without any restrictions as it was before, there is a lot work left to be done. But Pavlo is optimistic about it.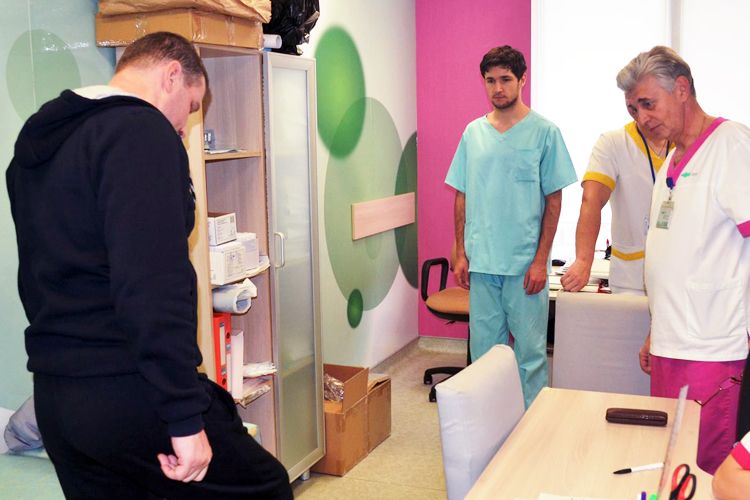 The successful treatment is a joyeous occasion for every doctor
The hope for the complete recovery can be given also to many other defenders, even though the government does not finance high-tech treatment. With the support of the donations collected through  The Bioengineering Rehabilitation for Wounded Project The Ilaya Clinic doctors can perform difficult surgeries and conduct treatment procedures, that help injured defenders of Ukraine to recover.
Follow the news on this site and in social networks. There is much more information available in there, than on TV. You can find us in Facebook,  Twitter, YouTube, Instagram