Just recently we published an article about one more transfer of aid for the marines near Mariupol. More details about the adventurous trip to the front line from the first hands of Serge Marko, who transferred part of the equipment himself.
---
I park old Nissan Terrano at the roadside to let the National Guard check the car and documents. It is reasonable check to prevent unwanted personalities from entering the ATO area. At the last gas station before the front line i fill in the tank to leave the car at the front line with some gas.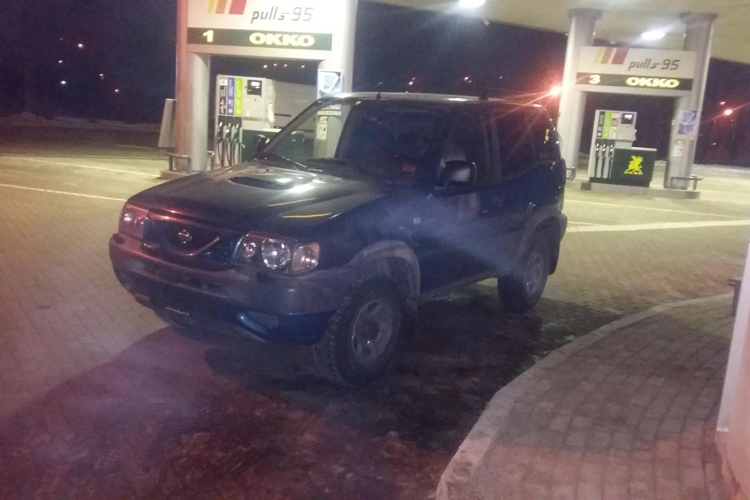 This Nissan Terrano II will serve to marines for quite a while
I'm driving trough the city covered with snow. After going through the same passing procedure at the next check point I get back on the road, turn off the lights, and before I meet the marines I prepare myself for the last piece of track to be driven in complete darkness.
Riding in the dark with the lights turned off is an extreme entertainment. Especially on ice powdered with snow and through the fog. But it is much more dangerous to get under the attack of enemy mortars. Eyes trying to snatch out of the darkness some familiar details, and indicate the landmarks. I think to myself, that it would be nice to have at lest one night sight for the volunteers, who visit marines at the front light. However, this is too luxurious, because defenders of Ukraine at the front line can make much better use of it. That is why blind night rides are normal in this area. On my way I carefully pass by some Hammer, and continue my journey.
Suddenly, out of the darkness emerges the last checkpoint. I hit the brakes, and car barely has time to stop before the barrier. Just a small talk with a soldier, and Terrano enters the position of marines. I park near big pickup, get out of the car and go into warm and cozy dugout. Smell of grilled sausages greets me at the entrance.
Handshakes, hugs, a cup of hot tea and jokes. At the same time, officers simultaneously monitor the situation at the hot spots. There is a battle on the line Vodyane – Shyrokyne again. At Shyrokyne there is a real nightmare today, because it is under hostile attack of the enemy artillery.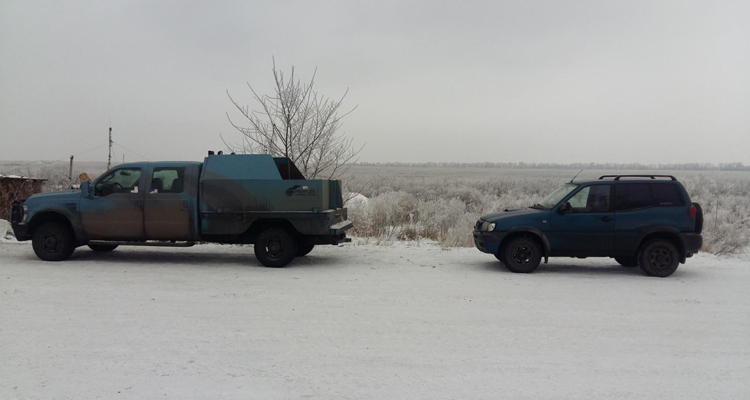 I'm going to sleep, because 800 km-long-ride through the snowy roads is not a dream adventure. Stuff my ears with the ear-plugs and immediately fall into sleep. Even through in my dream I can hear the officers' calls.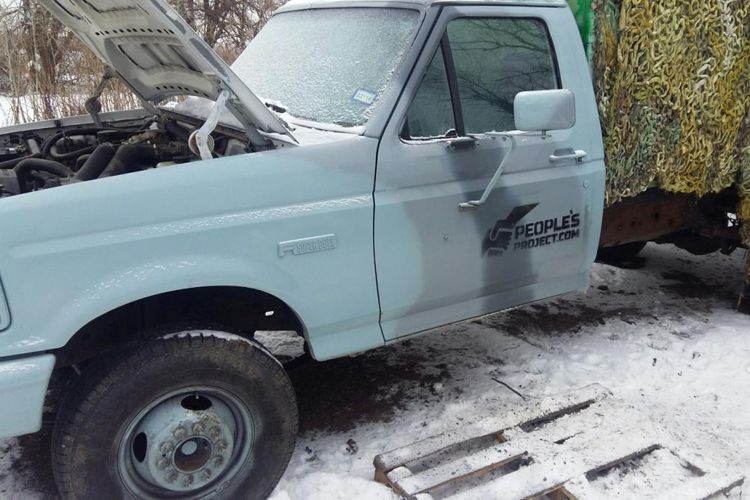 While drinking my morning coffee I'm thinking about the direction. I have some business at Shyrokyne and Pavlopil, but I won't be able to visit both cities in one day. So I picked Shyrokyne.
Outside the dugout I found The Peoples Project signature. Our volunteers are everywhere.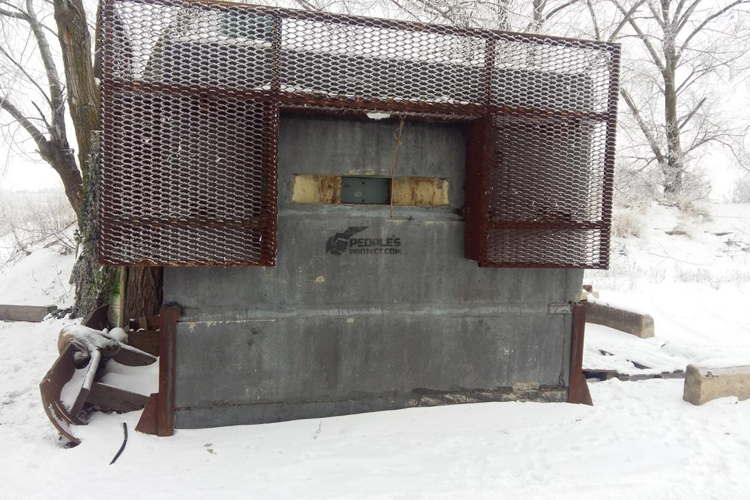 The marines unload the aid from The People's Project. The pipe was send to the positions early this morning, and camouflage, generators, chainsaws and wire need to be documented properly first.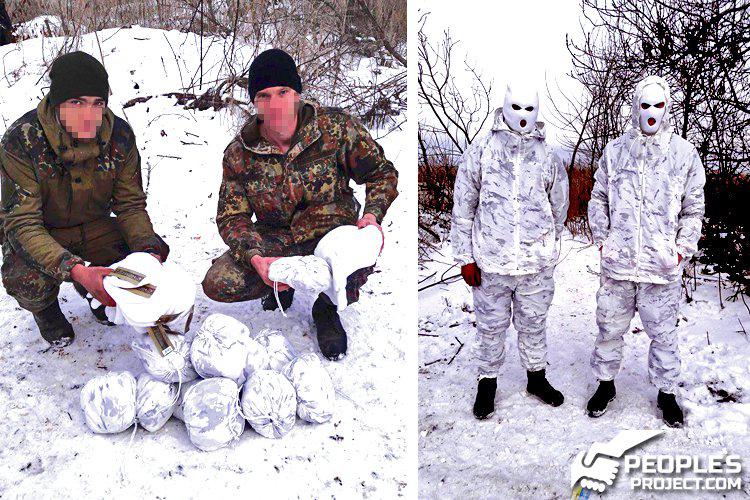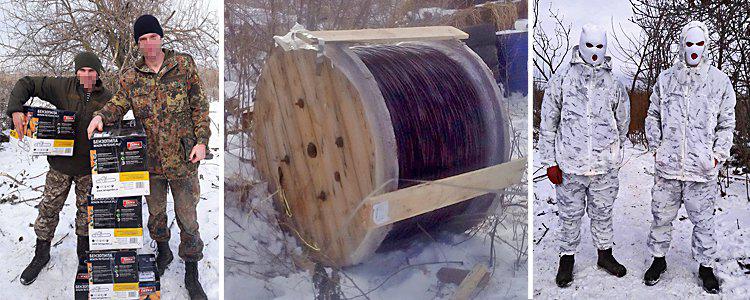 Shyrokyne becomes a perfect testing ground for SUVs in winter. Few prayers later we get to the former resort city. There is a strong need to photograph new shell holes, but the information will be classified anyway and forbidden for publishing. So I take a picture of a frozen sea, and get back to business.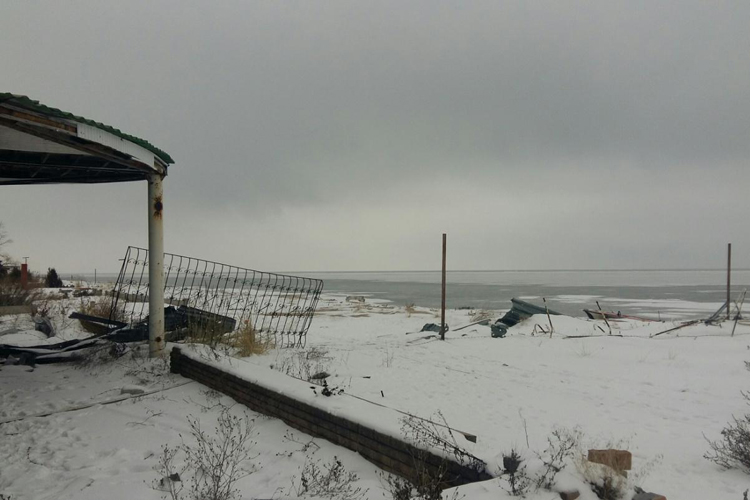 Post-apocalyptic view in Shyrokyne discloses frozen sea and ruined buildings covered with snow.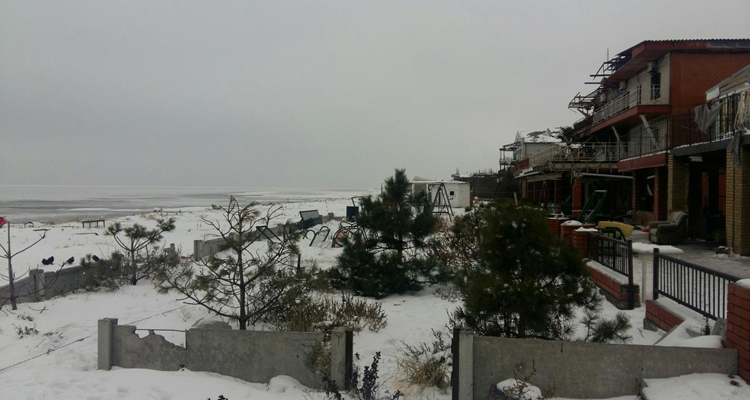 After arrival I agree with commander of a battalion a way to position, where the battle took place recently. Terrorists tried to get lost position back. In here I meet the Marchenko Pirates (the employees of the Center for Development and Support of Financial Security of Armed Forces of Ukraine), who feel in here like a fish in a water. One of them named Sergiy jump into my car to go to Vodyane with me.
Roads near Vodyane are regularly shelled, so we contact military to drive during the calm period. On our way we found a lot fresh holes from the 122 and 155 mm shells.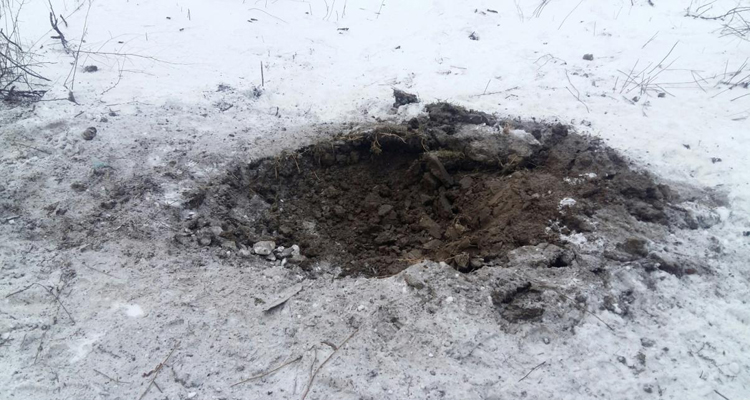 Fresh hole from an explosion of 122 mm shell
At Vodyane I ask snipers if they need some help from volunteers. We volunteers help military in every way we can. However, snipers are in a hurry, so I dress into a camouflage and go with them outside.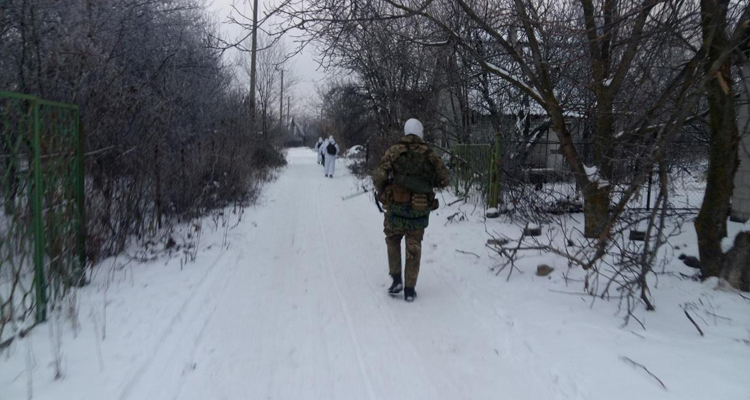 Slowly and steadily snipers move forward along with the covering group to hide on the snow
The group passed through the Vodyane, and started moving towards trees. Step by step in measured pace sappers go forward. Through the field they go in zigzags, with sudden sprints for 100-200 meters. From time to time it is possible to see the position or secret. Trenches and dugouts of marines are covered with snow, and can be seen only from a very close distance. When from the next hole suddenly appears figure in white camouflage and balaklava you realize, that soldiers are well hidden from other people and aware.
Group goes forward. Sometimes it goes down to trenches, and sometimes almost through an open area.
A distinctive sounds of explosion of 120 mm mine shutter the frosty day again and again. Commander of the group shouts the order to run. After a few hundred meters we stop to wait for colleagues behind us. Then we hear the whistling sound of 3 more explosions of 82 mm mines. A machine gun can be heard from the distance. We run forward without turning.
Finally we arrive to the destination. Some soldiers resting, few went to tranches and others started checking weapon and position.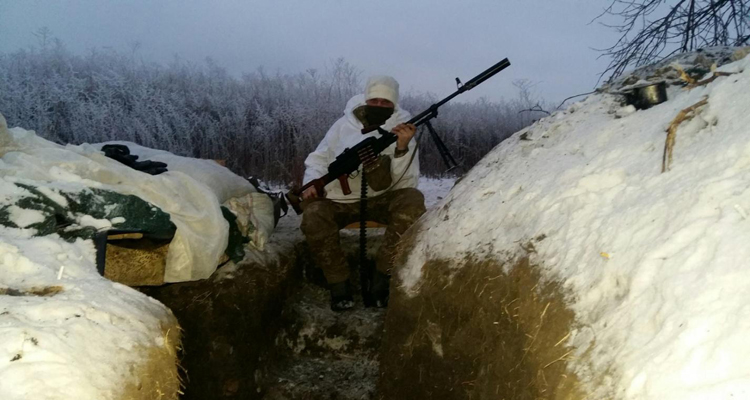 First thing commander of a group done, when he got to the position is checked the weapon
Walking through the tranches I noticed a lot of ways and dugouts in a frozen ground, which are really modest. They have been designed for soldiers to rest, and supplied only with mats and sleeping bags. That's all the equipment for harsh life of people, who are in constant battles in the snowy fields.
Soldiers sleep in a dugout 2 meters long and 1.6 meters high. To get to this position we walked 5 kilometers through the rugged terrain. The dugout is equipped only with mat and sleeping bag. And it is 10 degree below zero Celsius outside
During a conversation with soldiers for a couple of times our position is shelled from machine gun, forcing us to dive into trenches. Positions of terrorists located few hundred meters away. Even without binoculars we can see some figures move. I try to get to a place, where can be seen a corpse of a terrorist, that was left after the battle. Gun shots make me jump into the trench again. After 5 minutes it starts getting dark, and I drop the idea to photograph the results of a recent battle.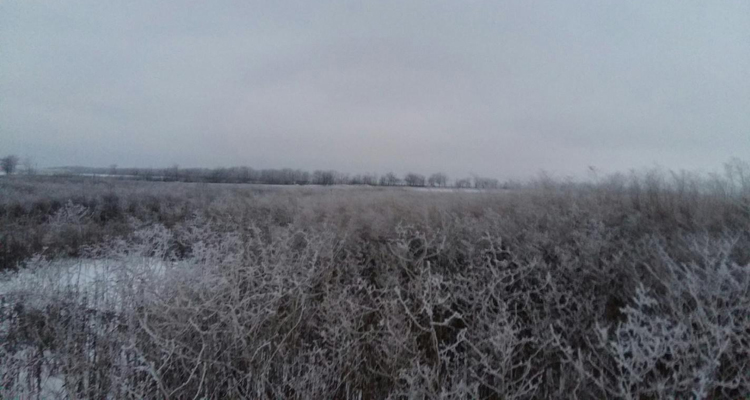 Positions of terrorists located near the trees in less than 300 meters. Between positions of terrorists and defenders of Ukraine there is only a frozen field, which is a place of constant sabotage and reconnaissance groups combat operations and fights between the snipers and machine-gunners
Darkness comes really fast. In the dark, we go back together with another soldier. We go quietly. It is easier and safer to go in the darkness, and not in the group but in pair.
After a hour-long walk in the darkness we got back to Vodyane. I was told by the commander, that road, which I will be using to get back is shelled now, so i need to spend some more time in here.
Ater 15 minutes situation calms down a little. I leave unfinished coffee behind and run to the car. I drive away together with the commanding officer. One more ride with the headlights off through the bumpy road. I think that the cars in here have to be secured with additional strengthening upgrades to serve properly and for a long time.
Another dugout. The dinner is various and nutritious, which is necessary after long and exhausting day. Today terrorists used rockets to attack the positions of defenders of Ukraine. We look through the debris during the dinner. It seems like they belong to rockets.
Looks like a rocket with a home made upgrades
I need to discuss with a commander some question about documents and make some calls. A lot of issues have to be solved. Among them drones, surveillance, repair of thermal imagers, infrared cameras on cars, installation of dugouts, etc. There are a lot of tasks. However, now it is time to sleep, because tomorrow a long road to Kyiv is waiting for me.
In the morning four new dugout constructions arrived to the marines. Four bunkers where soldiers can be kept warm and have rest. Considering conditions at the front line it is easy to understand, why soldiers are happy to get such a present. The defenders of Ukraine protect the country, and we are truing to do everything, that is possible to make their service safe and a little bit easier.
The job of volunteers is aimed to supply the soldiers with everything necessary for a quality combat mission accomplishment. Join The Mariupol Defenders Project to help soldiers to defend the country.