The Bioengineering Rehabilitation for Wounded Project patient Vitaliy will celebrate holidays with his family at home. Few days ago the specialists of The Ilaya Clinic accomplished the second planned surgery. During the first stage of surgery Vitaliy had a fistula sequestration necrectomy (the cleaning of the gangrenous wound from the tissues, destroyed by the osteomyelitis). Then injured bone was brought into the correct position and fixed by the Ilizarov apparatus. During the second stage surgeons prepared the recipient bed – conducted the surgery to prepare the bone defect area for the implant of three-dimensional bone matrix. Then the area of the bone defect will be filled filled with a medical gel, saturated with the patient's own cells, which are right now grown in the laboratory.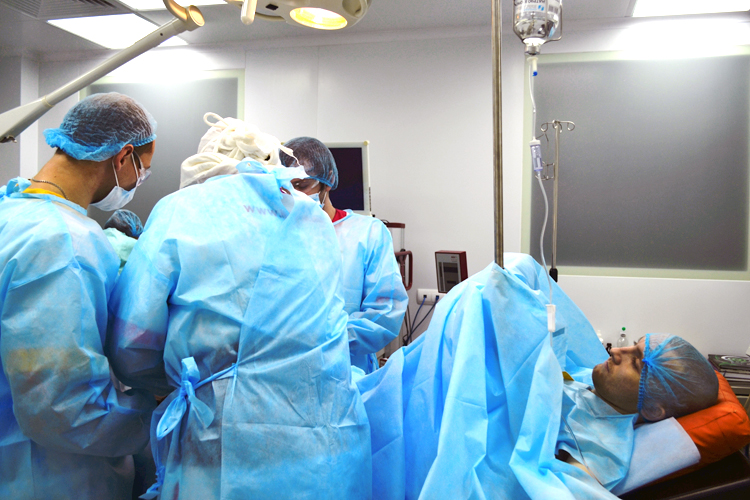 In a month and a half the bone defect will be compensated completely during the next surgery. Now its turn of the cellular materials to get into the game. With the help of the cells new bone will receive monolithic strength. The treatment is conducted at the expense of the people's donations collected by the volunteers in terms of The People's Project. It was already paid more than 400,000 UAH, but 130,000 UAH is still needed to accomplish the process.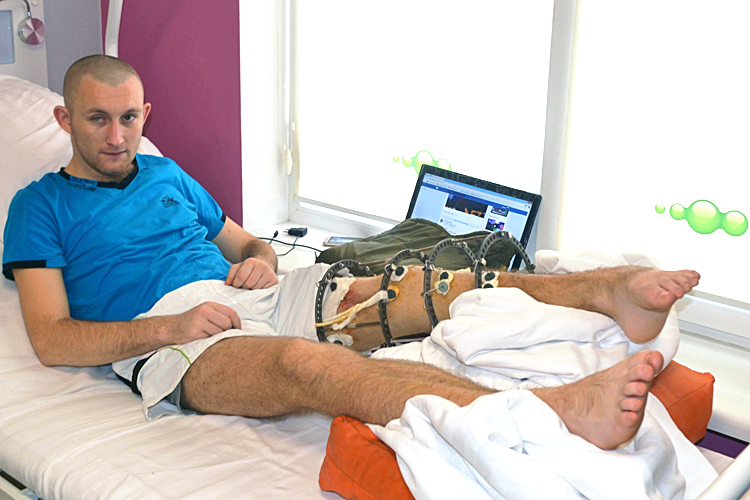 Vitaliy is a fighter from the OUN volunteer battalion. This is his third injury he got during the combat operation. He was captured after he got the injury, so he was treated professionally only after the release. During his stay in the captivity the condition of the wound significantly deteriorated, so the doctors were faced with the numerous difficulties. Vitaliy almost lost his eye and now he is in need of the prosthetic, which is not possible due to the osteomyelitis. The infection destroyed the femur in the place of injury. Vitaliy have his left leg shortened up to six centimeters, and the traditional medicine has no technology to heal such wounds and compensate such a significant bone defect.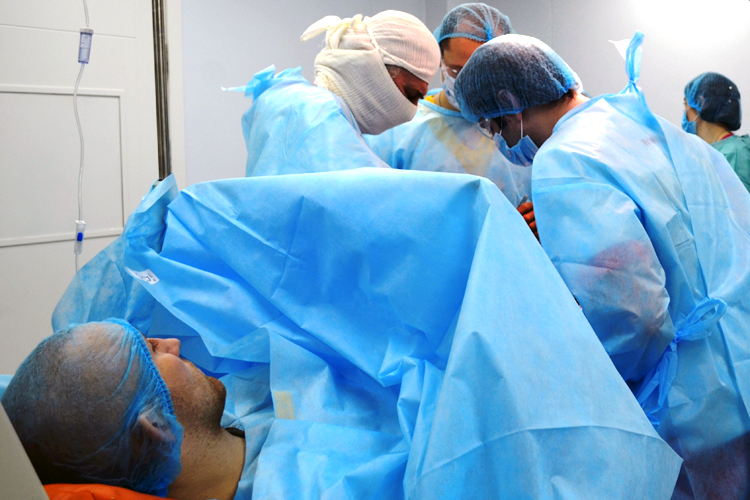 Vitaliy is tired and worn because of the long and painful treatment process. We hope that time with his family and hope for the recovery, provided by the latest technology, with the support the donations in terms of The Bioengineering Rehabilitation for Wounded Project, will return the defender of Ukraine a good mood.
The high-tech treatment is required by many other defenders of Ukraine. To get back to normal life they rely on the people's donations, because the state is not financing this kind of treatment. The donations are crucial. Join the project to save life.