It is a real full-house at «the Biotech» these days – coincidentally, time of restoration and recreation came to an end, so both several patients and their doctors got to the active phase of work again. Now at the clinic there are six fighters who had severe injuries or pathological complications after the wounds they got in combat. All of them are undergoing different stages of treatment and further rehabilitation. It would be appropriate to tell you a few nice words about each of them.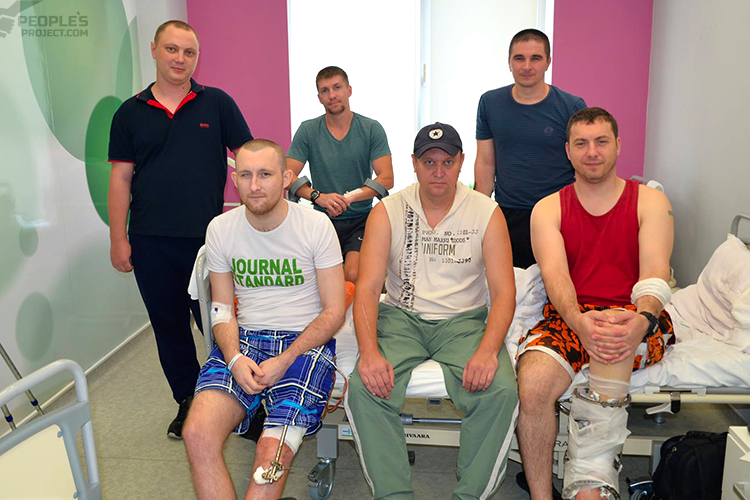 The first and the main participant is Mr. Oleksandr. Already stripped of the ugly metal thing on his leg, wearing just a lightweight bandage on it. We labelled him as "the main participant" because at the moment he is undergoing an additional surgery on the shin.
He got wounded near Donetsk airport, in the same battle with Vitaliy: the men served at the same unit. A mine went off next to him and cut his body all over heavily. In military hospitals doctors managed to heal all his wounds except one, where the mine fragments turned the shin into a mess. Having applied cell technologies, the Biotech specialists successfully fused the crashed bones. Still the condition of the soft tissues remains seemingly worse: after such a massive and deep wound the skin and other tissues are healing very slowly. Today Mr. Oleksandr is undergoing a major reconstructive surgery aimed to fill in all the defects to restore the leg and let the man forget about the troubles it caused.
---
Here's Vitaliy, a young tankman who suffered in a battle near Savur-Mohyla, when his tank had been thrown down off the road bridge by a heavy artillery mine explosion. Vitaliy's comrade was killed, and the guy himself got into hospitals with his shin severely wounded. It took much time to get it healed, but the treatment did not bring any results until he joined the Biotech. This was the right place where Vitaliy's bones got fused together at last, and now the guy enjoys walking on his own legs; at the moment the surgeons work on his crooked tendons trying to make his foot operate with complete functionality and no limitations. 
---
Volodymyr was among the Donetsk airport defenders, and there he struck a mine. The explosion torn his heel bone off leaving the leg intact in some miraculous way. Taking into consideration the previous experience, we can describe his wound as a very mean one with a malicious defect that seems can be hardly restored using conventional methods. Consequently, either amputation or lifetime lameness seem the most probable outcome of this kind of trauma: despite the presence of the leg it remains non-functional and unable to walk properly. But Volodymyr was lucky: the specialists of the Project grew up a necessary bone fragment and implanted it into the affected area. Then it goes to reconstruction: after the soft tissues restoration by means of transplantation of the patient's own flesh, the doctors started to work on the matching tendons, for Volodymyr to have a new heel bone and be able to use his leg in full, without any restraint.
---
A bit aside from the others we can see Ihor with his face shining. A young soldier from a sunny Kherson region who could have stayed in the fields surrounding Shakhtarsk forever. Ihor's unit got ambushed, and many of his comrades died there, but the heavily wounded and bleeding guy crawled all night in the steppe until he stumbled upon some settlement. In a hospital, doctors saved his life. But nobody knew what to do with his leg: a bullet destroyed a big fragment of his femur bone, and surgeons tried to get it fused having implanted a huge pintle, but all in vain. Over the time both the pintle and the screws got broken, and Ihor had to face his trouble alone. The leg might have been amputated lest Ihor applied to the Biotech: within the Project Ihor's defect was made up with a gigantic bone fragment grown up out of the guy's own cells. Now Ihor undergoes regular check-ups and cares of his new leg diligently: the doctors recommended him to increase loads for his organism to get used to them and get back to normal life mode. What is nice about Ihor, before joining the Project he looked weary and exhausted by continuous pain and distress. But today he is not just smiling, he shines of happiness. And this is just great!
---
With a pinch of distrust, as usual, another Vitaly is looking at us. This young soldier, a real daredevil, went to the front as a volunteer. In a battle near Pisky his leg was severely injured, a gunshot destroyed his thigh above the knee, after what the guy got into captivity. Thankfully, he got medical assistance there, and after the release from captivity he continued treatment in military hospitals. It did not work: hard osteomyelitis was ruining the bone, and the progressing infection neutralized all doctors' efforts and slowly but steadily lead to inevitable amputation soon. Within the Biotech initiative Vitaly got the infection hotbeds quelled, his crooked leg put back into its physiological position, and the defect replenished by a newly grown bone fragment. Today the guy is undergoing check-ups and all necessary procedures under the doctors' guidance supervising the fusion and restoration processes. Hopefully, the main stage of this apparently hopeless injury's treatment will be successfully completed soon.
---
The last guy we're going to tell you about is Oleksandr. An active-duty paratrooper, Oleksandr devoted 16 years of his life to the Army. He had got his heavy wounds in the very first days of war: the Russian artillery shelled our territory just across the border, and our paratrooper unit helped to evacuate the border guards who were not equipped properly for a positional battle, under the squall of artillery shelling. A projectile hit the APC Oleksandr was riding in, and the man got heavy injuries to his head and body. In his own words, his life was saved by a helmet provided by the volunteers. But despite the protection, the injury made a major problem. Now the scull defect is substituted by a metal plate, and thankfully the trauma went without any further cognitive or neurological effects. The foot was a problem as well: the Biotech's doctors re-assembled crashed bones like a construction toy, fixing and joining the injured fragments using cell materials. And it got fused at last! But, quite natural for this type of injury, the foot got crooked: recently the surgeons had to cut the bones and re-adjust them in a right position, and then got them fused anew. Now Oleksandr is undergoing a number of check-ups and some rehabilitative procedures. Soon the man will be able to walk on his own legs in full.
---
Now to even more important matters. All of these guys, as well as many other wounded, owe their lucky opportunity to Ms. Olha Dombrovska, a volunteer from Odesa, who makes enormous efforts to assist in our wounded defenders' recuperation. Apart from this, huge thanks should be addressed to the staff of Odesa military hospital. Despite occasional lack of materials and resources for treatment of the most complicated injuries our wounded enter the hospital with, we have never experienced any troubles with the hospital's personnel: they have always met the Biotech half-way and did their best to help the wounded guys use their chances for recovery to the full. Thank you a lot, dear friends!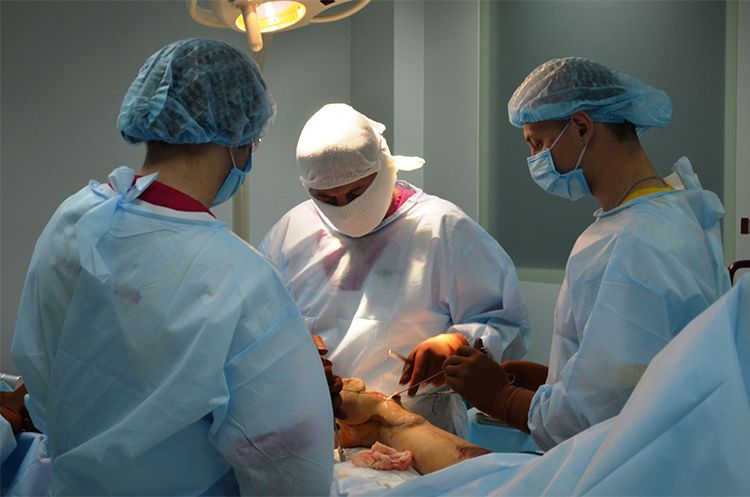 As you can also see, the treatment engaging this cutting-edge technology is rather expensive. Despite the outstanding discounts offered by ilaya clinic, the «Bioengineering Rehabilitation for Wounded» project's main source and base, the price of hi-end technologies application; unique consumables usage and high profile specialists' work; even purely medical and medication expenditures, is very high: for instance, these six guys' treatment cost us around a few million hryvnias. And this money had been raised and paid by People's Project, at the expense of your donations solely. These include the input made by anonymous contributors, enterprises, other charity foundations as well as whole-hearted Ukrainians' assistance: the amount and size of donations you can always see in the Project's online report. Together we raise huge funds which are immediately directed to pay for the wounded soldiers' treatment, to the last penny. Unfortunately, the state is the only one who rejects joining the initiative so far. Due to the surprising position of the Ministry of health officials, any programs aimed either at studying, development and implementation of innovative treatment methods or at least at sponsoring the wounded soldiers individually (for them to get treated outside of the state health protection system), remain blocked by medical authorities. Well, they just seem to prefer amputation and prosthetics.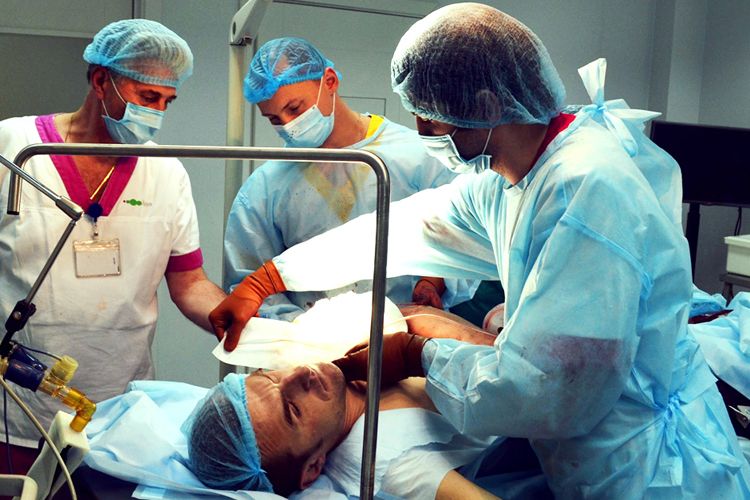 Nevertheless, we continue our work. Until the end of September another two wounded soldiers will undergo surgeries, and some of the guys will arrive for additional procedures. Tomorrow is Oleksandr's turn to get his surgery for the injury caused by – just imagine! – the AGS grenade hitting his shoulder. Oleksandr is now undergoing substitution of severe and complicated bone defects; in fact, his shoulder is being created anew.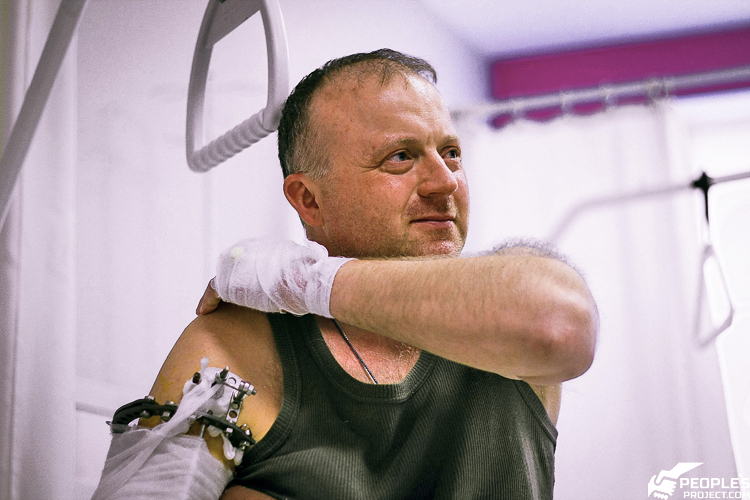 In the second decade of September Mr. Vasyl is going to undergo his surgery, too. This nice tankman had got a splint in his arm. Now it got shortened a lot and lost its functionality. And the guy is engaged in farming; moreover, he is an amateur artist, so how can we leave him in trouble and waste the chance for his arm's restoration? Besides, there are also other fighters who undergo treatment and need more money for that; not mentioning the line of about ten heavily wounded soldiers awaiting treatment.
These people have trusted us in their trouble. They have nowhere else to go and nobody else to ask for help. And we are able to help them get their treatment and come back to normal life. Because we just cannot let them face the lifetime maim. But the truth is «the Biotech» may get closed and the wounded discharged from their wards unless your assistance – it seems we just cannot rely on the state's participation or backing, and we have no other source of financial support for treatment purposes. So sorry, friends, but we have to ask for your help again – please do not leave our defenders alone. If not their selflessness, if not their terrifying injuries that had stopped the enemy, it is a question whether we could have been alive and well.