Well, Sashko is to undergo treatment again. That's right, just following the completion of full course within the Bioengineering Rehabilitation for Wounded Oleksandr has got into doctors' hands once again. Although last time we performed complete treatment of the guy's leg, still his intensive training resulted in a trauma: Sashko has been actively engaged in kickboxing, so naturally he exposes his body to excessive loads. It's been months of intensive training and hundreds of kicks too heavy even for a sound leg, so there's a logical result: a new trauma.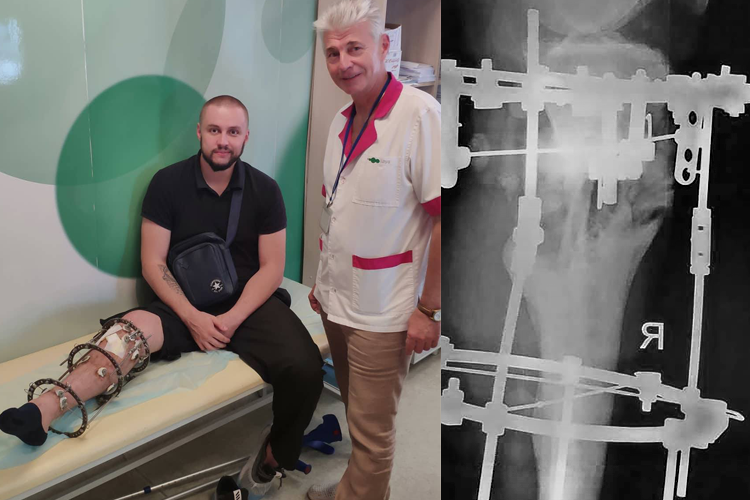 Meet Sashko and his new fracture: it looks rather ugly, still we are positive that it will fuse up anew quite soon, quickly and well
Now it's about an ordinary though quite complex fracture. Some time ago Sashko's leg was wrapped in the Ilizarov apparatus, the parts of which were connected by means of hinges to enable adjusting positioning of the bone's fragments. A couple of days ago the hinges have been removed, and the apparatus assembled firmly to provide ultimate fusion and solidity. Sashko's new examination is due in November.
This was the look of Sashko's leg at the beginning of his treatment: minus 80cm2 of the bone's volume and minus 6 cm in length
From the very beginning, Sashko, the volunteer and at the same time the active helper of our military men, had got into the Biotech with his shin totally crashed. His leg got injured during the battle near Shchastia, where our guys got ambushed and got under the enemy sniper fire.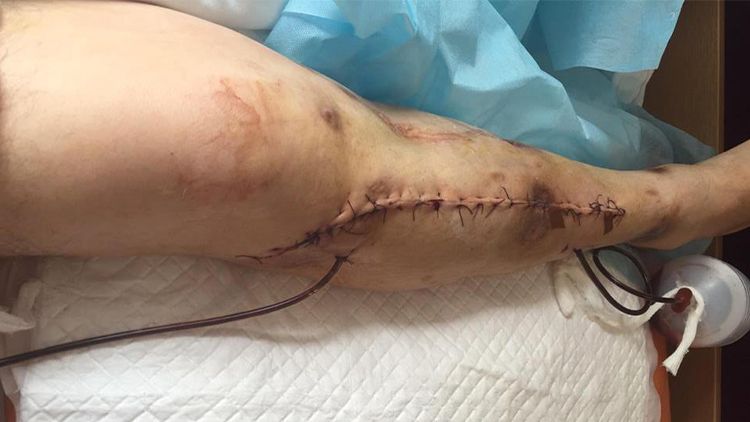 The bone gone heavily smashed, and the sustained injury made the guy move from one military hospital to another; eventually, he failed to get proper medical aid as the volume of the bone defect reached 80cm3 in volume and about 6cm in length. There was no means to recompense the defect, and, similarly, no ways to regrow the bone. Moreover, continuous wearing of the fixation apparatus led to the spoke osteomyelitis, and infection might result in a more serious and radical outcome.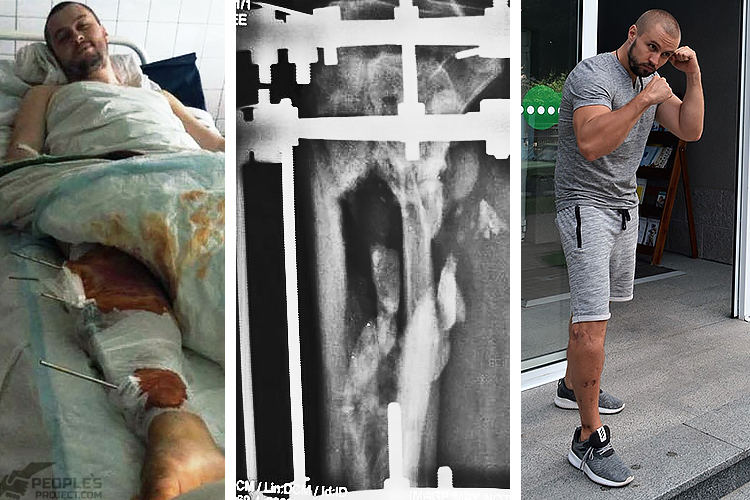 Within the Biotech project, Oleksandr underwent implantation of a special bone matrix into the defected area – the implant had been beforehand filled with concentrate of the patient's own stem cells. It compensated the missing bulk of the bone, and the implanted cells later grew out and fused into the tibia having constituted practically a monolith. Over time, Sashko left the clinic smiling as he felt absolutely well, vigorous, and on his own two legs. If not his favorite kickboxing…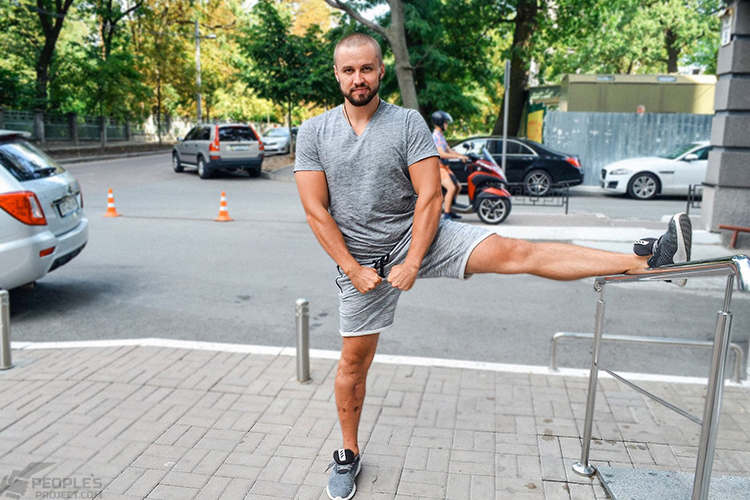 This was Oleksandr's condition before the new trauma, – the state in which he left the Project. Shortly, he will catch up again
Well, can we try and do this for another time: we are quite confident in ourselves as well as in the positive outcome of the case in general. Likewise, we are sure that Sashko will pay a bit more attention to further safety of his newly repaired leg. Nonetheless, apart from this guy there are a few more heavily wounded fighters looking for our support with their treatment within the Project. Dear friends, we urge you to help: it is your compassionate support that can be of great importance. Even a couple of hryvnias donated by you, can retrieve their hope for recovery and coming back to normal life. Please join in – this is what really matters!