The primary treatment stage of the nonunion hip fracture of wounded soldier from the 72nd Brigade  Volodymyr is complete. In particular, on April 13, at the site of his fused fracture of the femor, 3D-gel chips of osteoplastic material and autologous stem cells were introduced. Volodymyr has now returned home to regain his strength. He will return to the clinic in a fortnight for a control X-ray and examination which will demonstrate the preliminary results of his treatment. We wish Volodymyr a speedy recovery and look forward to an update in May.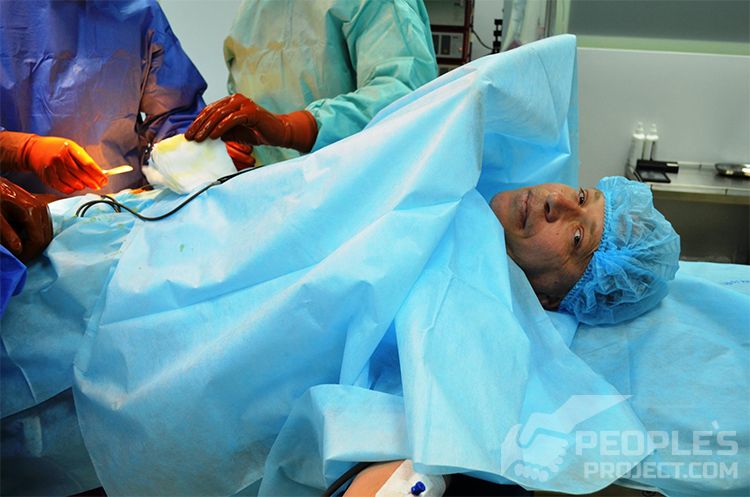 Volodymyr was injured in January 2015 near the village of Starohnativky in the Donetsk region. When Volodymyr's was changing positions, due to poor visibility, he fell into a ravine. Volodymyr, suffering from concussion and injuries to his legs, was taken to Volnovakha, then to Dnipropetrovsk. An operation on his femur and hip was performed in Odesa on January 20 2015. The soldier's bone was realigned and fixed with screws.
Volodymyr was enrolled in the Bioengineering Rehabilitation for Wounded a year later in January 2016. After a long period with a nonunion fracture he the faced dissolution of the femoral joint at the hip, and at the site of the fracture a false joint formed. In such cases, conventional medicine offers only a hip replacement – a prospect Volodymyr was not happy with. After a prosthesis is fitted there is significant limitation to movement and it has to be regularly replaced. Odesa volunteer Olga Dombrovskaya advised the soldier to seek the assistance of the ilaya Medical Company and The People's Project, thanks to your support, was able to raise the necessary funds for his treatment.
We thank all who helped raise funds for the treatment of Volodymyr. Thanks to your support and the ability of the company's doctors it is hoped Volodymyr will return to normal life without any physical limitations. However, the project has other wounded soldiers awaiting treatment and fundraising is ongoing.
If you want to help – click the button below.