For Ukraine's military, which is holding defense on the front line, autumn is a time of endless rain, mud and cold. Next comes worse, the first winter frosts. It is clear the war in Donbas is going to continue to drag on, so Ukraine's soldiers will somehow have to equip and steel themselves for the weather and oncoming winter. In addition, under the constant shelling – shelter must be not only warm, but also strong enough to protect against explosions, bullets and fragments.
We have something to offer Ukraine's defenders. Through the project People's Blindage we have developed and constructed comfortable and durable shelters for fighters. These insulated bunkers feature a reinforced rigid frame, so they effectively protect from the cold as well as from attacks. And don't just take our word for it – our products have been tested and refined based on field tests. More than 50 of our dugouts are set up in the ATO zone in both the Luhansk and Donetsk regions. Periodically we are thanked by the men themselves – during the worst shelling, the bunkers have saved lives.
The bunkers are produced as prefabricated modules, so the transportation and construction of the dugouts require considerable time and effort. One bunker can shelter up to 18 people and, during an attack, even more. They are capable of providing shelter for long periods and provide a high level of comfort – they can be fitted with oven, electricity, etc. Soldiers on duty outdoors have a chance to dry off, warm up and relax even in the worst frost.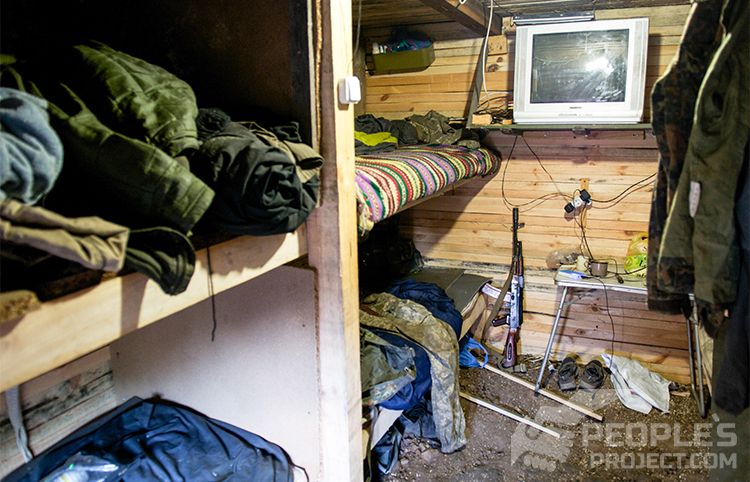 Now at the front a the truce seems to be holding. How long it will last is a rhetorical question, we all know the enemy uses periods of quiet to regroup, rearm and prepare the next provocation. Realizing how precious this time is, we try to use it to maximum advantage and once again need your help. Only yesterday we paid for the manufacturing of five dugouts. In the near future, we have to pay for five more. Then, we will try to ensure more of Ukraine's soldiers have been protected and have a place to warm up and relax. Your donations will complete the next stage of the project and provide a reliable refuge for several hundred more of our defenders. After freezing under enemy shelling the least we can provide is some opportunity to enjoy home comforts. And a small donation towards a shelter  will that bring that closer to reality.
Get involved.