Description
Why is it important?
The war unfolding on the territory of Ukraine, is nothing like armed conflicts of the previous decades. People involved in the fighting indicate an overwhelming use of artillery and mortars.
Considering that the firing points of the enemy are usually located in the residential areas occupied by the civilians, it is not always possible to give an adequate response.
After several tragic cases when artillery fire reached Ukrainian armed forces in the open field, the matter of protection of military personnel is of higher importance than ever.
Engineered technical structures constructed in the fortified areas of military positions require speed as much as reliability. Fortunately, our industry does not cease; new designs are constantly being introduced for the activists to use in new projects.
Where the money goes?
The soldiers who are currently fighting in the ATO (anti-terrorist operation) area don't always have required fortifications to save them from enemy fire and multiple-launch rocket systems (BM-21 Grad). That's why our goal is to provide block posts that are stationed in open areas with quality defense structures.
Our volunteers thoroughly researched the issue and found Ukrainian manufacturer of blindages with many modifications. Two modifications were selected for this project.
The structure has special reinforced frame that prevents rapid degradation when under the heavy fire. The module type 1 can accommodate up to 6 people, the module type 2 (living module) up to 12.
It takes less than an hour to establish such modules with little or no heavy machinery.
Basic module
This module can be used according to needs: personnel accommodation, storage, headquarters, communication hub, and more It is made of wooden beams 100×100, waterproof plywood 10mm and 100mm insulated polystyrene. The ceilings in the module are made of boards 50×200 stringed together with reinforcing rods 16mm in diameter at 200mm increments.

Residential block.
For personnel accommodation basic modules are combined into residential blocks. In 3 + 1 format a residential unit consists of three standard modules (residential), equipped with six shelves and a typical module (entrance), equipped with oven-stove and other equipment. Residential units are attached to the three sides of entrance unit. Altogether, this residential block is enough to accommodate 21 people. It is waterproofed by plastic film of 150 micron, mounted on the ceiling before back-filling. To solve possible groundwater problem the module has drainage pit and a pump.
All modules have natural ventilation systems and equipped with lamps and 220V sockets.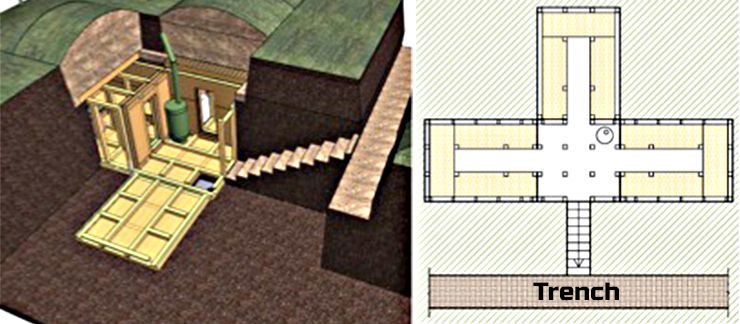 Household block.
Basic modules can be combined into household blocks. In 3+1 configuration it includes kitchen. fuel, storage and entrance units. The fuel unit is equipped with a gasoline generator, fuel container, gas tanks and batteries. There are gas and electric stoves in the kitchen unit.
All units are equipped with "fan-forced" ventilation.

Blindage 2.0.
Based on our experience of installing first blindages and, of course, taking into account suggestions and comments from the military in the ATO, we have d
eveloped a new design for blindages. We improved dugout by three criterias:
1. We simplified production process and reduce installation time;
2. Increased performance space inside dugouts;
3. Reduced the cost of shelters;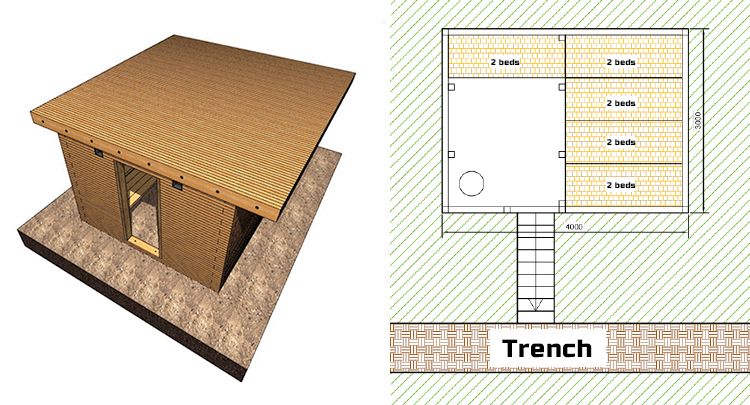 By using small format wall and ceiling beams, by unification of elements we managed to achieve a significant reduction in assembly time. Other big improvement is that now the installation requires no special skills and can be performed by the military. To address the second issue we increased sized of the blindage and changed its layout. This has greatly increased the operating space and allowed to place 10 beds in the dugout. Also by changing materials for walling we reduces the cost per person by half. We kept the original design of the ceiling as it proved to be highly functional during the instalation and under the enemy fire.
Watch video of blindage test.

---
19

March

2019

The project budget reduced by 125 000. The number of blindages in the project adjusted to the current needs of military units.

03

December

2015

The project budget increased by UAH 443,239. Due to the rise of prices for all the components of blindages, the cost of a blindage of type 2.0 for 10 people, rose from 20 000 to 25 000 UAH.

09

February

2015

The project budget increased by 1 382 409 UAH, 85 blindage of new modification added to the project.

99 500 UAH

122 471 UAH

Module 2.0 (for 10 persons)
400 000 UAH

Module 2.0 (for 10 persons)
2 000 000 UAH
Totally:
2 621 971.00 UAH